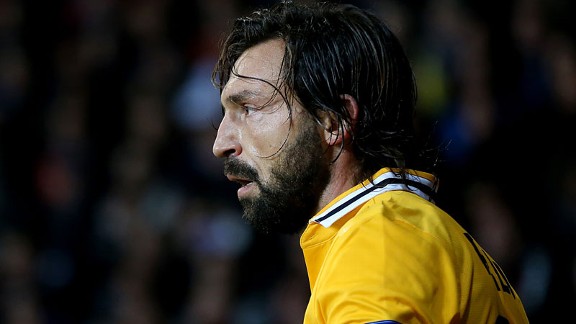 APAndrea Pirlo is expected to be rotated this season by Conte, much to the midfielder's disapproval.
"A pen. Beautiful eh, but still a pen," Andrea Pirlo recalled. "A Cartier one, shiny, heavier than a Bic, with the Milan emblem. Yet still a pen. Filled with blue ink, banal blue." That was it. "Ten years at Milan gone just like that." How was it ending like this? Pirlo found it hard to understand.

"Just make sure you don't use it to sign a new contract with Juventus," Milan chief executive Adriano Galliani joked. "At least [he] nailed the punchline," Pirlo sighed. "As a goodbye gift I expected something more than that comic timing of his."

His treatment back in 2011 left a lot to be desired. Milan were of the opinion that he was no longer indispensable. They'd won the Scudetto with Pirlo either on the bench or in the stands, vindicating a change of style symbolised by Mark van Bommel playing instead of him in front of the defence. It was like "my home had been invaded [by friends] and I'd been evicted from my beloved little garden of scruffy [San Siro] grass."

Coach Max Allegri had made it clear that if he wanted to stay then he'd have to play out on the left. "For me, 'You can't do the Pirlo [role]' was a tough concept to accept. Deeply unjust, when you think about it." At 32, so Milan's thinking went, his best years were behind him.

Unwilling to change their policy of offering veterans one-year rolling extensions even for him, the architect of a pair of Champions League triumphs, Pirlo decided after a discussion over a game of FIFA with his PlayStation buddy Alessandro Nesta that, painful though it was to accept, the time had come to leave. Leonardo called to see whether he'd return to Inter, but it was too late; Pirlo had already committed to someone else.

Against Galliani's wishes, he signed a three-year contract with Juventus. In hindsight, that was the moment the balance of power shifted away from the city of Milan and back to Turin for the first time in five years. Pirlo was the difference as Juventus claimed their first Scudetto after Calciopoli, going undefeated in the league. He was decisive again in the retention of their title.

It's worth reflecting on this now and not just because Juventus host Milan on Sunday night. Why exactly? Because Pirlo's contract is due to expire at the end of this season and speculation about his future has already started to mount.

Asked whether he'd thought about what it holds for him over the summer, he told La Gazzetta dello Sport: "I will definitely continue to play. We'll see where. I've already spoken with the club. We'll see each other again at the end of the season and decide. My priority is Juve, but I don't want to be a burden to anyone.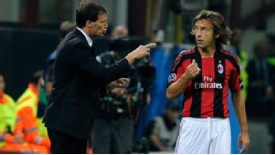 GettyImagesPirlo's exit from Milan turned the Serie A tide in Juve's favour.
"The years go by and it's not said that I should stay just because my name is Pirlo. I want to feel important and the architect of the team's success, otherwise I'll leave. Anyhow I'd like to underline that it will not be a financial problem or a choice between one team and another."

What stands out from all this is Pirlo's desire to know whether he is considered as central to Juventus and their plans going forward as he was when they brought him under the Mole Antonelliana on a free transfer two years ago. If they don't, then so be it. He wants to play week in, week out. In short, a full-time role, not a part-time one.

"I'll go on the bench," Pirlo revealed. "Everyone has to catch their breath, above all in an intense season like this. But if you're asking me whether I'd accept a project in which I had to play only 20 games then I'd say I don't like this proposal. I'll finish [my career] playing, not watching the others play."

That drive is characteristic of so many of his and later generations in Italian football. It's enough to remember Paolo Maldini playing into his 40s, Javier Zanetti's intention to do the same, the evergreen Francesco Totti, and how Rino Gattuso and Alessandro Del Piero were prepared to join Sion and Sydney FC if it meant that they'd still get a game every week. Winding down hasn't crossed Pirlo's mind.

It's within this context that his reaction to being substituted in back-to-back games against Inter in the Derby d'Italia and then Hellas Verona last month is perhaps understandable. On each occasion, rather than taking a seat in the dugout to watch the end of the game, Pirlo went straight down the tunnel. It was interpreted as a show of dissent.

When brought to the attention of coach Antonio Conte -- so absorbed was he in each match he didn't even notice -- he had this to say: "There was no clarification with Andrea because before there wasn't the need for a rule. But from now on there is a rule and it applies to everyone: When a player is substituted, he has to watch the rest of the game on the bench with his team-mates. Only if he leaves the pitch on a stretcher or with a broken leg can he leave immediately. Transgressors will be given a heavy fine by the club and will be out of the squad for a month."

Much has been made of this. Maybe too much. "Pirlo warned ..." declared La Gazzetta's front page. "Il Caso Pirlo" -- the Pirlo issue -- became one of the hot topics of the week in Italy. What was going on here? Replaced only twice throughout the entire 2011-12 campaign and twice again last season, he has already been taken off as many times this term. Is there underlying tension?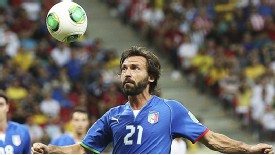 APA taxing World Cup campaign next summer could limit Pirlo's chances of regular football at Juventus next season.
Some have claimed Juventus are putting pressure on Pirlo, a sort of "You commit to us and we'll commit to you." But that doesn't hold up to scrutiny. Pirlo has let the club know that they're his priority and both parties have agreed to meet either in the spring or at the end of the season to discuss a renewal. "An issue with Pirlo doesn't exist in any way," said Juventus' general manager Beppe Marotta.

How then do we explain Conte's recent handling of him? Late to preseason training after being granted a much-needed rest following the Confederations Cup in Brazil, there's a sense that Pirlo has yet to really get up to speed. His performances have been underwhelming by his standards. Each of Pirlo's last three displays in Serie A have received the same rating from La Gazzetta: a 5.5.

Against Inter, he recovered the ball more than anyone else, but also gave it away 17 times. Simone Padoin came on for him in the final stages to counter the introduction of Mateo Kovacic. Going down the tunnel with only three minutes remaining on the clock is also understandable, no? Against Hellas, he was replaced by Claudio Marchisio after 66 minutes. Jorginho had "stalked him like a carabiniere" or, in Conte's words, "followed him even to the bathroom," limiting his influence. As was the case against Lazio, it was up to centre-back Leonardo Bonucci to step up like a libero and pass like a regista.

His ability to do that -- only Totti and Luca Cigarini have more assists than Bonucci in Serie A this season -- has led to suggestions that maybe in the medium to long term Conte might reconsider the nuance of his midfield and structure it like the one he used to play in under Marcello Lippi; for him, Edgar Davids and Alessio Tacchinardi see Vidal, Marchisio and Paul Pogba.

Also don't forget Pirlo will be 35 when his contract expires. With a World Cup in Brazil next year, he won't have had a break for a third straight summer either. While he might not take too kindly to being substituted, the rotation policy Conte has been implementing -- Pirlo missed the Turin derby so he could rest up for Wednesday's 2-2 draw with Galatasaray -- "is," as he says, "necessary if you want to aim high on every front."

Juventus don't want a jaded Pirlo. They want him at his best. That's the story here. At least for now. It's not to be ruled out of course that all this could change. Some see similarities with Del Piero's final season at Juventus. President Andrea Agnelli went with his head and not with his heart, choosing to the shock of many and public outcry not to allow the club legend to finish his great career in bianconero despite the player offering to sign on their terms, whatever they were. But Juventus were moving on.

Might they be contemplating life after Pirlo? If they are, you just hope they don't live to regret it like Milan do to this day.