Eternal Totti and Roma reviving dreams of Scudetto glory
When AS Roma last won Serie A, Francesco Totti formed part of the trio delle meraviglie, the marvellous trio composed of the current Giallorossi captain, Gabriel Batistuta and Vincenzo Montella. Symbolically, all three were on target in a 3-1 win over Parma which saw Roma clinch the title on 17 June 2001; Totti was voted Player of the Year and came fifth in the race for the Ballon d'Or.

• De Martinis: Long play the King

Batistuta pinned his boots to the wall over eight years ago, Montella is currently coaching Fiorentina – already the third club of his coaching career. Totti, meanwhile, has just signed a new contract until 2016, as a player. He harbours the ambition of repeating Roma's 2000-01 title triumph, and that is a wish which is no longer looking as unlikely as it did just a few months ago. "2001 was the most beautiful memory of my career, but I hope the next one I have will be even more beautiful," Totti said on Friday.

New coach Rudi Garcia's arrival from Lille in the summer was hardly greeted with enthusiasm, although even had it been Fabio Capello walking into the Trigoria training ground in July, the reception would not have been any different. Roma fans were hurting. Defeat in the final of the Coppa Italia is always hard to stomach; when it is inflicted by city rivals Lazio, then it becomes a serious bout of indigestion. Failure to qualify for Europe, after crashing out in the playoff round to Slovan Bratislava last season, left Roma at their lowest point in a decade.

Within a matter of months, though, Garcia has managed to lift the depression. The insulting banners have been removed from Trigoria, allowing the team to train in an air of serenity which players, who have been at the club as long as Totti, know to cherish. Twenty years, 14 coaches, over 500 games and 228 Serie A goals fill the curriculum of a one-club man, or a bandiera –- somebody the fans identify with. "This is the only club I've supported and loved," said the 36-year-old. That love affair could have one more intriguing chapter to be written.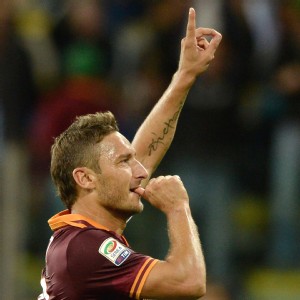 Claudio Villa/Getty ImagesFrancesco has committed his future to Roma until 2016.
Roma currently top the charts for the first time since a brief spell on the final day of the 2009-10 season. Exactly 1,240 days since their last title dreams vanished, new ones are emerging. "We've started off on the right foot and we've found a shape with a competent coach who wants us playing well as a team, which is what was lacking in recent years," said Totti after signing his new work agreement. "Roma are going to be competitive."

Credit for that goes to a 49-year-old who, if reports are to be believed, was only third choice to replace Aurelio Andreazzoli this summer. A disciplinarian whose office door is always open (even if all shutters are strictly closed when his team are training), he sets the right tone in terms of respect (mutual) and has restored values to a team traditionally acclaimed for their beautiful football. "He's given the team balance without Catenaccio, and petrol: the Roma energy tanks allow them to make slow starts before being devastating in the second half -– it's no coincidence that all eight of their goals have come in the second half," writes La Repubblica.

Indeed, the surprise 2011 Ligue 1-winning coach may be conjuring up another unexpected coup. "Since May, there have been substantial positive changes and we're proceeding at a pace," acknowledged president James Pallotta. "When I met Garcia, he told me that he loves the squad and his players. Even my relationship with the team has changed, during our USA tour. There was a unity of intention, Francesco seemed like a little kid. I remember two moments: the goal [Daniele] De Rossi scored against Livorno, when it seemed like we had won the Champions League, and a foul one of our players suffered at Parma which the whole team reacted to."

That newfound unity will be put to the test this weekend, when Roma face their latest derby challenge. "Sunday's game is different to all the rest," said Totti. "You live it and face it in a different way. We have only three Romani in our side, but fortunately we also have players with plenty of experience and with plenty of derbies behind them who know what this game means. We Romani feel it more, but we share the same desire, which is to win."

Sunday's will be the 159th Eternal City derby, and there will be one man who has worn a Roma shirt for what seems like an eternity already. A man who was there when Roma last clinched the Scudetto, and one who could still be there when they lift their next. A true Romano.