Seedorf aims high despite a massive task at Milan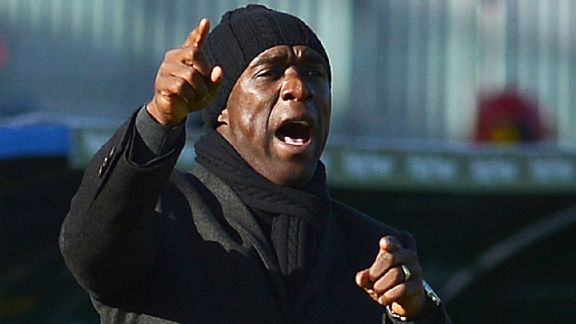 Gabriel Bouys/AFP/Getty ImagesClarence Seedorf is just the man to reinvigorate the Rossoneri.
Sat in the crowd at the Vicente Calderon on Sunday night was a certain Clarence Seedorf. He was there scouting Atletico Madrid, the team against whom he scored one of his most famous goals. You remember the one. It was during a season opening Madrid derby 17 years ago, a soaring diagonal shot into the top corner from just inside the opponent's half.

Seedorf, in the white and purple of Real, was only 21 years old. That season he would lift the Champions League for the second time in three years after doing so with Ajax in 1995. And it was that very same competition, the one he'll forever be associated with as a four-time winner with three different clubs, which brought him to this part of Madrid's Arganzuela district at the weekend.

In a fortnight's time, Milan are due to play Atleti at the San Siro in the first leg of their Champions League last 16 tie and the scale of the task facing Seedorf is now in sharper focus. "Did you see?" asked La Gazzetta dello Sport. How could he not? On an emotional evening following the death of Luis Aragones, Atleti gave their former player and coach quite the send-off. Real Sociedad were blown away 4-0.

So too were Seedorf and the man sat beside him, Milan chief executive Adriano Galliani, who couldn't get over how much Atleti ran and their "extraordinary athletic condition."

On his return to Italy, he hailed Diego Simeone but singled out their fitness coach for special praise. That Atleti had not only stayed with Barcelona but also been the ones to overtake them, loosening the grip the Catalan side had exerted on pole position in La Liga for 59 weeks to go top themselves for the first time since 1996 was, Galliani claimed, "something super for them" and spoke of just how dangerous this team is. Diego Costa, their fearsome striker, scored his 20th league goal of the season; David Villa his 11th.

The consensus is that Milan risk a kicking from the Champions League's dark horses. Seedorf should perhaps pick up the phone and dial his former coach at Milan, Carlo Ancelotti. He knows how to beat Atleti as demonstrated in Real's 3-0 victory over them in the Copa del Rey on Wednesday.

Qualifying for next season's competition by winning it this year does seem an unrealistic prospect for Milan. Sure, Roberto di Matteo managed to do just that with Chelsea after replacing Andre Villas-Boas in the spring two years ago, a reminder that sometimes the stars just align and that anything can happen in football. But it's hard to see Seedorf doing the same on succeeding Max Allegri.

Milan's ills, you feel, are not the kind that can be cured overnight although they do seem to be in recovery. "You don't lose your DNA," Seedorf insisted. "You can pick up a virus, but the anti-virus is already arriving."

The Champions League is in Milan's DNA. How else do you explain their status as the only Italian club still in the competition this season? Considering how they started the campaign and the many injuries they had, many considered that even getting through a group comprising Ajax, Celtic and Barcelona would be beyond them. But they did.

Above all else, a better match for Milan's DNA than Seedorf could not be found. It's one of the reasons he was appointed. He personifies the Milan of Silvio Berlusconi. His predecessor didn't.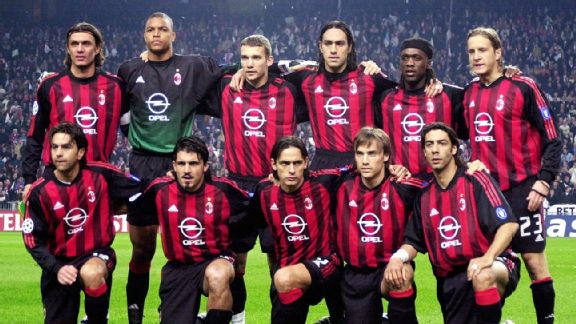 Christof Koepsel/Bongarts/Getty ImagesSeedorf was a member of some superb Milan teams and is trying to bring back the spirit of such greats as Nesta, Costacurta, Maldini and Inzaghi.

Galliani expressed this to Il Corriere della Sera reporter Alberto Costa on more than one occasion. According to him, a shortcoming of Allegri, a coach he recommended they appoint and backed until the last, was that he didn't have "Milan's culture." He never entered into the spirit of things. His team didn't play "the Milan way" -- they were lacking in ideas. He distanced Milan greats and his press conferences weren't an event. There was little to be enthusiastic about. That's certainly how Berlusconi felt. Milan no longer excited him. Seedorf's promise does. He sees potential in him like he did in Arrigo Sacchi, Fabio Capello and Ancelotti.

You get the sense with Seedorf that while inexperienced in coaching terms, he knows what it takes to make Milan be Milan again. A lot of the work he has done over the last three weeks has been about reminding the players of the club's greatness, its grandeur. "I want to rebuild the values of Milan," he said. "After the farewell of senators [like Paolo Maldini, Alessandro Nesta, Rino Gattuso, himself, Andrea Pirlo and Pippo Inzaghi] a hole of values has been created." He has tried to fill it. How?

For one, by inviting legends like Capello to watch the team train and then speak with the players. Seedorf claims to have asked Marco van Basten too, even though he questioned Milan's decision to hire him. Another old face re-appearing at Milanello is that of Bruno de Michelis, the club's former psychologist during the Sacchi and Capello years, who has been a member of Ancelotti's coaching staff. Come the summer it's expected that Hernan Crespo and Jaap Stam will be offered roles too.

Giving Milan its identity back is what Seedorf is trying to achieve here. He is looking to bring individuals together and connect them to something greater than themselves. It's a mental process. Finding the team down in 11th place and outside the Champions League places by 20 points, he said: "The table is an ugly thing to look at, I'll talk about it as little as possible."

A student of Phil Jackson, the 11-time NBA championship winning coach, he knows from his book The Soul of Success that "being fixated on winning [or more likely, not losing] is counterproductive, especially when it causes you to lose control of your emotions. What's more, obsessing about winning is a loser's game: The most we can hope for is to create the best possible conditions for success, then let go of the outcome."

That's what Seedorf is attempting to do. Instead of staring at the table, he wants Milan to focus on other aspects like coming into work and having fun again. There have been games of tag and dodgeball to foster a sense of togetherness, to build team spirit and get players to engage in group experience. Milan are beginning a journey and Seedorf wants them to enjoy the ride.

His outlook on football also corresponds more with Milan [and that of Berlusconi]. "I will never betray my philosophy, but you can be attacking in different ways. I will try to teach a total football," he told La Gazzetta dello Sport. "A mix of Dutch possession, Spanish movement in attack, Italian defensive quality combined with a mentality oriented around the result and the speed and creativity of the Brazilians."

Sounds idealistic, doesn't it? Just a touch.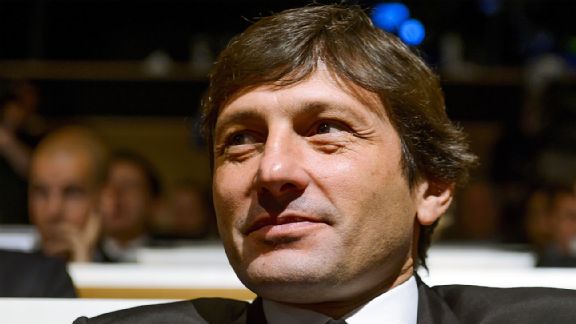 Fabrice Coffrini/AFP/Getty ImagesSo far, the biggest concern about Seedorf is that he's going to aim high and crash as big-thinking Leonardo did.

The concern with Seedorf is that he's another Leonardo: multi-lingual, charismatic and full of lofty ideas. The system he plays is the same too: a 4-2-3-1 or "4-2-Fantasia" as Leo's was known.

So far under Seedorf, it has yielded seven points out of nine in the league but there are reservations about it. Because for all the spiel that the team attacks in 11 and defends in 11, the impression is that the four up front often don't track back, leaving the midfield overrun and the defence exposed. At times Milan look broken in two, their set-up naive and unlike in 2009-10, they don't have Thiago Silva and Nesta to cover.

Shaking off the Leo-sceptics and proving himself worthy of such a job at the beginning of his coaching career is the challenge facing Seedorf.

With that in mind, Saturday night's visit to Napoli promises to be his biggest test yet. Down the sideline from him in the opponent's dug-out is Rafa Benitez, the architect of Milan's downfall in Istanbul in 2005 and more recently, Napoli's first win at the San Siro since April 13, 1986. His team, though 15 points ahead of Milan and in the third and final Champions League place they covet, have started to mirror them: same system, same mistakes in calamitous defence, same wingers who don't tuck in and cover. It should make for an open game.

Whatever the result -- whether it constitutes a step towards gaining the confidence Milan require to beat Atleti or a step back -- the anti-virus Seedorf has injected is going to take time to work.