Vucinic-Guarin fiasco opens old wounds between Juve and Inter
Conspicuous by his absence on the Juventus team bus was Zlatan Ibrahimovic. Everyone else was on board. The driver had even started the engine. They had a pre-season friendly to play and didn't want to be late. Ibrahimovic was still in his hotel room playing PlayStation. "Why are you still here?" Didier Deschamps, the coach, demanded. Ibrahimovic had told Juventus that he wanted to leave following the Calciopoli scandal in 2006 and their relegation to Serie B.

Until then, they hadn't listened to him, even offering a new contract, which Ibrahimovic refused to entertain signing. While a move was sorted out, he was prepared to train, but not play. So, no, he wouldn't be getting on the team bus. "You'll be fined, you understand?" warned Deschamps. "Fine me then," Ibrahimovic replied.

Days later he followed his teammate Patrick Vieira to Inter, the club that many Juventus fans felt were the main beneficiaries of the Calciopoli verdict. To say it hurt is an understatement. The Scudetto Juventus had celebrated only a couple of months earlier had been controversially assigned to Inter. Now they were taking two of their best players too. Memories of that time will forever be a source of antagonism.

And so perhaps the hostile reaction to the news that Juventus and Inter were in negotiations -- as of Tuesday morning, the deal appears dead -- to exchange Mirko Vucinic and Fredy Guarin shouldn't have come as too much of a surprise.

Whenever they've attempted to do business since Calciopoli, old wounds have re-opened. Who can forget the protests Juventus supporters held when it emerged that they were on the brink of signing Dejan Stankovic from Inter in 2008? They were strong enough to persuade the two parties to call the whole thing off. "Now look at the season he's having," Juventus' former coach, Claudio Ranieri, then in charge of Roma, reflected a year later as Stankovic helped guide Inter to an unprecedented treble under Jose Mourinho. Juventus fans had their reasons, though.

It was around this time a decade ago that Stankovic supposedly signed a pre-contract to join them ahead of his deal with Lazio expiring at the end of the 2003-04 season. Inter offered 5 million pounds to take him earlier, however, and he broke his promise. That rankled. Then later when Stankovic won the Scudetto with Inter in 2007, he was among the players in the dressing room in Siena singing that they, unlike Juventus in the past, had claimed the championship "without stealing," an act deemed unforgivable.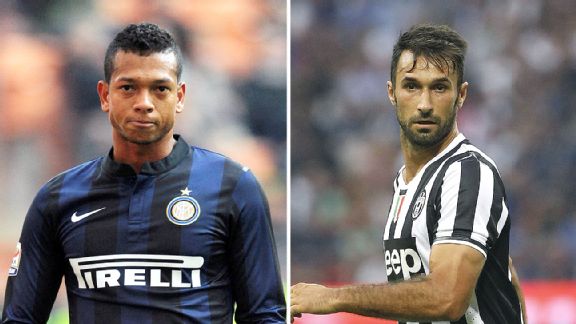 Getty ImagesThe proposed exchange of Inter's Fredy Guarin and Juve's Mirko Vucinic reminds us that Juve has held the upper hand in business transactions between the clubs.
Things were slightly different for Lucio 18 months ago. He was received with indifference. Presented to the fans as a signing a la Pirlo -- a Champions League winner on a free transfer from a rival -- the thinking was that if he recovered his best form then Inter would be made to look silly by Juventus in much same way that Milan had a year earlier. It didn't quite work out like that. Juventus soon rescinded Lucio's contract, although not before extracting from him an approval of president Andrea Agnelli's claim that the club had -- at the time -- won 30 Scudetti not 29, a claim that disregarded the Calciopoli verdict.

Often rising above the tribalism, however -- as the Ibra, Vieira and Lucio cases show -- is a sense of opportunism and expediency. Prior to Calciopoli it was more acute in Juventus who nearly always got the better of Inter. This often revealed itself in swaps not too dissimilar to the Vucinic and Guarin one that has been proposed. In 1976, Inter traded their veteran and talismanic striker Roberto Boninsegna to Juventus for Pietro Anastasi, who had fallen out with his coach Carlo Parola. It seemed like a no brainer. One was 33 and apparently past it, the other 28 and in his prime. Inter were of the opinion that it was coup. And it was ... for Juventus, not them.

Boninsegna played three years in Turin, during which time he scored 35 goals, won two Scudetti, a Coppa Italia and the UEFA Cup, Juventus' first European trophy. Anastasi instead left Inter after two unremarkable seasons. He found the back of the net just seven times and lifted only the Coppa Italia. That exchange pales in comparison, though, to another that went through a decade ago.

Disappointed by Fabio Cannavaro, who over a couple of years at San Siro had failed to live up to expectation, Inter traded him to Juventus in exchange for their back up goalkeeper Fabian Carini. That's right, Fabian Carini. Cannavaro went on to captain Italy to World Cup glory, win the Ballon d'Or and two Scudetti with Juventus which were later revoked. Carini, meanwhile, played four games for Inter, got loaned out to Cagliari, didn't feature on his return and was then sold to Real Murcia.

Deals like that and the Seedorf and Pirlo ones to Milan before them still haunt Inter. The fear is that by trading Guarin for Vucinic they are about to make a similar mistake to the ones they made in the past. How so? The common refrain heard over the past 24 hours is that Inter would have considered giving up one of their few difference makers for a player who either can't make it off the bench or out the treatment room for their main rival this season.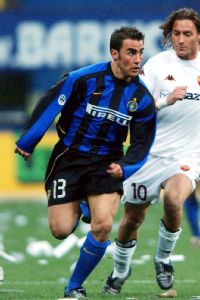 Grazia Neri/Getty ImagesBad business: Inter traded Fabio Cannavaro for Juve's backup keeper Fabian Carini, a deal that still lives in infamy at the San Siro.
That belittles Vucinic a touch. Make no mistake -- he's a top, if inconsistent, Serie A striker and has been decisive for Juventus over the past couple of years.

But did Inter really need him? Caught short up front last spring once Diego Milito and then Rodrigo Palacio got injured, hadn't they already done enough to ensure that it wouldn't happen again this season by bringing in promising young forwards Ishak Belfodil and Mauro Icardi over the summer for $20m? One hasn't convinced. The other is out injured again with a groin problem.

Still, if you've invested such a sum in the future of that position why not put more faith in them? Why jeopardise their game-time and development by signing a 30-year-old who will increase the average age of the squad and perhaps even add to the wage bill, both of which new owner Erik Thohir wants to lower? It's exasperating for Inter not least because while they lack any coherent strategy, Juventus' really couldn't be any clearer and precise.

Vucinic is dispensable to them because they have Fabio Quagliarella and Sebastian Giovinco ready to stand in for Carlos Tevez and Fernando Llorente. They co-own young strikers Domenico Berardi, Ciro Immobile and Manolo Gabbiadini who have scored 26 league goals for Sassuolo, Torino and Sampdoria respectively this season and so can count on them in the future.

As for Guarin, although inconsistent, he would have fit the Antonio Conte identikit of what a Juventus midfielder should look like: hard-running, energetic and powerful. And you can imagine that, with the right coaching, the 27-year-old might yet go up another level. Plus, if Juventus were to receive an indecent proposal for Paul Pogba, Claudio Marchisio or Arturo Vidal, they'd have an alternative already in-house. Succession planning or not, Juventus will be prepared. That's good management.

It's well thought out, long-term -- in short everything that Inter's leadership is not. Their fans are only too aware that the club risks looking incompetent again. A strongly-worded communique issued by the Curva Nord on Monday night described Inter as "being run without any common sense." It made the club re-consider the trade and put talks on hold.

They re-started on Tuesday morning but amid growing dissent, Inter released a statement of their own, announcing "President Thohir, having conferred with Massimo Moratti and the club's management team, did not feel that the necessary technical and financial conditions were in place to come to a satisfactory agreement."

On the one hand, that's a positive. Inter have listened to their fans and learned from history [Boninsegna for Anastasi / Cannavaro for Carini]. On the other, the damage has already been done. This was so far down the line; how do you tell a player like Guarin whose bags were packed that he is going nowhere?

Now, one problem has led to another. The whole thing has been very embarrassing for Inter and does little to inspire confidence in the club's new ownership which, by entrusting recruitment decisions to the same old people as under Moratti, has been burned by the Vucinic-Guarin affair. The smoke emanating from it is enough to bring a tear to their supporters' eyes.