Lotito, Petkovic feud adds more pain to sad Lazio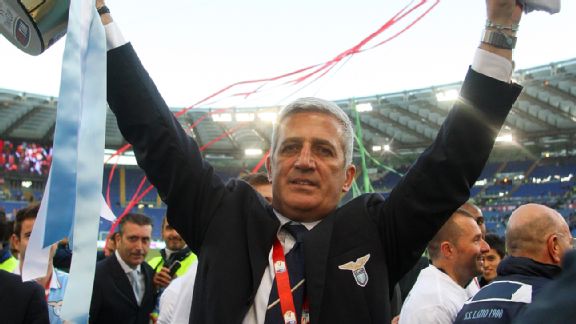 Paolo Bruno/Getty ImagesVladimir Petkovic had his problems at Lazio but did deliver a Coppa Italia. Yet it wasn't enough to prevent his complicated firing as manager.
"One swallow doesn't make a summer."

Lazio owner Claudio Lotito, a man with a certain predilection for idioms (especially if they're in Latin), came out with this one in the winter. His team had just beaten Livorno 2-0 in arguably Italy's most politically charged fixture. It was also Lazio's first win in three games in all competitions.

In essence Lotito was asking: had his club turned a corner or was this another exception in an otherwise disappointing start to the season? Lazio, then up to eighth place in Serie A, were (and still are) yet to record back-to-back league victories. Their inconsistency, among other things, had placed coach Vladimir Petkovic's job in jeopardy.

In the days leading up to Livorno's visit in mid-December, Hernanes and Miroslav Klose had felt it necessary to go public with their support. Tensions were high. After the win, Petkovic even walked out of his press conference, taking issue with the line of questioning that journalists were pursuing,

It must be said he did have somewhere to go. It was Lazio's Christmas party that evening. The pictures that emerged from it were at odds with the strain we'd been told existed between Lotito and Petkovic, showing them smiling and raising a glass to each other. All that was missing was a playful bacio underneath the mistletoe.

It's probably for the best that they didn't. Lotito, one imagines, would now be self-serving in describing it as a Judas Kiss at the Last Supper.

Two and a half weeks later, he sacked Petkovic, making for a chaotic Christmas and New Year at Lazio.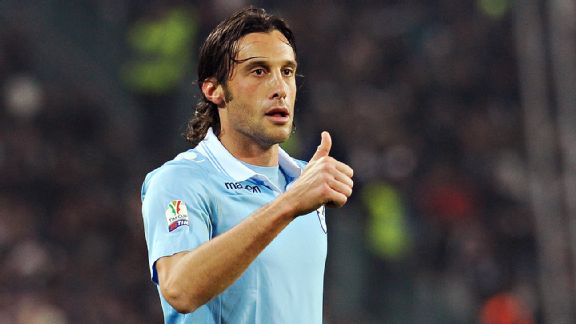 Valerio Pennicino/Getty ImagesLazio's thin squad has been affected not only by injuries, but also by the ban of club captain Stefano Mauri.
Communication breakdown
Just prior to the split everything appeared to be fine. After a dressing room bust-up between the teenage sensation Keita Balde Diao and Stefan Radu at half-time of Lazio's Europa League match vs. Trabzonspor, Petkovic took the squad paint-balling. Lazio were coming together again, or so it seemed because on the last match-day before Christmas, everything unravelled. Lazio lost 4-1 at promoted side Hellas Verona.

Their opponents have been a revelation so far this season in Serie A, but that, in addition to the absences of Radu, Alvaro Gomez and Hernanes, was no excuse for a dire display. Lazio finished 2013 in 10th, hardly in trouble like they were at this stage four years ago. But Petkovic was more exposed to the sack than he perhaps had ever been since he was appointed by Lazio -- except, that is, when he insisted on nude weigh-ins during his first pre-season training camp 18 months ago.

Petkovic's position was compromised further the day after the defeat in Verona when the Swiss Football Federation announced that he would be leaving Lazio at the end of the season to replace Ottmar Hitzfeld after the World Cup in Brazil.

Via a statement on their website, Petkovic claimed it would not "impede me from pursuing my objectives at Lazio with the maximum conviction. Training starts on Dec. 30. On Jan. 6 we play Inter. I will not allow anyone to think even for a second that I will neglect Lazio and become distracted by my future job."

It was reminiscent of the England-Lazio-Sven-Goran Eriksson triangle of 2001. Only this was about to get a lot more bitter.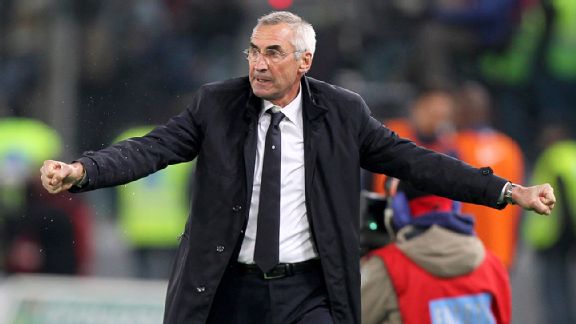 Paolo Bruno/Getty ImagesThough new coach Edy Reja won his first game back at the club, one senses further turmoil ahead.
The "betrayal"
For months there had been reports of negotiations between the Swiss Football Federation and Petkovic. When asked if the stories were true, Petkovic always replied that there was nothing in them.

Yet Lotito felt betrayed. "It was like finding your wife in bed with another man," he said. Feeling cuckolded, he did the equivalent of going out on the rebound. Lotito called Petkovic's predecessor Edy Reja, promised him his old job back -- the 68-year-old becomes the fourth oldest coach ever to work in Serie A -- and then proceeded to tell the world about it.

- Reja: I ignored Lazio's calls

There was one issue. Petkovic hadn't resigned and didn't intend to, as made clear in his statement. He'd not yet been fired, either. So Lazio had two coaches. It was a most unsavoury situation, not least because Lotito, unprepared to just pay off the 680,000 euros remaining on the Bosnian's contract and that of his assistants, was instead willing to go to court to get the matter resolved.

He alleged that Petkovic had been disloyal and had broken his trust.

"Before the game against Hellas," Lotito claimed. "He had already emptied out his locker at Formello [Lazio's training ground]. On the pitch I saw him play a number of bizarre systems. Perhaps his intention was to get himself sacked."

Hearing this, Petkovic declared he wouldn't stand by and allow his name to be dragged through the mud. Lotito's comments didn't tally with what we have learned about the coach's character. One of the reasons the Lazio owner gave for appointing him in the first place was his moral compass. In the past remember, Petkovic combined his coaching roles at Lugano and then Bellinzona with charity work for Caritas.

But did he break any rules? Nothing forbade the upstanding manager from talking to the Swiss Football Federation. And besides, Petkovic's contract with Lazio was due to expire at the end of this season and he was only under obligation to inform them that he'd be leaving for the Switzerland job once he had put pen to paper, which he did on December 23.

With all that in mind, Petkovic's legal team are preparing a case for wrongful dismissal. Lazio have to instead show that it was justified. Did Petkovic's behaviour compromise the team's performances? That's open to interpretation.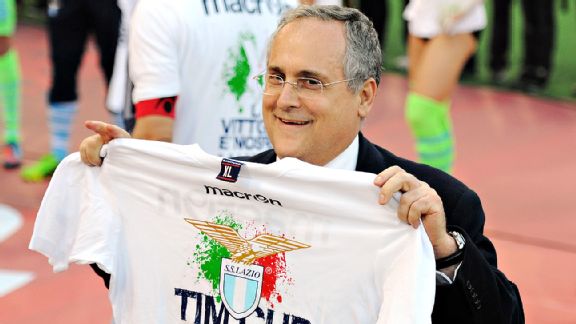 Giuseppe Bellini/Getty ImagesLazio owner Claudio Lotito is no stranger to controversy but his feud with Petkovic might be his worst drama yet.
A difficult employer
In all, since 2005, Lotito has been involved in 17 contract disputes. He's won some. He's lost some. Relevant to this is the case of Giuseppe Galderisi, his former coach at Salernitana -- the other club he owns -- who Lotito took to court for the same reason as Petkovic. The ruling went against him and with that in mind youd have thought he'd think twice about doing it again. Legal battles are expensive. In total, Il Messaggero understands Lotito has been ordered to pay out 9.2 million euros in them over the last eight years.

Overall, it's a shame his relationship with Petkovic has had to end this way. This time last year Lazio were in second place, an unsustainable position, granted, well above expectation that can be put down to the best start to a season since they won their first Scudetto in 1974-75 under Tommaso Maestrelli.

And, true, since then they have really fallen away in the league. Between the end of January and late April, for instance, Lazio won only two of 14 games in Serie A. Like Andrea Stramaccioni's Inter. they were in freefall. Victory in the Coppa Italia final -- a Derby della Capitale win over rival Roma for the first time in the history of the competition -- glossed over all that. And so it should for a couple of reasons.

First, Roma and Lazio don't win the Scudetto often -- they have five between them -- so, rightly or wrongly, seasons tend to come down to results in the derby. Never before had a piece of silverware rested on the outcome of one and Petkovic won it, reserving a place for himself in posterity by inflicting arguably the most painful defeat on Roma ever. It made for an unforgettable season, a real high in Lazio's history and one for which you'd expect a lengthy line of credit.

Second, the principal explanation for why they flagged in the league towards the end of last season, finishing seventh, is because Petkovic, rather admirably if also a little foolishly, tried to honor the other competitions the club was involved in despite the limited resources at his disposal.

Lest we forget, his squad was old and not the deepest, yet he insisted on taking Lazio's cup commitments seriously -- even to the detriment of their league form if it meant there was a shot at glory. In addition to reaching the Coppa Italia final, Lazio were unlucky to be knocked out of the Europa League at the quarter-final stage by Fenerbahçe.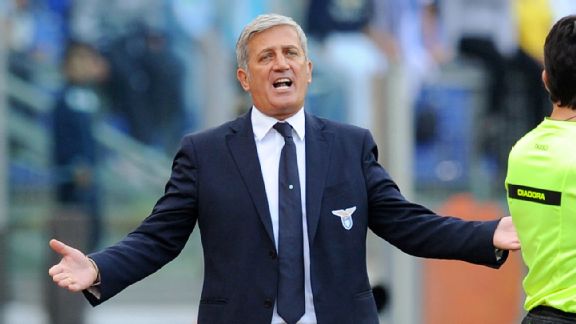 Giuseppe Bellini/Getty ImagesPetkovic did brilliantly with limited resources at Lazio and surely deserved better than his eventual fate.

While they rejuvenated the squad over the summer with the signings of Felipe Anderson and Brayan Perea, once again they failed to bring in an experienced striker capable of making them less reliant on Klose. Protracted negotiations with Galatasaray's Burak Yilmaz were broken off at the last minute amid accusations of extortionate agents' fees.

Once the season started, Klose soon got injured; so too did the rock of Lazio's defence Giuseppe Biava, while Andre Dias seemed to be involved in a contract stand-off -- his current deal expires in the summer -- and were in trouble.

Often forgotten, too, amid all this is that Lazio have also been without captain Stefano Mauri, who is still serving a ban following his implication in the Calcio Scommesse scandal.

So there are a number of extenuating circumstances to explain why Lazio are 13 points worse off than they were at this stage last season -- and 18 points behind Roma. But whatever you make of his conduct, not all the blame can be laid at Petkovic's door.

Even though Reja got his second spell at the club underway with a 1-0 win at Inter on Monday and inherits a better situation than he found in spring 2010 -- Lazio were 17th and in real danger of relegation -- some troubling issues remain.