Three things from a upstart Serie A in 2014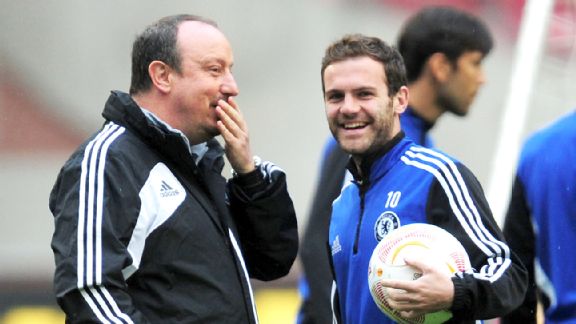 Jamie McDonald/Getty ImagesRafa Benitez is speculated to be making a move for former player Juan Mata but has plenty of attacking talent already at Napoli.
Serie A is off to a strong start in 2014, here are some interesting stories to round off the first matchweek of the year.

Crazy for Mata

Add a 't' to the name of Juan Mata, and you've got an Italian word for crazy. Coach Rafael Benitez surmised that it would be 'Matta' to think his side could lure the Chelsea midfielder away from the Blues. What Dries Mertens showed him in a win over Sampdoria is that Benitez would be crazy even to try.

Benitez insisted he would only be trying to sign players who are better than what he has already got, citing defenders Federico Fernandez and Miguel Britos as examples of players he can only struggle to find better alternatives for during the winter transfer market.

Mertens may have convinced the Napoli coach to return the blank cheque extended to him by club president Aurelio de Laurentiis back to its signatory with a polite grazie. On Mertens' Monday form, Benitez need look no further than the Belgian for the player to sustain his side's assault on the Serie A title, Coppa Italia and Europa League this season.

His struggles to put a sentence together in a post-match interview in Italian were nothing in comparison to Sampdoria's misfortunes as they lost for the first time since Sinisa Mihajlovic took charge. Manolo Gabbiadini hit the crossbar and Nicola Pozzi hit a shot which struck both posts. "No doubt Napoli deserved to win, but we can't have any complaints -- we created lots of chances against a top side in their own stadium."


New year, same Robinho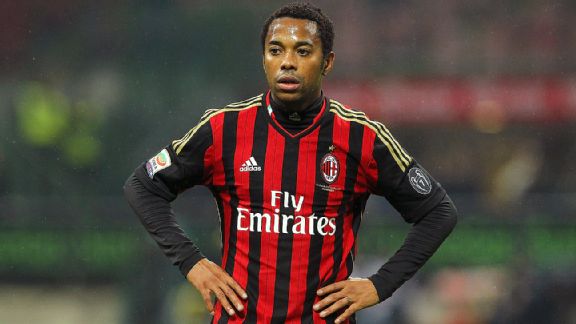 Marco Luzzani/Getty ImagesDespite having loads of talent, Robinho continues to frustrate in key moments.
One of Robinho's New Year's resolutions could imaginably have been to put aside his goalmouth blundering and start taking his easy chances. At the first attempt, that was already out of the window.

The Brazilian has forged an undesirable reputation for missing sitters. There is little doubting his talent and technique, as many spectacular efforts throughout his career, including at Manchester City, confirm, yet he tends to get ahead of himself a little before putting the ball in the back of the net when it seems harder to miss.

In the third minute of AC Milan's 3-0 win over Atalanta, he tucked his first effort into the side-netting from four yards out. He then missed a glaring opportunity midway through the second-half, completely slicing his kick to Kaka, who swept the ball in for him to spare his blushes. Robinho might claim he intended the assist for Kaka's 101st goal for Milan.

The number 22 notched his century to give Milan the lead in the first half, celebrating by raising a shirt bearing his name and the number 100. That shirt has been gathering dust on the Milan bench for the past four games.

While Kaka was celebrating a century of goals for the Rossoneri, Brian Cristante opened his account with a fine low drive from outside the penalty area after the 18-year-old had hit the crossbar earlier on. It makes you wonder whether Robinho was watching.

Absence makes the heart grow fonder

When Edoardo Reja quit as coach of Lazio in the summer of 2012, he was adamant. It was already the second time he had tried to resign in just a few months, and there was nothing going to stop him this time.

Away from the club he guided to back-to-back Europa League campaigns, the 68-year-old clearly had a rethink. Watching Vladimir Petkovic take 'his' Biancoceleste to the last eight of the Europa League and an historic Coppa Italia victory over city rivals Roma churned something in his stomach.

"I still remember the letter he wrote to me 18 months ago," recalled club president Claudio Lotito. "He said there were no longer the conditions to carry on in these surroundings. But when I called him 18 months after, he made himself available. Welcome back Reja."

Reja's second spell on the Lazio bench started the way his last one had ended -- with victory over Inter Milan. There were a few more smiles this time, though, as Reja punched the air in joy at the conclusion of a 1-0 win over the Nerazzurri which lifted 'his' side to 10th.

Ten minutes from time, arguably Reja's biggest signing from his first term in charge, Miroslav Klose, decided a technically miserable encounter with one moment of class, sealing a third win out of three against Inter for Reja. Welcome back Edy.