AC Milan a gamble for Honda?
For Japan, Keisuke Honda plays in the middle behind the striker while Shinji Kagawa is out left. Some of their combination play can be sublime. They are on the same wavelength to such a degree that they finish each other's footballing sentences. As Samurai Blue traveled around the world in 2013 -- from the Far to Middle East to Europe and South America -- Japan's two biggest stars had time to compare club careers.

• Paul: Transfer plan for AC Milan

Kagawa, at 24, three years the younger, has seen both sides of the big club coin: thriving at Borussia Dortmund before struggling to start for a Manchester United team that is struggling to start the post-Ferguson era. He knows that choosing the right club is crucial. Honda does, too. He is about to join the European elite after spells with VVV-Venlo in the Netherlands and CSKA Moscow. There is a general consensus that after doing the hard part and making a name for himself with the Dutch team, he erred by heading to Russia and signing a four-year deal that proved difficult to break. AC Milan offer salvation as well as the name and the glamour.

Milan are a big club, there's no doubt about that, but he can handle the pressure. "Honda has the physical strength, the technique and the mentality to more than succeed in the Serie A at Milan," Japan national team coach and former Milan boss Alberto Zaccheroni said recently. "You need a strong personality to make it at Milan, and Keisuke has that on top of all the other tools you need to have, like the physicality and skill. It won't be easy to win a place in Milan's first team, and he's been handed the No. 10, which is a sign of the expectations placed upon him. But Keisuke can bear the responsibility."

Fans in northern Italy will find a man who does not deal in clichés and sound bites and means what he says. Kagawa has the textbook talking-without-saying-anything answer down pat but Honda, if he wants to talk -- and he often does not -- is almost always interesting. He is ready for this new chapter in his career. "I'm 27, so the moment has arrived for me to play in a big club and become an infinitely better player," Honda told Italian media recently. "I'm the type of player that immediately learns from his teammates -- even more so if there are top players at the club."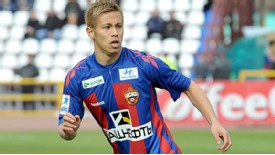 AllsportKeisuke Honda has moved to AC Milan from CSKA Moscow.
The Japanese star could line up alongside Kaka -- if you can't learn from the Brazilian, then you might as well stop playing football -- behind Mario Balotelli. Kaka, Honda and Super Mario: This is a tasty triumvirate with an appetite for delicious destruction. For a boyhood fan of Milan, it all sounds perfect.

In Japan, too, there is excitement at Honda becoming a Rossoneri and fulfilling his dream. Japanese players tend to do well in Italy, with the technical side of the football suiting Samurai Blue talent extremely well. Shunsuke Nakamura made a name for himself there. Yuto Nagatomo is obviously enjoying life at Inter -- safe to say the Milan derby will be eagerly anticipated back in the Land of the Rising Sun -- and then there was, of course, Hidetoshi Nakata. Honda was a boy when Nakata went west to break down barriers, lift up trophies and collect medals with some of the best teams in the world. The cultured, classy and oh-so-cool midfielder inspired a generation of potential stars back home and his legacy lives on.

Honda is a good choice for Milan. The question is whether Milan is a good choice for Honda. Amid the red-and-black rapture, there should also be a little concern as to whether the biggest talent in Asian football, at the peak of his career, should be joining a club struggling in Serie A mid-table.

Kagawa is experiencing a difficult season but still has three major European titles under his belt. He must now know that a fourth is almost certainly out of United's reach this season, but at least his set of Reds are still within comfortable sight of a Champions League spot. Milan, on the other hand, sit 17 points off even that. The Milan giants are unlikely to be in the continent's premier club competition next season. This is a concern. Asia's top star needs to play for a club that qualifies for the Champions League as a matter of course.

Nineteen points from 17 games suggests that there are major problems in the red-and-black half of the San Siro. Granted, the team are in the second round of the Champions League and may not have the domestic title distractions that many of the other 15 teams remaining in the continental competition face, but few expect them to go much further.

There's nothing wrong with Serie A, even if the league is not quite in the pre-eminent position it enjoyed when Milan ruled the roost in the '80s and '90s. While there is still affection and respect for Italian football in Asia, especially among older fans, it has lost much ground with the younger generation. Honda can remind those in the East there is still much to like about Serie A.

Add that to his talent on the pitch, Honda can do plenty for Milan and is set to be an excellent signing. Milan can do plenty for Honda. He will become a better player there after stagnating a little in Russia. They are a big club in a big league but these days Asia's biggest stars should be expecting more. Regular Champions League football is a basic requirement. Fans may say that this season is a blip and so it may prove but what if it isn't? Honda will miss out at a stage in his career when he can't afford to do so.

It could be that this is the perfect time to join Milan. Fans are desperate for some improvement and Honda will certainly get his chance. He can make a difference. But it is still a gamble. This time was always likely to be his best opportunity to join a member of the European elite. All fans in Asia will be hoping that he made the right choice.