Juve-Roma rivalry all about the little things
It's the spring of 1983. Dino Viola, the then president of Roma, is at the office. He's sat behind his desk about to start work for the day when his personal secretary enters with the morning post. Among the bundle of letters, there is one stamped and mailed from Turin. As he picks up the envelope, studying it carefully before opening the lip, Viola knows exactly from whom it was sent.

Intuition tells him that it's from the president of Juventus, Giampiero Boniperti. Over the years, the pair had frequently corresponded, writing rather amusing open letters to each other in their respective local papers. They formed part of the build-up to matches between their two clubs.

- De Sanctis: Roma will test Juve
- Report: Tevez set to return
- De Martinis: Pjanic to stay at Roma?
- Rzouki: Rating 2013 for Juventus

This particular one, however, arrived the day after Juventus had come back from a goal down at the Stadio Olimpico to beat Roma 2-1 on March 6, 1983, scoring twice in the last 10 minutes. Their winning goal, headed in by Sergio Brio, had been a source of some controversy. Michel Platini who assisted it, appeared to be in an offside position when the ball was played to him.

Viola, not for the first time, had complained afterwards that the result was a "question of centimeters." So, with that in mind, Boniperti went out and bought him a gift. He had it delivered the next day.

"I sent him a little plastic ruler. It cost 3,000 lira [$2]," Boniperti recalled. There was an explanatory message for Viola in accompaniment. "You can use this to measure our offsides," he wrote. Viola, a qualified engineer, sent the former footballer Boniperti a gold one in return. "You need it more," he scribbled back.

It was a classy exchange. Notwithstanding the defeat, Roma went on to win the Scudetto that year for the first time since 1942. It was only the second in their history. And yet for many of their supporters it should have been the third. Understanding why it wasn't goes some way to explaining this rivalry and its endurance ahead of Sunday's eagerly anticipated meeting in Turin. So what happened?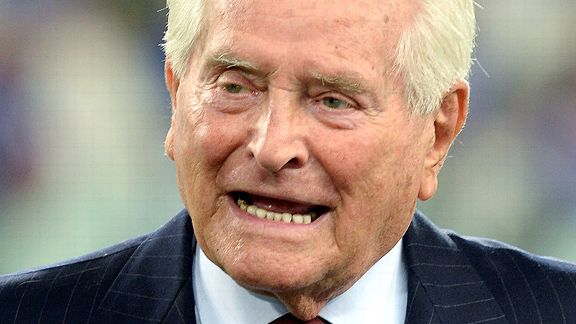 Claudio Villa/Getty ImagesDuring his time at Juve, Giampiero Boniperti enjoyed a cordial rivalry with his Roma counterparts. The rivalry remains strong.
"Er' go' de Turone"
In 1981, the title race had also been a joust between Nils Liedholm's Roma and Giovanni Trapattoni's Juventus. With only two games left, they met at the Stadio Comunale in Turin for what was billed as a decider. Trailing Juventus by a single point, if Roma won they'd leapfrog them. A quarter of an hour from the end, with the score still 0-0, came a moment that would charge a rivalry. Bruno Conti lifted a ball into the Juventus penalty area, Roberto Pruzzo rose to flick it on for the onrushing Maurizio Turone who nodded it beyond Dino Zoff.

The deadlock looked to have been broken. But as Turone got to his feet again, raising his hands in celebration, something made him stop in his tracks. It was the linesman Giuliano Sancini, a gift shop owner from Bologna. His flag was up. Paolo Bergamo, the man in black, who'd later become the referee designator between 1990 and 2005 -- that is until the Calciopoli match-fixing scandal engulfed him -- validated the decision.

There was disbelief. Turone had made a late run into the box, catching the current Italy coach and former Juventus midfield player Cesare Prandelli asleep at the far post. How could he have been offside? His initial reaction was that it must have been Pruzzo who had strayed. Broadcast later that evening on "La Domenica Sportiva," Italy's version of "Match of the Day," the replay showed Turone to be onside.

The match finished in a stalemate. Juventus preserved their lead at the top of the table and, 1-0 winners away at Napoli and at home to Fiorentina over the next fortnight, claimed the championship.

Conspiracy? Chokes. Claim and counter-claim
Er' go' de Turone -- "the Turone goal" in Roman dialect -- is still talked about to this day. At the time, Juve's owner, the charismatic playboy and captain of industry Gianni Agnelli, didn't know what Roma were complaining about. "You have the Pope, [Giulio] Andreotti [the most powerful man in Italian politics] and the sun. At least leave us the Scudetto," he joked. Juventus had won 19 of them, though. Roma: only one.

Boniperti, his right-hand man, later admitted: "For me it was a goal. But, be careful now: you can't definitely claim that with that goal Roma would have won the game and therefore the Scudetto, because there was still a long time to play until the end and we might have been able to equalise. You can't insinuate that the referee disallowed it out of favour to us either, as [Juve's rugged midfielder] Beppe Furino was sent off in that game."

Unused to being in the ascendancy, Roma might have choked too. They beat Pistoiese the following weekend and were leading Avellino on the final day of the campaign when news came through that Antonio Cabrini had put Juventus ahead against Fiorentina. Shortly afterwards, Roma conceded and drew 1-1.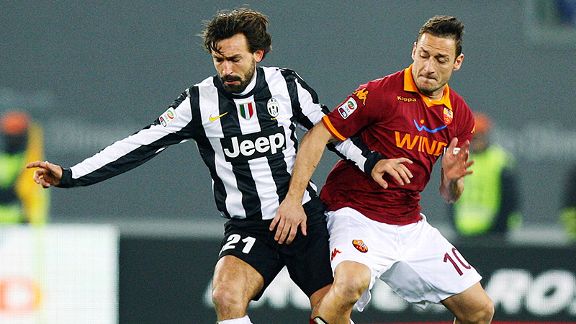 Paolo Bruno/Getty ImagesRoma and Juventus have set the gold standard for Serie A this season. Sunday's clash promises more of the same.

It's worth noting that this team did have a tendency to throw things away. Flash forward, for instance, to the penultimate game of 1985-86 for evidence of that when they lost 3-2 to a Lecce side doomed to relegation and were overtaken by -- yes, you guessed it -- Juventus. This Scudetto, though, the 1981 edition, felt like it had been taken away from them.

While "you can't say anything for certain" -- particularly after Calciopoli -- Turone himself doesn't completely buy into the conspiracy theories and retrospective analysis that followed the scandal.

"In those days it was fashionable to talk about a 'control room' but I don't believe that Juventus had to go looking for help," Turone told Il Corriere dello Sport. "Let's not forget that they were a great team: Zoff, [Claudio] Gentile, [Antonio] Cabrini, [Gaetano] Scirea, [Marco] Tardelli... They were the backbone of the national team that won the World Cup [in 1982]. And then there was [Roberto] Bettega, [Franco] Causio and [Liam] Brady. Yet we weren't inferior. Conti, [Roberto] Pruzzo, Ancelotti, Agostino Di Bartolomei and above all, Falcao, a phenomenon, a complete player."

The height of a rivalry and why it burns anew
Roma's wait for a Scudetto ended in 1983. They reached the European Cup final the following year, losing on penalties to Liverpool in front of their own fans at the Olimpico. Juventus lifted that trophy in 1985, with the tragedy at Heysel as its backdrop, and in '86 would edge Sven-Goran Eriksson's Roma to become Campione d'Italia again.

That era was the height of a rivalry that will forever have Er' go' de Turone as its symbol.

It is still disputed.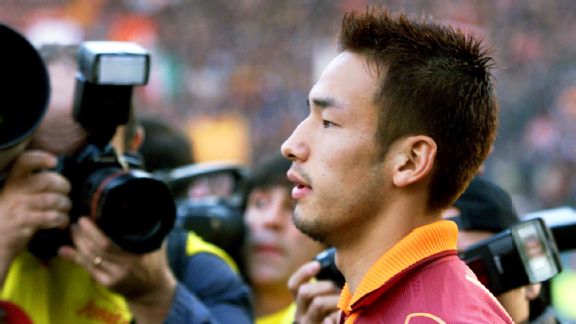 Gabriel Bouys/AFP/Getty ImagesHidetoshi Nakata helped Roma pip Juventus for the Scudetto in 2000-01.

Only this year, Carlo Sassi, the man behind the TV instant replay at the time, claimed it was offside and that the camera angle had led to a false impression and even alleged it had been manipulated to show otherwise at the broadcaster's studios in Rome. When applied, new technology, however, did demonstrate that Turone was onside. But "any instrument has a margin of error." As such, we're still no closer to an answer.

What Viola said all those years ago is true to this day. It remains a "question of centimeters."

Evoked whenever Roma and Juventus meet, it attains a greater resonance if it's a match considered decisive for the title. That was the case in 2001, the last time they were involved in a top of the table clash. On that occasion, the decisions went Roma's way, notably the one to lift the restriction on non-EU players just prior to the game.

Down 2-0 inside 10 minutes, Fabio Capello was able to throw on Marcos Assuncao and Hidetoshi Nakata in the second half. "The Japanese who shouldn't have played was decisive," recalled Juve's coach at the time, Carlo Ancelotti. Nakata did indeed change the game. He pulled one back in the 79th minute and it was from the rebound of his shot that Vincenzo Montella equalised at the death to preserve Roma's six-point lead on Juventus. Six weeks later, they were champions.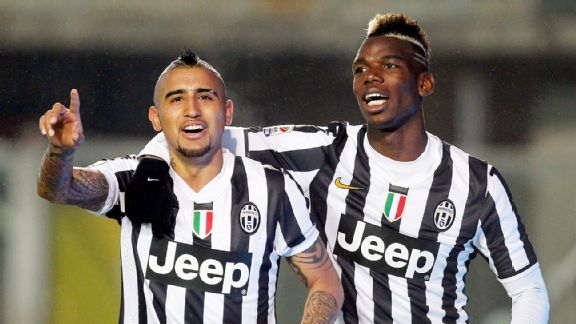 Maurizio Lagana/Getty ImagesCan Arturo Vidal and Paul Pogba keep Juve on track to win Serie A again?

Memories of encounters like that whet the appetite for Sunday's game in Turin. Even at this early stage -- remember we're not yet halfway through the Serie A season -- it's expected this meeting will set the tone and tell us a lot about the psychology of the remainder of the campaign.

Winners of their first 10 games -- a record in Italy -- Roma were five points ahead of Juventus in late October. Things have swung in the meantime. Victorious in their last nine league games, Juventus are now the ones five points out in front. Make it 10 in a row and according to the great Zbigniew Boniek, who played for both clubs in the 1980s, it will be "practically match point" for the Old Lady.

Yet Roma can bring this title race closer to deuce again. Far from disappointing in any of the big games they've played so far this season and, lest we forget, still undefeated, they will run Juventus close. Sunday promises to be another "question of centimeters."