Giuseppe Rossi deserving and ready for a World Cup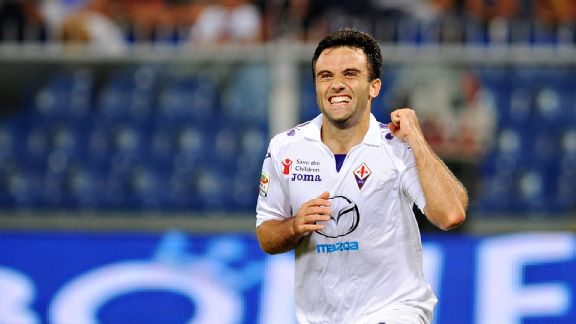 Valerio Pennicino/Getty ImagesAfter many big injuries, Giuseppe Rossi's poised to finally seal his destiny as Italy's leading striker.
You can imagine Enzo Bearzot holding his pipe and chewing it, wreathed in the smoke he puffed as he considered Marcello Lippi's latest squad selection. This was back in October, 2008. Italy were about to fly to Sofia for a World Cup qualifier against Bulgaria. Running his finger down the list, Bearzot stopped at the name of Giuseppe Rossi and smiled. It's about time, he thought.

Though still only 21 years old, Bearzot was of the opinion that the then-Villarreal striker had been unlucky not to be selected by Roberto Donadoni for the European Championship. For some, it was too early. But not for him; not on the back of his first season in Spain.

"I'm happy that Lippi called him up because I've always liked this kid," Bearzot told La Gazzetta dello Sport. "I've followed him ever since Sir Alex Ferguson spoke well of him. If a young player has quality, he deserves to be in the group. The coach must then judge his character before playing him in the first team. At least that's what I did with [Giuseppe] Bergomi, [Antonio] Cabrini and [Paolo] Rossi."

All were members of his 1982 World Cup-winning side. That triumph was of course synonymous with Rossi, his hat trick against Brazil every bit as iconic as Marco Tardelli's celebration following his goal in the final against West Germany. "After the World Cup in Spain our Rossi became [known] to everybody as 'Pablito,'" Bearzot recalled. "I hope this one becomes known as 'Pepito' even before the World Cup [in South Africa]." That he would, thanks to Bearzot.

The nickname has stuck whether Rossi likes it or not. "In Spain they called me 'El Bambino' instead, I don't know why," he revealed to La Nazione in March. "But yes, 'Pepito' is OK."


Bearzot's wish to see him at the last World Cup went unfulfilled. A part of the preliminary squad that had trained at Sestriere before embarking for South Africa, the host country where he'd played in the Confederations Cup the year before, Rossi didn't make the return journey. Disappointingly, he was cut.

Upon reflection, along with not being able to persuade Alessandro Nesta to come out of international retirement, this would be Lippi's greatest regret as Italy, the holders, humiliatingly finished bottom of a group including Paraguay, Slovakia and New Zealand. For a time, Rossi's non-call-up would become symbolic of a frustrating reluctance to put faith in youth.

Lippi's successor, Cesare Prandelli, resolved to change that. On his appointment, he announced that Rossi and Mario Balotelli represented the future of Italy's forward line. That was the partnership he wanted to develop. Over the next three years, however, he wouldn't get as many chances to foster their pairing as he'd have liked. Tweeting about it earlier this month, Balotelli wrote: "... Unfortunately up until now we've played little together for La Nazionale but I hope that the right time arrives soon."

Balotelli, remember, moved to Manchester City in 2010. Ill-discipline plus a red card here and there meant he was sometimes ineligible for selection according to the ethical code Prandelli had implemented. So Rossi played more with Antonio Cassano through qualifying for Euro 2012. A month or so after Italy had booked their place in Poland and Ukraine, he tore the cruciate ligament in his right knee playing for Villarreal against Real Madrid at the Bernabeu.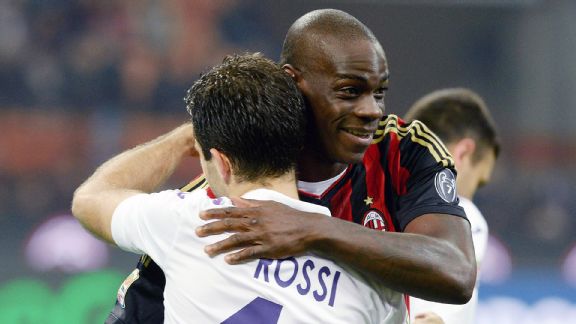 Claudio Villa/Getty ImagesItaly coach Cesare Prandelli sees Rossi and Mario Balotelli as the future of the Azzurri yet they've yet to cement their partnership.

Prandelli vowed to wait for him and it looked like Rossi might make it. But then, just as he was preparing to make his comeback in April last year, he suffered a relapse. The knee buckled again. Rossi required another surgery. He would miss another major tournament and all but the final day of the following season. "Many times I asked myself why it happened to me, not the first time, but especially the second time. But I realised that asking yourself these kind of questions is a slightly dangerous game."

There were fears that Rossi might never be the same again, albeit fears he didn't share. "I worked hard to [return] but I never had any doubts that I'd be able to get back to being the Rossi I was. Actually, I always believed that I'd come back even stronger." Fiorentina did too. They demonstrated as much by signing Rossi in the spring despite him still being at least four months away from recovering his fitness. "There were many sceptics," Fiorentina owner Andrea Della Valle said. "Now they're all believing again."

Aren't they just. The "gamble" (if you can really call it that) looks like paying off. For 9.5 million euros, Fiorentina look to have got the player for whom clubs like Barcelona, Juventus, Bayern Munich and Tottenham were apparently prepared to pay 35 million euros a couple of years ago.

There has been the odd nervy moment since. For instance, during a preseason friendly against Apoel Limassol when an opponent made a reckless challenge from behind on Rossi, scything him down. Vincenzo Montella leaped from his dugout. A sense of trepidation descended on the ground. "I touched my leg, bent my knee," Rossi told Sportweek after the game. "The effect of the blow passed. There was no pain." That's when he understood his injury ordeal was over. The knee was finally healed. "At times I look at the scar to remind me of it. I almost talk to it."

No sooner was Rossi back than he made his mark for Fiorentina. He scored in their opening game of the season against Catania, his first goal in 686 days. The way he celebrated, you could tell it was liberating. "I'm happy," he said. "It's a great emotion, and my thoughts go to my [late] father [for whom Rossi wears the No. 49 shirt, the year of his birth]."

He hasn't stopped scoring since, currently Serie A's Capocannoniere (top scorer), with 11 goals in 12 games. The pick of the bunch was the one he curled in from outside the box against Sampdoria this past weekend, though Rossi became an idol of the Curva Fiesole when he struck not once, not twice but three times to bring his team back from 2-0 down versus Juventus in a 4-2 win. It was the first hat trick scored by a Fiorentina player against the Old Lady since Dante Di Benedetti in 1941, and also ended a 19-year wait for a win over the champions at the Artemio Franchi.

Comparisons with "Pablito" -- and in particular the tripletta he scored against Brazil in 1982 -- were made once again. Called up for Italy's final qualifiers, Rossi made his return to La Nazionale as a second-half substitute in the 2-2 draw with Armenia in Naples. Prandelli had hoped to use him against Germany at San Siro on Friday night but a bout of tonsillitis has made him unavailable. With Balotelli out of sorts and Stephan El Shaarawy still not back to full fitness, Rossi has become Italy's big hope ahead of the World Cup next summer. People are looking more to him again.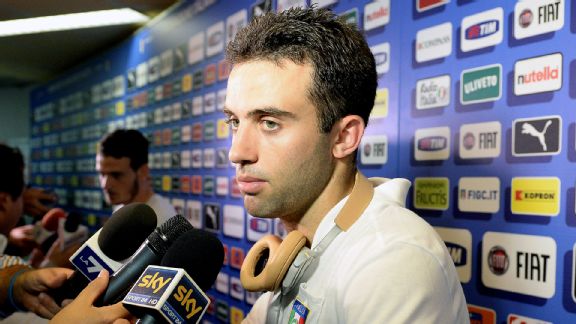 Claudio Villa/Getty ImagesItaly is looking to the current Serie A top scorer to guide them through the World Cup. And he deserves that chance.

Only Cristiano Ronaldo and Diego Costa have scored more than Rossi in Europe's top five leagues this season. He is averaging 0.92 goals a game. You might say the Fiorentina striker is enjoying a purple patch.

But is this the best he's played in his career? Rossi insists it isn't, which is frightening. He instead cites the 2010-11 campaign when he scored 35 goals for Villarreal, establishing himself as the most prolific goal scorer in their history and the highest goal-scoring Italian ever to play in La Liga. What a year that was. Rossi was arguably the outstanding player working outside of Barcelona and Real Madrid. On current form, he has a claim to be considered Serie A's best.

But we mustn't get ahead of ourselves. Rossi certainly isn't. Before the Juventus game, he told La Gazzetta dello Sport: "... I live in the present not the future. So don't ask me about the Maracana, the World Cup, the Champions League." He's taking it game by game, and rightly so after everything he's been through. But if there's one player overdue a major tournament, it's Rossi.

Let's hope he continues in this rich vein of form and makes it to Brazil.