Saluting Javier Zanetti, Inter's true Superman
Massimo Moratti was in London on business nearly two decades ago. His trip to England's capital just happened to coincide with the second leg of Inter's third round UEFA Cup tie with Norwich City. "It was a long time since I'd followed the team away from home," he recalled.

Massimo's father, Angelo, had sold the club back in 1968, but the passion he felt for Inter had never diminished. How could it after everything he'd experienced with them growing up? He'd lifted the European Cup in Vienna as a teenager after watching the team he loved, la Grande Inter of Giacinto Facchetti, Mario Corso and Sandro Mazzola, triumph over Real Madrid.

So Moratti decided to go to Carrow Road on November 23, 1993. After famously eliminating Bayern Munich in the previous round, Norwich weren't about to claim another scalp. Dennis Bergkamp, scorer of a fine winning goal in the first leg at San Siro a fortnight earlier, found the back of the net again from the penalty spot to send Inter through 2-0 on aggregate.

Serie A latest:
- Gladwell: Pirlo shines in Juve win
- Marcotti: Juventus jump Napoli
- De Martinis: Keeping Roma loss in perspective
- Wilson: Inter dominate Livorno
- Paul: No way through for Milan

This is often thought of as the moment Moratti began to seriously consider bringing the club back into the family, which he would go on to do in the spring of 1995. It had been calling out to him for years. Shortly before Angelo died in 1981, he'd told his son: "You should see whether you can buy Inter because you must have an experience in football. It helps you grow, suffer and improve."

As people learned of Moratti's intentions to take over Inter, directors and agents began to get in touch. They recommended players that might be worth consideration for a role in his team.

"I hadn't yet bought Inter when a videotape of an Argentina Under-20 game was given to me so that I could watch Ariel Ortega," Moratti reflected in Il Corriere della Sera's supplement, Sette. "I saw a little bit of the game, not all of it. Ortega didn't make a great impression on me. Instead, something very strange happened. I was enchanted by a full-back who I'd never seen before: he defended, broke forward, dribbled seven opponents in a row. We signed him and he's still with us. I've found out that he comes from planet Krypton and that he'll play another four or five years."

That player, "the first I saw and chose," was none other than Javier Zanetti. You can probably say that the second Moratti era at Inter began with the guy affectionately known as Pupi. How poignant then that it should also kind of end with him as a protagonist too.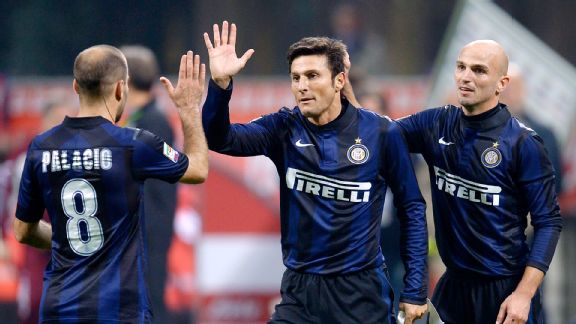 Alberto Lingria/Getty ImagesJavier Zanetti's return to the field is nothing short of remarkable, until you consider the dedication he's put into his entire career.

Saturday's game against Livorno at San Siro was officially Moratti's last game as president of Inter. The Curva Nord unfurled a series of banners measuring 400 metres long. They'd had their differences with their president over the past 18 years, it admitted, but "despite everything, there's something we have in common: the undeniable love for Inter. Now we await [the new owner] with curiosity, but meanwhile thanks for everything president, you deserve it. We love you at heart." On Thursday, a board meeting will formalise the new structure of the club following the sale of a controlling stake to an Indonesian consortium headed by Erik Thohir.

While some things change, others, however, remain the same. In the 82nd minute, the fourth official flashed up the No. 21. Saphir Taider was coming off. He was to be replaced by the No. 4, Zanetti. As Inter's captain ran out onto the pitch, a huge roar came down from the Nord and with it chants of "un capitano ... c'e solo un capitano." Six months after tearing his Achilles in Palermo, Zanetti was back. At the time, many had thought that his playing days were over. Younger footballers have struggled to return from an injury like the one he had suffered. Zanetti, remember, was approaching his 40th birthday.

"You're mad if you want to make a comeback at your age," his former teammate and compatriot Hernan Crespo laughed. No, Zanetti was perfectly lucid. "My career isn't over," he said. "I'm changing tyres."

It was a pit stop, that's all, and Zanetti has raced back. Experts believed he'd be out for nine months. But here he was again, his boots tied, his kit on, his hair immaculate as ever. Maybe Moratti is right. Perhaps Zanetti really does come from Krypton and not Dock Sud, Buenos Aires.

Joking aside, overcoming this injury has not been easy. All Zanetti wanted to do was "play at least one more game in front of Inter's fans." Limiting himself to that objective foretold how cautious he perhaps was about making it back.

The papers even told Zanetti that maybe it was time to call it a day. "In 1978 Facchetti could have played another World Cup," wrote Luigi Garlando in La Gazzetta dello Sport, "but he listened to his body and with great honesty said 'No' to Enzo Bearzot, who wanted him in Argentina as a captain not as a player. He closed his legendary career there. Inter needed him as a director until his final days. It's the carpet that now unfolds at Zanetti's feet: become the new Facchetti of the young Inter that is being born."

Make no mistake: Zanetti intends to do that one day. "Nobody knows it, but there's already a desk and an office ready with my name on it at Inter's headquarters," he told Chi days before the Achilles injury. But for now that can wait. He's not done yet.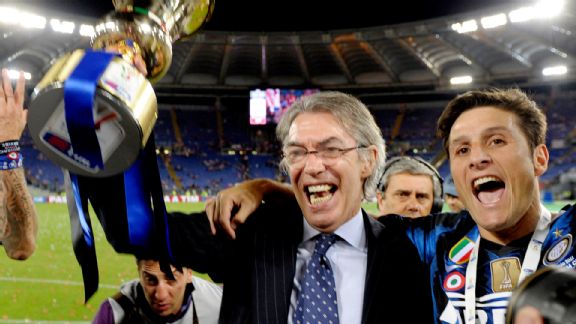 Claudio Villa/Getty ImagesMassimo Moratti and Javier Zanetti have defined Inter for what seems like an eternity.

The road to recovery started in Buenos Aires. Over the summer, Zanetti did his rehab at Predio, Argentina's training centre. He pushed 160kg, left leg, right leg, repetition after repetition, surprising the national team's physio Luis Garcia. As players like Fernando Gago and Sergio Romero walked by, they commented on Zanetti's "spirit of sacrifice." He pretended not to hear. "I'd like to say to them: 'Lads, it's no sacrifice," Zanetti wrote in his biography Giocare da Uomo (translated: "Play as a man"). "I love this hard work. I love this sport. I love this life. Every training session, in the cold and under the snow or sweating in the heat has given me joy, has made me smile. I am a lucky man."

The book he wrote with Gianni Riotta only reinforces the well-established impression of Zanetti as a hard worker, a model professional. After all, this is a guy who even trained on his wedding day. "There's some time to spare, Amore," he recalls telling his wife Paula. "The church ceremony is over. We've exchanged rings. The guests are yet to arrive for the reception. I'm going to go for a jog. I've brought my running shoes."

Some years later while holidaying on the island of Djerba in Tunisia, Paula was mortified to discover that she'd booked a hotel without a gym. There wasn't one nearby either. What would she tell Javier? Inter's fitness coach had drawn up a training schedule. It had him doing 75kg shoulder squats a day. How would he manage to do them without any equipment? She needn't have worried. He'd find a way.

Over dinner one night, Zanetti politely asked Paula how much she weighed -- 50kg. Then he gathered the books they'd brought to read with them and got the cook to measure the bundle on his scales. Some small dumbbells to make up the weight were found on an excursion to a local shopping centre too. On the beach later the following day, Zanetti asked Paula to put on her rucksack -- now full of books -- hold the dumbbells in her hands and get on his back. Up. Down. He got through his repetitions like this.

There's another anecdote that further illustrates his level of commitment. Last year, the Zanettis went to Madrid to pick up some friends at the airport. The flight was delayed, its estimated landing time more than an hour away. "Paula, would you mind if..." She knew what he was about to say. He wanted to go for a run and, ever prepared, had brought his trainers with him. So after getting changed in the toilets, off he went around the terminal. Remarkable, no? "Shortly before our friends came through the gate," Paula recalled, "Javier returned unabashed and fresh as a daisy." Talk about dedication.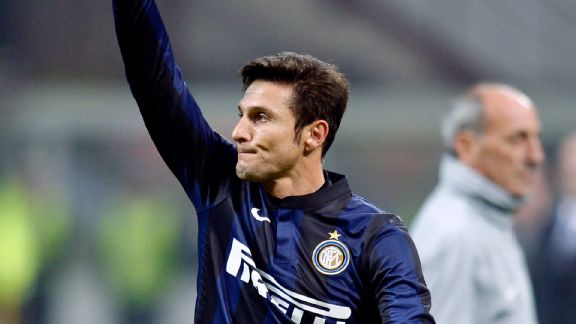 Alberto Lingria/Getty ImagesWith an office already set up at Inter, it's clear that Javier Zanetti's work is far from done at the historic club.

So if you're wondering how Zanetti managed to recuperate from a nine-month injury in just six months at the age of 40, there's your answer. It lies in his attitude, his mentality, yet his return is no less extraordinary for it. "Lots of things come to mind," coach Walter Mazzarri told Sky Italia, "but it would probably sound like adulation. I said what I think in the dressing room. He's world class and you saw that today. In just 10 minutes when he came on he was a calming presence for the whole team. You don't find many people who can slot back in with so much ease after an injury like he had."

Inter were 1-0 up when he came on. They'd taken the lead after 30 minutes when a cross by Jonathan slipped under the grasp of Francesco Bardi, the Livorno and Italy Under-21 goalkeeper who happens to be on loan from Inter. The raddoppio came shortly after Zanetti's introduction.

He of course had a part to play in it, offloading the ball to fellow substitute Mateo Kovacic, who beat one player, then another and another before dinking a pass through for Yuto Nagatomo to lash beyond Bardi. All the Inter players ran towards Zanetti. Esteban Cambiasso hugged his great friend, patting him on the back.

When he handed the captain's armband over at full-time, Zanetti was almost overcome with emotion. He walked under the Nord, saluting the Interisti and beating the club crest on his chest. "It was a great feeling," he said before turning his thoughts to Moratti. "The bond between myself and the president goes way beyond our professional relationship. He deserves all the applause he gets for everything he's done for Inter and for what he and his family feel for the club. I dedicate this win to him and I'm going to give him my shirt."

It was a fitting gesture. The fan-owner. The kid from Krypton. What times they've had together. History-makers, the pair of them.