Sunday's Juve-Napoli clash will be must-see TV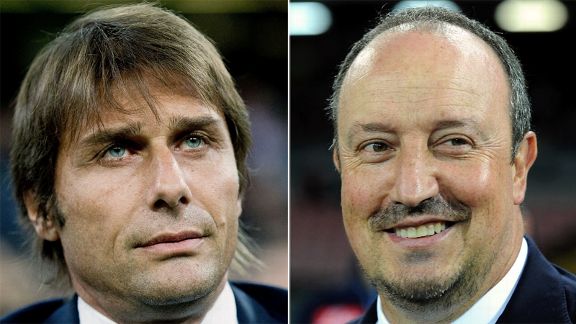 Getty ImagesJuve and Conte's apparent plateau plus Napoli's improvement under Benitez makes Sunday's clash even more compelling.
In a preseason press conference, Juventus coach Antonio Conte was asked who he believed would be their main title rivals over the next nine months in Serie A. The 44-year-old was unequivocal: the anti-Juve, as the papers in Italy have described the pretenders to their crown, would be Napoli, the team visiting the champions this Sunday night in Turin.

This was back in July. Napoli had yet to sell Edinson Cavani but their intentions were well known. "I would prefer that he stayed," Conte joked, "because with him [in the team] we always beat them [except of course in the 2012 Coppa Italia final]."

He knew that Napoli would reinvest all of the 64 million euros that Paris Saint-Germain planned to pay them for Serie A's then-Capocannoniere (top scorer). Should they spend it wisely (which they did), then last season's runner-up would "reinforce in every department" and close the gap with Juventus. It'd be tougher to win the Scudetto this season, Conte insisted. Juventus also hadn't won three titles in a row since 1933, he reminded everyone.

Undefeated one season. Winners by nine points the next. Pah, journalists scoffed. Conte was overplaying it. For many of them, Juventus were the superfavoriti. After all, hadn't the strongest team in Italy gotten stronger over the summer? They'd signed Carlos Tevez, the long-awaited top player and go-to goal scorer that Juventus had apparently been lacking over the past couple of years.

They'd go up a level now, was the thinking. It was assumed by members of the press corps (though never by Conte) that Juventus had been so dominant in the league, Serie A would almost take care of itself. The transfers were indicative of a tilt at the Champions League, they said, and were the required response to getting knocked out in the quarterfinals by eventual winners Bayern last season.

Now, there was an element of that, of course. But the argument was, in Conte's opinion, "too simplistic." He quickly grew exasperated at how the media believed his side would run away with the league. Not only was the competition fiercer and more varied, but after two years of success there was the risk that his core group of players might succumb to a sense of present fulfillment and self-satisfaction. They might not have the same hunger as before. They could well have gone stale, while at the same time there was a lot that was fresh about Napoli: a new coach, new players, new approach and new style of play. There was an excitement about them. A buzz.

For Conte, they'd made a real coup by appointing Rafa Benitez. He was their "biggest signing," more important (at least to him) than the arrivals of the galacticos from Real Madrid -- Gonzalo Higuain, Raul Albiol and Jose Maria Callejon -- not to mention Dries Mertens and Duvan Zapata. While some had doubts about Benitez's ability to assimilate so many new faces and questioned the wisdom of moving away from the three-man defence that had become a trademark of Napoli's game in recent years -- some even accused him of arrogance -- Conte didn't share them.

After all, Benitez had won everything. No other coach currently working in Serie A, for instance, has lifted the Champions League and/or the Europa League. Yep, Napoli would be a threat all right under Benitez. They'd run Juventus closer than anyone else in the last two years. Conte knew it would be harder. He'd said so over and over again.

In the end, he was right; the papers were wrong. The first quarter of the season has demonstrated that.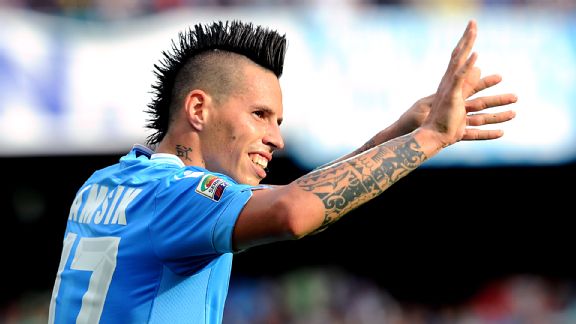 Giuseppe Bellini/Getty ImagesWith Cavani gone, Marek Hamsik has stepped up to lead a new-look Napoli side to its best-ever Serie A start.

Napoli have made their best-ever start to a campaign in Serie A, better even than in 1986-87 and in 1990-91 when they won the Scudetto. It's a personal best for Benitez out of the blocks also: Not even his La Liga-winning Valencia sides in 2001-02 and 2003-04, nor his 2008-09 Liverpool team that came closest to ending Anfield's long wait for a Premier League title, had amassed as many points at this stage as his Napoli.

Of the Italian teams in the Champions League, Napoli have almost twice as many points as Milan and three times as many as Juventus, yet they're the ones in the toughest group. Defeats to Arsenal and Roma aside, they have been mightily impressive and, by Benitez's reckoning, are only operating at "75 percent" of their potential too.

"They're an important team with great quality and are capable of expressing good football," Conte said at UEFA's coaching get-together in Nyon in September. "Up front they have very good players who can decide a game in any moment. Last year they were more dependent on Cavani and Marek Hamsik's goals [for the record that tandem accounted for 54 percent of the whole], while now they have Higuain who is worth the same [in goals] as Cavani, and in addition to him they have [Goran] Pandev, Callejon, [Dries] Mertens, [Lorenzo] Insigne and Hamsik too."

This is all true. Napoli have more ways to hurt teams than they did last season. They've spread the goals around eight different players, with no fewer than 12 of their strikes coming from new signings (more than any other team in Serie A). Juventus have cause to be wary, but remember Napoli are coming to their house and have only beaten them once in Turin in 24 years. That was on Halloween in 2009, when they rallied from 2-0 down to win 3-2 in the last minute, Hamsik starting and finishing the comeback.

Yet history will not weigh on Napoli like it has before. Earlier this season Benitez led them to their first win over Milan at San Siro since 1987 and there are indications that the mental block they had when it came to going away to their rivals in recent years is lifting. Returning home from the Juventus Stadium with three points, however, will be a lot more difficult than doing so from San Siro, of that there is no doubt.

So what to make of Juve this season? It's been common to hear people say this season that they aren't what they once were. For instance, disappointing results in the Champions League, the fortune they needed against struggling Chievo and the blackout they suffered after 70 minutes at Fiorentina have added to this perception. The intensity and aggression so synonymous with their play under Conte hasn't been there at times.

Is that a lack of hunger? Or is it more the case that this team, from which the national team draws so heavily, just hasn't had a break for a couple of years? Eight Juventus players were part of Cesare Prandelli's Confederations Cup squad. Nearly all were regulars. That meant they started preseason late, weren't able to train fully on their return and have since needed time to get up to speed. With all this in mind and, more specifically, given how Juve's defence is Italy's defence, perhaps it shouldn't be a surprise that particularly early on in the campaign they were making uncharacteristic mistakes and suffering lapses of concentration at the back.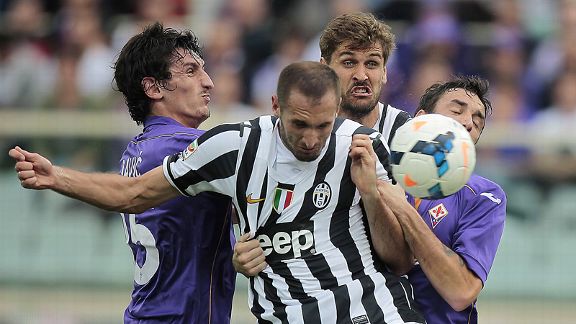 Gabriele Maltinti/Getty ImagesJuventus has looked weaker this season. Less of a sure thing defensively. Yet Conte appears to have them back on track.

Gradually, those imperfections have been ironed out. Juventus haven't conceded in 332 minutes in the league. They've kept a clean sheet in their last three games. Untroubled by Genoa, who couldn't muster a single shot on target, goalkeeper Gigi Buffon only had one save to make at home to Catania and then just the one away to Parma again at the weekend. In short, Serie A's best defence in the last two years is locking it down again. The performances as a whole are getting much much better too, and the level shown against Lazio in the Super Cup and then in the league is becoming more and more the norm.

Still, because so many people have been down on Juventus over the last couple of months, you probably wouldn't know that they have exactly the same number of points as they did at this stage last season. Moreover, compare the results they've got against the teams they've faced so far with the corresponding fixtures last term and they're actually six points better off. That's frightening.

Remember -- Juventus have had a much tougher start than Roma and Napoli. They opened with Sampdoria, the only team who beat them home and away in the league last season, have played host to the Coppa Italia holders Lazio as well as Milan. Don't forget Hellas Verona, the best of the promoted sides, with trips also to Inter, Fiorentina and Torino for the Derby della Mole. Get Napoli out the way and things are more downhill until they face Roma after the New Year.

To still be in touch and right in contention despite a steep start is of great credit to Juventus. They'd be leading the King of the Mountains classifications if Serie A were the Tour de France. And to think they have done so while apparently not playing up to the high standards they've set themselves since 2011. "What will happen when they start playing well?" Michel Platini asked rhetorically when speaking at an awards ceremony in September. What, indeed? It's all rather ominous.

Roma's record-breaking start has had the effect of making Napoli and Juventus look ordinary when, by normal standards, they're anything but. To illustrate this, since the FIGC and Lega Calcio introduced three points for a win in 1994-95, never has the space between first and fourth been as big as 11 points, and never has the gap from third to fourth been as large as six points, either. Serie A's top three are getting results at a tempo that the rest of the pack just can't keep up with. But can it be sustained?

Sunday's game presents Juve with the opportunity to drop Napoli and vice versa. Draw and they might momentarily lose Roma's wheel again (providing of course that the league leaders win, as expected, against Sassuolo).

Juventus-Napoli promises to be a great game. It was billed as a title decider last season but not since 1986-87, when Diego Maradona won his final tussle with Platini, has there been the sense that they'll be neck-and-neck from the very beginning to the very end with Roma. For El Pibe d'Oro and Le Roi read El Pipita and El Apache, Higuain and Tevez.

"True Argentines don't play in Turin," Maradona once said. Higuain, let's not forget, very nearly did -- Juventus just considered him too expensive. And as for the No. 10 shirt Tevez now wears, it once adorned the shoulders of the great Omar Sivori, who went on to play for Napoli too.

The storylines are many, so many, and Turin is the stage on which they'll be played out. Italy will be watching. Argentina will be watching. The world will be watching.