Milan's first lady calling for change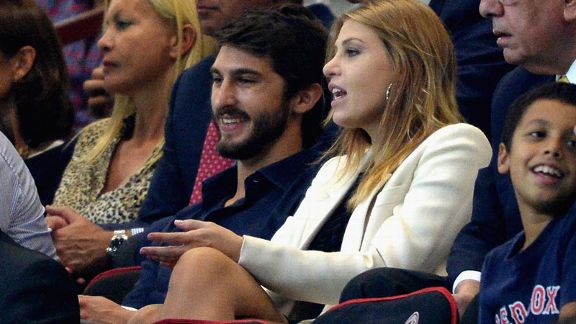 GettyImagesBarbara Berlusconi has plans for the future of the club.
That time of the year is approaching when Italian reporters speculate as to who will and will not get to eat their panettone this Christmas. Here, getting a slice of cake after your Christmas lunch has a strong symbolic value, so much so that AC Milan coach Massimiliano Allegri was radiant when photographed with the prized possession in his hand just under a year ago. It may not be a trophy, but it is not far off, and he intends to eat it again while wearing Milan colours this winter.

Some panettone may have been served at a family lunch in Milan last Sunday, although the kind of chitchat normally around the dinner table gathers more significance when those doing the talking are within the Berlusconi household. Suddenly it is dominating the evening news, with Sky Sport News 24 dissecting a bulletin from ANSA's news agency in which the delicateness of the situation at Milan (not the Sunday roast) was the most pertinent point being discussed by Milan president Silvio Berlusconi and his daughter Barbara, who is becoming increasingly responsible for the day-to-day running of club affairs.

Strictly according to ANSA, Barbara had not asked for her father to pass the gravy, but rather to change the way the meal is presented altogether; caviar is being served, but it is not particularly palatable. In footballing terms: Money is being invested, but the quality of the return is not up to scratch.

Investment in the squad is the responsibility of Adriano Galliani. The general manager, and not Allegri, has thus moved into the crosshairs with Italian football's potentially strongest lady deciding now is the moment for her to emerge from her back seat role and start calling the shots up front. With the most influential man at the club as a father, your opinion already carries significant weight.

So why all the fuss anyway? Quite simple: AC Milan have made their worst start to a season since 1981. In spite of the signing of Ricardo Kaka, the virtual new arrival of Mario Balotelli, who joined last winter but was starting his first full season this summer, and the Rossoneri's charge to third in the second half of last season -- when they picked up more wins and points than champions Juventus -- the preseason expectations are not being matched.

They head into a weekend Serie A encounter with Chievo approaching an important juncture. Which way Milan go and the direction Allegri takes may well be decided on Sunday with the fans' patience already tested to the full and that of the club's president and board teetering. The situation at the Diavolo is critical and somebody is set to pay. The question, it seems, is whether that person, the proverbial scapegoat, will be the man sat in the office upstairs or the one on the bench. Or perhaps both together.

In reality, Milan had only two points more at the same stage of last season. And they lost their subsequent game at home to Fiorentina, so Allegri can actually find himself in a more prosperous position than a year ago by beating Chievo. The biggest difference between now and then, though, is that the clubs at the top of Serie A are currently travelling at a rate of knots, opening up a 16-point gulf which, even should Milan win every game between now and the end of the season, would be hard to close.

Winning even half of their 28 remaining games appears a big ask with the team no longer exuding the kind of dominance they showed in the first half of 2013. The Balotelli effect has worn thin, so much so he was left on the bench against Barcelona on Wednesday night with Allegri reminding people he "had regularly been a substitute" at Manchester City and Inter. After struggling with injury, Kaka has shown only glimpses of the kind of form that characterised his first spell with the club and endeared him to the fans.

Robinho also has shown some glimpses, albeit of his apparently inherent wastefulness, particularly when it comes to the seemingly easiest of chances, while Stephan El Shaarawy was looking out of sorts even before injury sidelined him. Pinning hopes on a resurgence when he returns is certainly a big ask of a 21-year-old. Injuries and absences therefore cannot fully explain Milan's meandering; the real reason must lie somewhere else.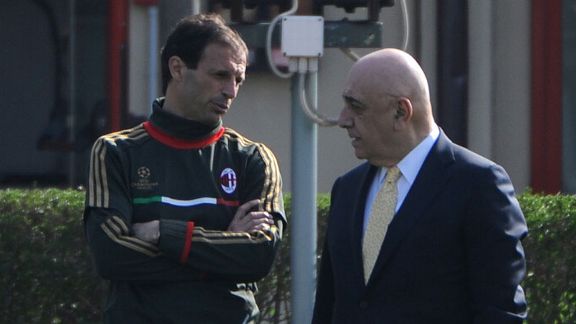 GettyImagesMassimiliano Allegri and Adriano Galliani have come under fire after a dismal start to the season.
Barbara Berlusconi has decided to step forward with her own view on things. Radical changes are required to keep the club, which prides itself on being the most successful in world football, in the reckoning for more silverware. A summit between the Berlusconis and Galliani is forecast and the face of the club could change from a burly, imposing bald-headed man to a lady; Lady B, as she is already being referred to in these parts. Milan's first lady.

"If Milan get rid of Galliani, it would be akin to us getting rid of Cristiano Ronaldo," said former AC Milan coach and current Real Madrid boss Carlo Ancelotti this week. "What Ronaldo is among players, Galliani is among managers." And Allegri is the man who led Milan to their first title in seven years.

There can be no guarantees that any replacement -- current youth team coach Filippo Inzaghi is currently touted as the likeliest candidate -- can do any better with the players at his disposal. Yet one thing seems clear: Keeping the status quo is not a solution. When the panettone is dished out this Christmas, there are not likely to be enough slices for everybody. Allegri or Galliani may have to go without, ending either a three-and-a-half-year or 27-year allegiance with the club respectively. Lady B, it seems, is currently slicing that cake.