To see the best of Mario Balotelli, leave him alone
If Mino Raiola were ever to consider a career change and leave his success as an agent to a select number of elite footballers, Zlatan Ibrahimovic principal among them, then he could do a lot worse than try his hand at cultural commentary. Take his opinion on Italy, for instance. "You only talk about two things: politics and Mario Balotelli," he said in exasperation at the treatment of his client. It has certainly felt that way. And more so than usual over the last six weeks.

You might say that it started following Milan's defeat to Napoli at San Siro at the end of September. Balotelli missed his first-ever penalty, scored a wonder of a consolation goal and then, angry at the lack of protection afforded him, allegedly threatened the referee for which he received a second yellow card and subsequent three-match ban.

With the ban due to expire on the day Cesare Prandelli announced his Italy squad for their final World Cup qualifiers, many in the media thought he shouldn't be called up in accordance with the national team manager's ethical code. Prandelli did, though, arguing that Balotelli was no longer suspended for his club and was eligible for selection. Technically, he was right. Still, accusations of hypocrisy were made.

- Report: Milan rule out Balo sale
- Agent: Balotelli may join Chelsea?
- News: Allegri unhappy with Balo

For some, this was further confirmation that there was one rule for Balotelli and another for all the rest. Dani Osvaldo for example had essentially seen his place in the Confederations Cup squad withdrawn for "not attending the medal ceremony" after Roma lost the Coppa Italia final to Lazio. At least that was the official line from the FIGC -- everyone knew it was for feuding with his coach Aurelio Andreazzoli, punching an advertising board and then taking his frustration out on Twitter.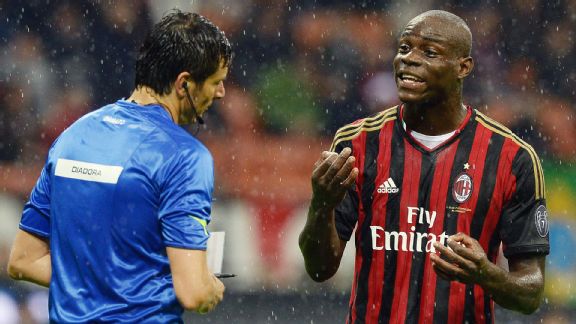 Claudio Villa/Getty ImagesAlways a lightning rod for controversy, perhaps the best tack to help Mario Balotelli is to give him the benefit of the doubt.

But even so, by not pardoning Osvaldo or demonstrating the same clemency towards him as he has with Balotelli, the sense remained that Prandelli had double standards; it was a charge he'd counter by pointing to the times he punished Balotelli after his sending off for Man City against Dynamo Kyiv and the time he stamped on then-Tottenham midfielder Scott Parker.

At the end of the day, it was a case of realpolitik. Prandelli considers Balotelli indispensable. He won't deprive himself of the player if Italy need him. And they did for the games against Denmark and Armenia, even though they'd already qualified for the World Cup in Brazil. Why? Because should they win one of those matches, Italy would be seeded for the competition.

Imagine, then, the disappointment felt by some when Balotelli picked up a knock before the trip to Copenhagen and, according to reports, wanted to pull out of the squad. What was the point of him being there? They were dead rubbers. Except, as mentioned above, they weren't. Prandelli apparently persuaded Balotelli to stay; the squad doesn't get as much time together as he'd like so you can understand why, as he looks to inculcate new concepts and ideas and foster team spirit, he wanted the Milan striker to stick around.

But another controversy was around the corner. Ahead of the Armenia game in Naples, the FIGC had organised for Italy to train on a pitch used by La Nuova Quarto, a club once owned by a Camorrista that has since been reclaimed and refounded by an anti-protection racket organisation, becoming a symbol of the fight against organised crime in the area. Balotelli should be a symbol for it too, claimed La Gazzetta dello Sport.

But why should he be a symbol of the fight against organised crime in Naples? He has never lived there -- only making an ill-advised tour of Scampia a couple of years ago -- nor has he played there at club level. Are Napoli players asked to be anti-Camorra symbols? No -- so why should he? He isn't a magistrate, policeman, a member of an anti-racketeering group. He's a footballer. If anything, he's a symbol of integration in Italy and if he doesn't want to be the poster boy for that, he doesn't have to be either.

Tweeting a photo of the article, Balotelli wrote: "That's what you say! I'm coming [to Naples] because football is beautiful and everyone must play it where they want and, besides, there's a game on." It didn't go down well. He could have at least expressed solidarity, people said. Matters weren't helped by a clash with a photographer on his arrival in Naples, which prompted an apology. Given the circumstances, though, you can understand why he might have been a little agitated.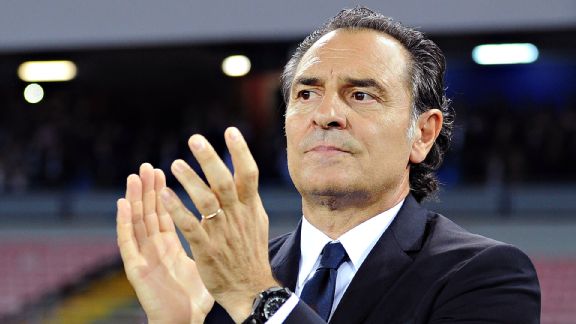 Claudio Villa/Getty ImagesThough criticized for a perceived double standard regarding Balotelli, Italy coach Cesare Prandelli is perhaps one of the few doing the right thing.

On leaving Naples, the Italy squad got to the airport late, the players missed their charter flight, Balotelli commandeered a taxi to take him to Rome, flew back to Milan, trained and unsurprisingly suffered an injury that ruled him out of their games against Udinese and Barcelona.

It's times like these that make you sympathise with Balotelli. It must get overwhelming. Not since he threw his Inter shirt to the floor at the end of the first leg of the 2010 Champions League semifinal against Barcelona has he come under as much scrutiny in Italy. His return six months ago was supposed to get him out of the glare of the tabloids. He'd be closer to his family and friends. There'd be stability in his private life and in his work. Now things look chaotic again.

On the day of the Barca game, Raiola expressed his opinion that Balotelli wouldn't end his career at Milan. Perhaps it was a mistake to come back to Italy, he said. It was the start of some back and forth between him and Milan's chief executive Adriano Galliani, who playfully called him a "furbacchione" -- a wily old fox.

Raiola then went on Italia 1's "Tiki-Taka" show to further underline how fed up he was with the treatment of Balotelli. "I have other players at Milan but no one has asked me anything about them lately. People only ask about Balotelli and that is something that deeply irritates me, so I have decided that this is the last interview in which I'll talk about Balotelli. I've never said judge him on anything other than his performances or the games he plays in, I've only said leave him alone."

Leave it at that, then. Don't encourage, as Raiola subsequently did, talk of interest from Chelsea. Asked if there's anything to it, he said: "Theoretically yes, because Mario and Mourinho know each other. There was hate. There was a not particularly nice situation but they left each other on good terms, stayed in touch and there's mutual respect." With Balotelli under contract until 2017, Galliani insists that Raiola should "resign himself" to the fact that the striker is going nowhere and will "continue to be our star."

One wonders, though, how the actions of his agent helps calm things down. Milan, it must be acknowledged, have been seeking to do just that. Last week, La Gazzetta reported that they were getting Balotelli a tutor, someone presumably capable of making him exercise better judgement. "This is an invention," Raiola told the Milan Channel. "Milan would never allow it, nor would I." Instead, a pact has apparently been made to bring some discipline and normality back to his life.

The "crest" haircut has been shaved off, the diamond earrings gone. The Ferrari Italia is to be left in the garage and the company car driven to training. There will be no more leaving matches in a T-shirt like he did after the Barca game (players are obliged to wear a club suit), and rules that Gennaro Gattuso complained towards the end of his time at Milan were not being respected are to be again. But will it work?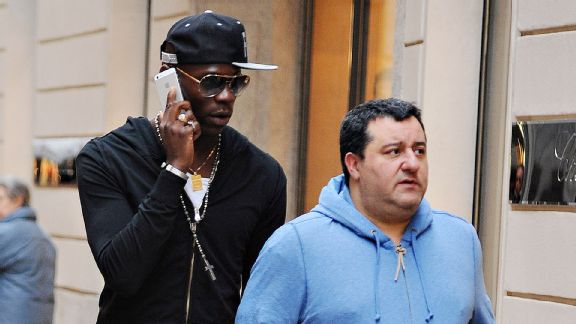 Jacopo Raule/Getty ImagesAll the Chelsea and exit talk could well be driven by Balotelli's agent, Mino Raiola, but it's also realistic given all the friction and bad press.

There's a sense that Balotelli has not performed this season and needs to buck his ideas up (again). But to be fair to him, look at it this way. To the 12 goals in 13 games he scored last term, he's added five in 10, hardly a bad return when you consider he has missed a lot of preseason recovering from an injury he sustained at the Confederations Cup and that he has suffered others in the meantime. The team is struggling too, which doesn't make things easy.

Often he has to carry the attack on his shoulders, which is quite a responsibility and can be frustrating. Substituted for the first time by Max Allegri in Sunday's 3-2 defeat to Parma, a decision made to show that he's as replaceable as everybody else if he has an off day, it also came about for fear he'd get himself sent off.

Out of sorts in Wednesday night's 1-1 draw with Lazio, Balotelli just needs time to get back into the swing of things again. He doesn't need the spotlight being on him all the time. He accidentally bumped a car earlier in the week -- something most of us have done -- but by the initial reports you could be forgiven for thinking he'd been in a car crash. So much is blown out of proportion and sensationalised with him. Balotelli brings some of it on himself, true, but not all.

"Stop talking and talking and talking," he tweeted a fortnight ago, "[...] live and let live! You live and let me live and you'll see the difference!"

If we are to see the best of Balotelli, then it's time that wish was respected.