Roma's unbelievable start is due to team solidarity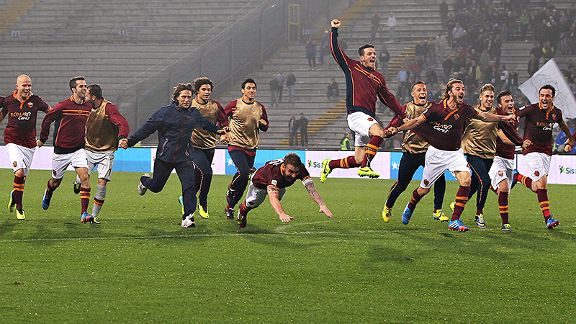 AP Photo/Paolo GiovanniniRoma have been successful due to each player believing in head coach Rudi Garcia and his objectives.
See how they ran. All in a line, players and staff, hand in hand toward the away end at the Stadio Friuli. Alessandro Florenzi punched the air, Federico Balzaretti roared, his arms outstretched, while an overexcited Daniele De Rossi rather amusingly stumbled.

There was euphoria.

For the 4,000 Roma supporters who had made the six-hour trip to the wintry, north-eastern town of Udine, a place closer to Slovenia's capital than Italy's, it had all been worthwhile.

They had watched their team win again. Francesco Totti had done so, too, back at his home in Rome. Laid up with a hamstring injury, el capitano must have been sat in front of the TV with his laptop open, for not long after full-time, his thoughts were to be found online on his Curva Sud blog. "Compliments to my teammates who all showed that they have courage, strength and, as we like to say, a pair of b---- like this!" Totti wrote in a short post.

Opponents Udinese hadn't lost at home for more than a year. The last team to get the better of them on their own patch was -- who else -- Juventus, then still in the midst of a 49-match undefeated streak in the league.

This wasn't likely to be a walk in the Parco del Cormor, Udine's rather nice botanical gardens. On the contrary, Friuli is a hard place to go. And just how hard became clear almost immediately, even on a dark and foggy Sunday afternoon as Roberto Pereyra released Luis Muriel, a player whose girlfriend justifiably believes he's a doppelganger for the original Ronaldo.

Running at Mehdi Benatia, the Roma centre-back returning to Udine for the first time since he left the club in the summer, Muriel cut inside and flashed a shot across Morgan De Sanctis -- another ex-Udinese player -- and saw his effort come back off the post. Roma had been warned. They would be warned again as the game approached halftime. Maicon, the right-back, got sucked into the middle, and ahead of him, Florenzi lost Gabriel Silva's run. Spotting it, Muriel played a through ball that had his teammate one-on-one with De Sanctis.

Lifting a shot over the Roma keeper, Gabriel must have thought he'd scored. But he hadn't reckoned on Benatia and Leandro Castan throwing themselves toward their own goal to clear it off the line. Moments such as these are fast becoming one of the leitmotifs of Roma's season. Recall, for instance, De Rossi doing the same to deny Goran Pandev with the score still 0-0 in their 2-0 win against fellow title contenders Napoli the week before last.

For some, it speaks of how lucky Roma have been on occasion this season. For others, it tells of the spirit within this team. If you require an explanation as to why Roma have the best defensive record in Europe with only one goal conceded in their opening nine matches, a feat which, on perusing Italian football's history books, has been matched only once by Cagliari and Inter 47 years ago, then there you have one.

They leave it all out on the pitch, Roma. "At the break," Kevin Strootman later revealed, "we said to each other, whether it's difficult or not, we wanted to win this game." And boy, would it get more difficult.

Without the injury-stricken Totti and, in particular, Gervinho, Roma weren't able to stretch the play as they have done to such good effect this season. They'd prepared to play against a 3-5-1-1 as well, but instead found Udinese lining up in a 4-2-3-1 and, as if that didn't take enough adjusting to, found themselves down to 10 men after Maicon received a second yellow for a silly challenge on Emmanuel Badu in the 65th minute. Roma could have settled for a draw. But that just isn't in this team's vocabulary.

Coach Rudi Garcia hurried Maicon off. There would be no running down the clock. Nils Liedholm's old saying that, "You can win even with 10 men as long as you play well," was told afterward. Garcia smiled at how his team had honored the memory of Roma's 1982-83 Scudetto-winning coach.

However, his decision to take off playmaker Miralem Pjanic, arguably the team's best hope of getting something out of this game, and bring on right-back Vasilis Torosidis initially didn't inspire much confidence in the press box at Friuli. That, though, is why Garcia's a football coach and we're journalists. Because, as La Gazzetta dello Sport's Luigi Garlando had the good grace to admit, "While we turned our noses up at it, his tough 4-4-1 fought with a new spirit, without losing any centimeters."

His changes worked. Torosidis and Marquinho -- who'd come on a little earlier for Florenzi -- gave Roma what they'd missed in Gervinho's absence: an elasticity to their play. Adem Ljajic moved into the middle and began to affect the game more. But the turning point came just minutes after Michael Bradley came on for Marco Borriello.

Picking up the ball on the left of the area, Strootman waited for the the play to unfold in front of him before deciding what he wanted to do with it. Ljajic made an intelligent run into the box, followed by Giampiero Pinzi. It was the key that unlocked everything.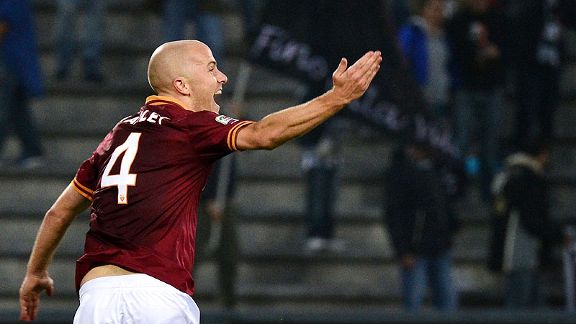 GIUSEPPE CACACE/AFP/Getty ImagesU.S. international Michael Bradley celebrates after scoring Roma's game-winner vs. Udinese.
Seeing Bradley rush into the space Pinzi had vacated, Strootman played a pass inside and witnessed the U.S. international place the ball into the corner of the net with admirable composure. It reminded the commentators up in the gantry of a goal Gianni Rivera scored when Italy beat Germany 4-3 in the "Game of the Century" at the 1970 World Cup.

For Strootman, yet again the assist provider for Roma -- it was his fifth this season -- this is what Roma are all about. "Michael is the emblem of this team," he said. "Even the players who come off the bench can make the difference. We're all important."

That's precisely it. No one feels left out. Everyone feels involved.

Take Bradley who, because of injury and the fierce competition for places in what Strootman believes is "among the strongest midfields in Europe," had played only 108 minutes going into Sunday's game. He accepts his role as a squad player, feels valued regardless and wants to contribute, as do the others who find themselves on the bench more than in the starting XI. The commitment to the cause is total. Roma are a true collective. Bradley was their 10th different goalscorer this season.

"We won with head and heart," Garcia said. It was Roma's ninth straight win, which matched the best ever start to a season in Serie A set by Fabio Capello's Juventus in 2005-06, a record Garcia incidentally didn't recognise because that team had it's Scudetto revoked in the Calciopoli scandal. Were Roma to overcome Chievo and Torino this week, they'd replicate the start Bill Nicholson's Tottenham made in 1960-61, a record in Europe's top five leagues, while also equalling the winning streak they established under Luciano Spalletti between December 2005 and February 2006.

"This isn't a trophy," Garcia reminded everyone. "We want to win a title, if not this year, then the next."

A bonus of almost 10 million euros will be split among the squad if they manage to do just that and end a 13-year wait for the Scudetto. Not playing in Europe and thus able to give Serie A their sole attention like Juventus were in 2011-12, it's getting harder and harder to look beyond Roma. Shaking off Napoli and Juventus won't be easy.

"It won't happen, but if it happens..." Roma's former manager Claudio Ranieri used to say. It just might, though, under Garcia.