Fiorentina's stunning comeback win over Juventus proves their ambition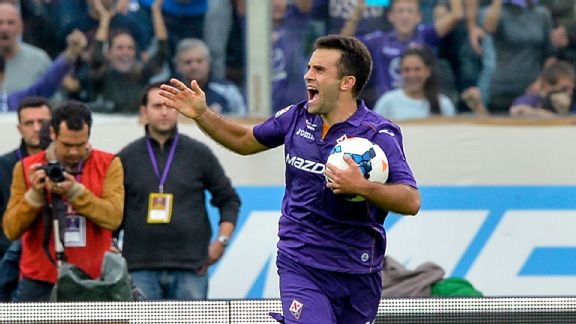 Andreas Solaro/Getty ImagesGiuseppe Rossi has rewarded Fiorentina for their gamble on him with eight goals to start the season.
His shirt collar was crumpled, his tie loosened and pulled askew. His brow was furrowed, his eyes squinting. Antonio Conte looked like he'd been put through the wringer. He was wincing. Throughout his two years as coach of Juventus, it's hard to recall a moment when he had a more pained expression on his face than in the 91st minute of Sunday's match against Fiorentina at the Artemio Franchi.

Afterward, he'd draw comparisons with a boxer, the kind who "dodges almost everything" and never gets hit, but suddenly takes one jab to the face, then another and another and another. "...We felt them," Conte said. Punch-drunk, Juventus, the reigning campione d'Italia, were seeing stars. They would be left with such a sore head that they "wouldn't be able to sleep tonight."

And to think, they'd been in such control. If this were a prizefight carded over nine 10-minute rounds, Juve probably would have won seven of them. Fiorentina weren't even in it. Individual errors looked to have put the game beyond them before the interval.

Toward the end of the first half Gonzalo Rodriguez had rather clumsily brought down Carlos Tevez in the area. He heard the shrill sound no defender wants to hear: a referee's whistle blowing for a penalty kick. Tevez made no mistake, lifted up his shirt to reveal the name of another troubled Buenos Aires barrio and then did the mitraglia, the machine-gun celebration made famous by the man for whom Fiorentina fans once built a statue: Gabriel Batistuta.

No sooner had the assembled journalists in the press box at the Franchi started discussing whether this was a tribute to a fellow former Boca icon or a quite inflammatory provocation than another Juventus player was spraying the crowd with imaginary bullets.

Only a couple of minutes after Tevez's opener, Paul Pogba slid to direct Ivan Cuadrado's miscued clearance into the Fiorentina goal, doubling Juventus' lead. The visitors must have smuggled a cache of weapons into the ground in their elegant Trussardi travel luggage, because Pogba also pulled out a mitraglia and there was nothing at all friendly about the way he fired it.

Fiorentina were walking wounded as they trudged back to the dressing room, down 2-0 to Juve. They'd lost midfield general Massimo Ambrosini to injury and a number of others in their ranks were carrying knocks. Most of all, though, their pride was hurting.

Before the game the Curva Fiesole had put on a vibrant purple, white and red choreography with an accompanying banner that read: "Our colours are enough to make you feel inferior." On their own, they wouldn't be. The players needed to do their bit. In the dressing room at halftime, Fiorentina's coach Vincenzo Montella could have focused on Tevez and Pogba. They'd done his team talk for him.

Instead, he "told us that he wanted to see us play higher up the pitch and be more courageous," Giuseppe Rossi later revealed. "In effect, we'd got too deep on Juventus' goals. We came out the dressing room and did what the mister wanted." Not immediately, they didn't. "In certain respects," Montella reflected. "Conte's men impressed me more at the beginning of the second half when they took every space away from us...I repeat we suffered most in the first 15 minutes of the second half." It was in that period that Juventus could have delivered the coup de grace.


Rzouki: Juventus meltdown


Neto, the error-prone Fiorentina goalkeeper who many felt the club should have replaced with QPR's Julio Cesar in the summer to be considered legitimate title contenders, proved decisive. He kept his side in it with crucial saves from Claudio Marchisio, Giorgio Cheillini and tipped a deflected Andrea Pirlo free-kick over the bar. So superior were Juventus that the players could be forgiven -- though not by Conte -- for believing they had this game won. They hadn't.

A push in the box on Mati Fernandez by Kwadwo Asamoah in the 66th minute threw Fiorentina a lifeline. Awarded a spot-kick, Rossi got his team a foothold in the game, sending a low shot below the stretching Gigi Buffon. Picking the ball up and running back to the centre circle, the striker whipped up the crowd. It heralded the start of a remarkable 16-minute comeback. Juventus blacked out. "It's really difficult to find explanations for it," Conte said.

Freeing himself from a tussle with Pogba outside the box, Rossi, wearing No. 49, the year his late father was born, angled a speculative left-footed shot across goal, which Buffon was late to and conceded. It was another mistake to add to the ones he has made against Lazio, Chievo and Denmark this season. Back on level terms, moments later Fiorentina were in the lead.

Borja Valero, the self-proclaimed "bricklayer of a footballer," built on the foundation Rossi had given Fiorentina. Spotting Joaquin all alone on the edge of the area, he played the ball out to him and watched as his compatriot swept it into the back of the net. Juventus hadn't lost a game after going two goals up in four years. They hadn't let in four goals in one match over the same time frame either. But they would on Sunday in a 4-2 defeat. "I've been coming to this stadium since 1939," claimed one old Viola supporter, "and I've never seen a game like this."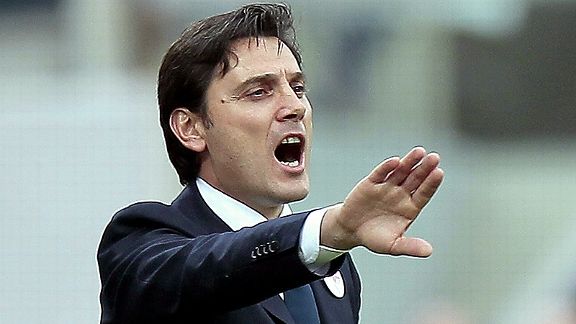 Gabriele Maltinti/Getty ImagesVincezo Montella has turned Fiorentina into Serie A contenders this year.
Cuadrado led a swashbuckling counterattack, checked back as Rossi caught up with him, nudged the ball over and watched as his teammate completed the first hat-trick of his career in his first ever competitive encounter with Juventus. Down with a back injury, in the early part of the game, there had been fears that Fiorentina, already without Mario Gomez, would be deprived of Rossi for nearly all this match too.

"I said to him many times that I'd take him off," Montella revealed, "but he didn't want to. From the look he gave me from the pitch he asked me not to. I said to him in the dressing room, show me that I should leave you on. Perhaps I should have said it to him before." Thank goodness, Montella did.

Not since Dante di Benedetti in 1941 had a Fiorentina player scored a triple against Juventus. This was quite the feat, prompting many to make the comparison in Monday's papers with the goal-scoring exploits of another Rossi, first name Paolo, against Brazil in 1982. And to think, Pepito had once been so close to signing for Pablito's Juventus. "Some years ago negotiations were in a very advanced stage," he told La Gazzetta dello Sport last week, "then Villarreal qualified for the Champions League and weren't about to let anyone leave."

Rossi, as fate would have it, is at Fiorentina instead, and how delighted they must be that he is one they can call their own. The club believed in him, arranging to buy the Italy international in the spring of this year while he was still recovering from a knee injury that he'd suffered during a match Villarreal played against Real Madrid at the Bernabeu two years ago. Complications, a relapse before Euro 2012 then another surgery, it's been a long road back to fitness for Rossi.

To some, Fiorentina had gambled. But they never saw it that way. And besides, even if they did, it has handsomely paid off. Waiting for Rossi to recuperate has been worth it, just as waiting for Baggio to heal was too. Capocannoniere in Serie A with eight this season and a goals-to-minute ratio bettered only by Lionel Messi, the three he scored on Sunday will go down in Fiorentina folklore. They clinched a first win over Juventus at the Franchi since December 13, 1998 when a header from Batigol was all that separated the two sides.

Fiorentina's owners, the Della Valle brothers, had never experienced a victory over their bitterest rivals at home before. They cracked open the champagne in the dressing room to celebrate. The players showered in bubbly. "Manuel, a win! Stop smiling -- I know you're happy. I'm happy, we're all happy," said the Viola Channel's interviewer as he spoke to captain Manuel Pasqual. "For our fans this game alone is like winning a trophy," Pasqual replied. It certainly felt that way outside the ground. You couldn't move for the crowd.

As his car inched forward at a snail's pace through the throngs, Andrea Della Valle opened the door, tried to stand and punched the air like a triumphant revolutionary leader on a tank. What kind of a revolution was this? "Fiorentina's objective is to try and offer entertaining football," Montella said on the eve of the match. "Maybe it's not the path to win the Scudetto, but we mustn't betray our project."

They stayed true to it. "It was my perfect Sunday," Montella said. His and the rest of Florence's, too.