Roma's win over Napoli has significance to the title race
Roma beat Napoli 2-0 to make it eight wins from as many games in Serie A. Here, James Horncastle dissects an absorbing match.

Friday morning's edition of La Gazzetta dello Sport made Roma-Napoli out to be a rap battle between Rudi Garcia, Photoshopped to look like 50 Cent, with a baseball hat turned sideways and matching bulletproof vest, taking the mike against Rafa Benitez, his get-up a hoodie and cap, presumably an adapted image of Eminem, a classic hip-hop hand gesture being made that left the reader with the impression this MC was probably more Ali G than B.I.G.

- Highlights: AS Roma 2-0 Napoli (Pac & Caribbean Only)

If Juicy was the soundtrack to this tasty encounter, then the film script was definitely "8 Mile" with Roma aiming to extend their perfect start to the season to eight wins in a row. That would match the feats of Juventus in 1930-31 and 1985-86, leaving the club one short of the all-time Serie A record set by -- you guessed it -- the Old Lady in 2005-06.

Garcia wasn't counting that in an interview with Le Figaro earlier this week, though. "They revoked the Scudetto from that team," he said, "so I prefer to make reference to the two sides who won their [opening] eight consecutive games, the Juve of Michel Platini. And you're talking to a Frenchman whose favourite player for a long time was Platini. Besides, we want to keep this run of victories going for as long as possible. It's an added motivation."

Ending it was Benitez and Napoli's, though they also had an extra reason to do well themselves. On the eve of the game, Diego Maradona flew to Milan for an interview with La Gazzetta dello Sport. Invited by Roma president James Pallotta to come down to the capital and attend the match, the No. 10, whose shirt Napoli retired, arrived five minutes after kickoff. Everyone turned to look at El Pibe d'Oro. "I'd have liked him on the pitch," Benitez had joked beforehand. One day, Maradona claims, he'd like his job.

For now, however, he had to make do with a seat in the stands rather than on the bench. "I hope to see a great spectacle and many goals," Maradona said. This was the first top-of-the-table clash between Roma and Napoli in just over a quarter of a century. Maradona was playing then. Roberto Pruzzo gave Roma the lead before Giovanni Francini equalised for nine-men Napoli and earned a 1-1 draw. Their captain, Salvatore Bagni, famously made the "umbrella" gesture at the Roma supporters, an act that heralded the end of the gemellaggio or alliance between the two fan bases.

The atmosphere, as always in this fixture, was heated, quite appropriate really on what was a balmy evening in Rome, the perfect conditions for a fixture known as the Derby del Sole -- or Sun Derby -- even if it was played in the evening. The match having been brought forward due to a planned protest in the capital against a high-speed railway line on Sunday, the fear was that, coming only 72 hours after the last round of internationals, many of the players involved would be either tired or prone to injury.

Should the match have gone ahead?

It had been proposed that they invert the fixture list and play the game at the San Paolo in Naples instead on the weekend. That would have given the players more time to rest and recuperate. However, Napoli's commitments in the Champions League -- they play Marseille at the Stade Velodrome on Tuesday -- meant that was unfavourable. In view of that fixture, Benitez chose to start striker Gonzalo Higuain on the bench, only introducing him with less than 25 minutes remaining. Oddly, it was Roma who seemed to suffer most. Francesco Totti, one of the few players involved not to be on international duty, had to go off after 33 minutes with what looked like an injury to his right hamstring. Napoli centre-back Miguel Britos then hobbled off clutching his shoulder, a worry for the trip to France. Then Gervinho, back from the Cote d'Ivoire's World Cup playoff against Senegal, made way too. Within an hour Roma had lost two-thirds of an attacking trident that has pulled teams apart this season. Garcia will be hoping the knocks picked up aren't too bad.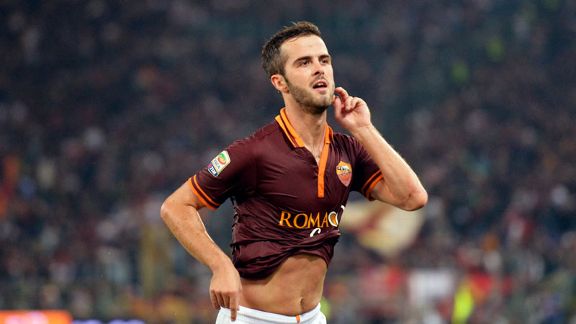 GettyImagesPSG transfer target Miralem Pjanic will not be leaving Roma.
How well did Roma cope?

You might argue that this was the biggest test of the team's character so far this season. Roma came under some scrutiny immediately after Totti's substitution. Lorenzo Insigne sprung the offside trap, releasing Goran Pandev beyond a high Roma defensive line, but Morgan de Sanctis got a strong left hand to his shot and Daniele De Rossi made a vital clearance to prevent it from going in. That moment summed up the spirit in this Roma camp. Pandev would return the favour just before the interval, playing Insigne in, who stayed up when he perhaps should have gone down in the penalty area following a challenge from Maicon, and struck the post with a shot. How different things might have been had Napoli capitalised on those chances, because seconds before the break Miralem Pjanic lifted a free kick up and over the wall, and watched it dip wonderfully under the crossbar to give Roma the lead.

What a week he's having. Euphoric after Bosnia qualified for the World Cup for the first time on Tuesday, here he was again with a goal to rival the lob he scored against Hellas Verona earlier in the campaign. De Rossi and Pjanic, bizarrely marginalised at times by Zdenek Zeman last season, were the stars of the night for Roma. Britos' replacement, Paolo Cannavaro, who'd given away the free kick from which Pjanic scored, would then bring Totti's substitute Marco Borriello down in the area, give away a spot kick and get sent off for a second bookable offence in the 71st minute. In the absence of their captain and designated penalty taker, Pjanic stepped up and made no mistake. He was the hero of the piece, Cannavaro the villain.

Were Napoli unfortunate?

There's a case to be made that they were a bit, yes. As mentioned earlier, had Insigne been a little bit more scugnizzo -- street urchin-like -- and opportunistically gone down under Maicon's challenge, then they might have had a legitimate penalty claim, taken the lead and changed the course of the game. Roma's goals, it must be said, also came against the run of play, at stages when Napoli were asking questions of them. Rather than feel hard done by, though, Benitez must admit his team does have a few issues. Albiol aside, there's uncertainty at the centre-back position and you wonder why, despite inquiries for Martin Skrtel, they didn't push harder to bring in a partner for him. Expect this to be a priority once the transfer window opens. Then there's the midfield. Gokhan Inler can mix it. He's able to tackle and pass, act as the filter between defence and attack. But the suspicion remains that Napoli could do with a silkier ball player in the middle of the park. He looked rushed at times on Friday, mind you that's perhaps understandable considering the Napoli midfield was outnumbered three versus two.

What does this mean for the title race?

Even at this early stage, Roma's win feels significant. It takes them five points ahead of Napoli and puts the pressure on Juventus to get a result away at rivals Fiorentina on Sunday just to stay in touch. That's easier said than done even if the Old Lady hasn't lost at the Artemio Franchi since the winter of 1998. Because not only have Fiorentina re-emerged as a force over the past year under Vincenzo Montella, but Juventus have the small matter of playing Real Madrid in midweek, a game that already looks to have a decisive bearing on whether they qualify from the Champions League group stages or not. After missing out on reaching that very competition in each of the past two seasons, Roma are 10 points inside the Champions League places (having played a game in hand on fourth-place Inter), which, I think you'll agree, is some cushion at least for now.

Given their objective at the start of the campaign was simply to get back into Europe, you can say that they're on course for that and more. "Roma are a car that is travelling very fast right now," Garcia said on Thursday. "All the traffic lights are green. But we mustn't forget to fill up with petrol." Like Juventus in 2011-12, Roma not being in Europe this season means they can conserve their energy for the league, a real advantage. That has already told. But so has Roma's class. They've beaten Lazio, Inter and Napoli this season -- hardly small fry -- and possess a balance that's the envy of Serie A. Another two goals on Friday tonight. Another clean sheet. They've conceded only one all season. Playing their title chances down is getting more and more difficult with each passing week.