Five burning questions for Serie A season

1. Can Juventus three-peat?

"Winning is difficult," Juventus coach Antonio Conte told reporters before his first season as coach of the club. Nine months later, his team were crowned champions of Italy after going undefeated in the league.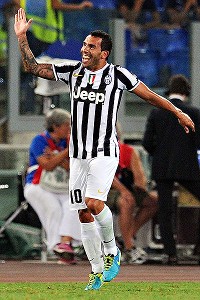 Paolo Bruno/Getty ImagesJuve's addition of Carlos Tevez adds a scoring punch to Serie A's most potent side.
"Retaining our title will be very difficult," Conte then insisted. Juventus led Serie A from start to finish. They beat everyone at least once (apart from Sampdoria, whom they open this season with) and ended nine points ahead of their nearest rivals.

So what did Conte have to say ahead of this season? Three-peating would be extremely difficult, perhaps? Well, almost. "Repeating [our success] after two incredible years would be historic," he said. Conte is not wrong.

Only once have Juventus won three in a row, and that was back in the 1930s when they became the first team ever to dominate Serie A for five consecutive years. It was beyond Conte the player and the coaches he worked under, Giovanni Trapattoni and Marcello Lippi. In the back of his mind is Bela Guttmann's saying that "the third season is always fatal."

One of the biggest threats to Juventus this season is themselves. Do the players have the same hunger and desire as two years ago? Sunday's 4-0 hammering of Lazio in the Italian Super Cup suggested that they most certainly do. And yet as goalkeeper Gigi Buffon admitted: "There's a risk of [subconsciously] being satisfied [with the success we've had.]" Resisting that will be a motivation in itself.

Even so, the strongest team in Italy has only become stronger over the summer. The signings of Carlos Tevez and Fernando Llorente addressed the need for a go-to goalscorer and although neither have had a great preseason, it's thought that with time they'll adapt and take Juventus up a notch. Serie A's best defence has also grown younger following the arrival of Italy international Angelo Ogbonna from neighbours Torino.

The return from injury of the unflashy Simone Pepe shouldn't be regarded as insignificant either. He allowed Juventus to alternate between 3-5-2 and 4-3-3 in Conte's first season, and the desire to rediscover that option on a more consistent basis has prompted the club to look for width and penetration in the final third from now until the end of the transfer window.

So here's a question within a question: Are Juventus better placed to go deeper in the Champions League than last season's run to the quarterfinals? They should be, yes. There was no shame in going out to the eventual winners, a monstrous Bayern. That's an experience from which they'll likely have learned.

Also, remember Juventus are one of the few elite clubs on the continent to have continuity on the bench this season. Barcelona, Chelsea, Real Madrid, Manchester United, Bayern, Man City and Paris Saint-Germain have all changed managers. Maybe that stability and surety will stand them in good stead.

2. The Milan clubs aren't getting any better, are they?

Hang on a minute. Don't be so down on them. Milan, for instance, racked up more points than any other team in 2013. Had the season started in October last year they would have been contending for the title, which is remarkable considering they had sold their two best players, Thiago Silva and Zlatan Ibrahimovic, and also called time on Alessandro Nesta, Clarence Seedorf and Pippo Inzaghi.

Coach Massimiliano Allegri did a more impressive job last season in getting Milan on the podium than in 2011, when he led them to the Scudetto for the first time in seven years. Not everyone, however, saw it that way.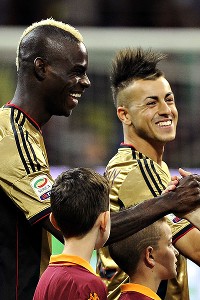 Claudio Villa/Getty ImagesMario Balotelli and Stephan El Shaarawy provide promise for a Milan side intent on living within their means.
For a time, owner Silvio Berlusconi appeared hell-bent on sacking Allegri. Il Corriere della Sera even claimed that a contract had been drawn up for the successor he had in mind: Seedorf. Milan chief executive Adriano Galliani, however, eventually made Berlusconi see sense. Certain conditions do apply, though. For instance, Milan must return to playing with a traditional playmaking No. 10.

Rather than focus on that, the bigger picture here is that the club hasn't been destabilised again like it was a year ago, which can only be a good thing.

The team has good prospects. Milan's defence, once a strength, now a perceived weakness, managed seven clean sheets in the final 12 games of last season. Its midfield has got younger, as the talented Andrea Poli replaces captain Massimo Ambrosini (another veteran pushed, rather unceremoniously, out the door), while the partnership between Stephan El Shaarawy (who should by now have recharged his batteries) and Mario Balotelli promises much.

For those bemoaning Milan's lack of transfer activity this summer, bear in mind the lengths they went to in order to get Super Mario in the spring. He's their big signing of 2013. Keisuke Honda or Adem Ljajic might yet arrive, but after nearly breaking even in their last set of financial results, Milan are intent on living within their means and won't push the boat out.

As for Inter, well, put it this way: They won't be as bad as last season, when they finished ninth and didn't qualify for Europe for the first time in 12 years. But as we'll discover, the competition has got much much fiercer and getting back into the Champions League will be all the harder.

It's been widely remarked that Inter's best signing this summer is the coach, Walter Mazzarri. A consummate overachiever, he got Livorno promoted after 55 years, managed to save Reggina despite an 11-point deduction following the Calciopoli scandal, led Sampdoria to the Coppa Italia final, won it with Napoli and also had them to contending for the title, not to mention qualifying for the Champions League in two of the three full seasons he spent there.

Amid all the uncertainty at Inter with Massimo Moratti negotiating the sale of a stake in the club to Erik Thohir, Mazzarri is a safe pair of hands and the right man for the job.

3. The Scudetto has moved between Turin and Milan over the last 12 years. Will it finally relocate to another of Italy's cities this year?

Like Naples, perhaps? The whole of Europe has stood up and taken note of how Napoli have gone about things this summer. Rafa Benitez's appointment was quite the coup and the logical next step in the furtherance of Napoli's ambition.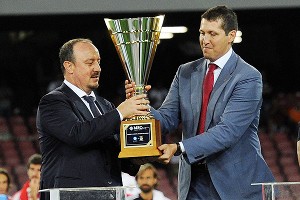 Giuseppe Bellini/Getty ImagesRafa Benitez seems primed to carry Napoli to the next logical step in its progression.
Edy Reja got them out of the lower divisions and into midtable. Mazzarri, as mentioned earlier, won the Coppa Italia, guided the club into the Champions League and challenged for the Scudetto. Benitez has won everything: the league and UEFA Cup with Valencia, the Champions League and FA Cup with Liverpool and the Europa League with Chelsea.

Unlike at Inter in 2010, he inherits a team still hungry for success, and has an owner who through great savvy is in a position of such financial strength as to allow him the resources to shape the team in his own image. Even without the sale of Edinson Cavani to PSG for €64m, Napoli's transfer budget (at least according to president Aurelio De Laurentiis) was €60.5m.

They may have lost their best player, but that's not necessarily the disaster it seems, particularly when you have the money to strengthen the team as a whole. And Napoli have done just that. After Monaco, Man City and PSG, they're the fourth-biggest spenders in the transfer window and insist they aren't done yet.

The pick of signings are goalkeeper Pepe Reina, Dries Mertens and of course Gonzalo Higuain. Supporters are less enthusiastic about Raul Albiol and Jose Maria Callejon, but they'll improve the overall quality of an an already strong squad.

Valon Behrami and Gokhan Inler are an excellent midfield platform. Marek Hamsik got into double figures in goals and assists last year, a feat matched only by Francesco Totti, and after a season of adjustment to Serie A, local kid Lorenzo Insigne looks ready to realise his great potential.

The only risk is that, after playing a three-man defence since their return to Serie A five years ago, the transition to a back-four, particularly for Napoli's wing-backs (like Christian Maggio), might be a problem. Conte, however, still sees the most serious challenge to Juventus' title coming from them.

4. But what about Fiorentina?

They played the best football in Serie A last year, it's true, and were the league's second-highest scorers behind Napoli without a Cavani-like figure up front. If only Fiorentina had a prolific striker, many wondered. Well, now they do.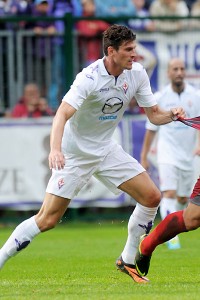 Dino Panato/Getty ImagesMario Gomez gives Fiorentina a much-needed striker, but concerns remain at goalkeeper.
The signing of Mario Gomez is significant for a number of reasons. First, at €15.5m (plus €5.5m in add-ons), you might argue it represents a relative bargain. Second, it shows that if you play great football (and happen to be based in a lovely part of the world), you can appeal to big, big names (although it helped that after winning everything there is to win in the club game, Gomez could prioritise other things). And third, it's testament to how daring Fiorentina are in the transfer market.

Last year, they saw an opportunity in Villarreal's relegation from La Liga, snaffling Gonzalo Rodriguez and Borja Valero. Then, in the spring, they went back for Giuseppe Rossi and gambled where others wouldn't on a player who was still recovering from a series of knee surgeries.

This summer, in addition to Gomez, they've taken advantage of Malaga falling on hard times to pick up Joaquin, not to mention Palermo's slide into Serie B, from whom they've landed Josip Ilicic. Should Fiorentina get Adem Ljajic to renew, then people will continue to talk as they did in 1981-82 and '98-99 of this Viola side maybe winning the club its first Scudetto since 1969.

But before you get too carried away, consider this. There is still uncertainty at the goalkeeper position. Confidence in Neto isn't high and efforts to sign Julio Cesar on loan from QPR are at an impasse on account of his huge wages. The defence hasn't been reinforced either, even though it shipped 44 goals last season and midfield playmaker David Pizarro has just suffered a worrying injury.

Don't let that dampen your enthusiasm, though. Fiorentina will be a joy to watch this season.

5. Why aren't Roma being taken seriously?

This is something of a mystery, though it perhaps has a lot to do with the end of the last campaign and the events of the last week, which we'll get to.

Roma finished down in sixth in 2012-13. They actually concluded the year ahead of rivals Lazio, though no one remembers that anymore following the defeat they suffered to their rivals in the first ever Coppa Italia final contested between them. It meant Roma also blew their last chance of qualifying for Europe too.

If all that wasn't crushing enough, after supposedly lining up either Walter Mazzarri or Max Allegri to replace caretaker Aurelio Andreazzoli, they got neither. The fans held protest after protest. General manager Franco Baldini resigned. Oh, and a rather damaging recording of a transfer strategy meeting then leaked.

It was a shambles, the lowest point since the club's takeover by an American consortium a couple of years ago. In that time, though, Roma have assembled a mostly young and talented squad, arguably the best after Juventus.

They've added to it this summer, and very well. Mehdi Benatia was one of the best centre-backs in Serie A once he returned to fitness at Udinese last season, and were it not for all the high-profile transfers involving strikers over the last few months, that of Kevin Strootman, the PSV box-to-box midfielder, who has already captained the Netherlands in Wesley Sneijder and Robin van Persie's absence, would be considered one of the most significant of the window as a whole.

By getting €31.4m from PSG for Marquinhos only 12 months after paying Corinthians €1.5m and a further €3.5m once he had made eight first team appearances, Roma made the sale of the summer too. A lot of people have had a cheap laugh at the purchase of Gervinho, but his reunion with Rudi Garcia, the coach under whom he was excellent in Lille's double-winning season two years ago, promises much.

Speaking of the manager, this is the most significant thing Roma have got wrong over the last two seasons. Luis Enrique and Zdenek Zeman were both idealistic, romantic appointments. There's something much more real and a lot less flaky about Garcia. He's won silverware, participated in the Champions League and worked with players (Totti and De Rossi aside) who have a similar profile to those he had at Lille.

So Roma's prospects looked really good. The club's decision, however, to sell their two top scorers from last season, Pablo Daniel Osvaldo and Erik Lamela [who is supposedly a Tottenham player in all but name], has led many to revise their opinion, at least until after the end of the transfer window by which time it's hoped they'll have replaced them.

The anticipated loss of Lamela on the eve of the new season is regrettable. How Roma use the money they receive from his sale -- they're being linked with a cheeky bid for Ljajic at the moment -- will decide whether they deserve genuine consideration as a decent outside bet for the Scudetto or not. Right now, their strategy seems very risky.