Moratti passion still driving Inter forwards
As Massimo Moratti emerged from his offices on Tuesday, he raised a finger to wipe something away from his eye. He was visibly moved, discerned the journalists in attendance. To tell the truth, the Inter president looked tired rather than tearful. But make no mistake about it: this was an emotional day for him and the Moratti family.

"Everything's been signed," he said. "I believe there will be a press statement in a few hours." Finally it was official. After five months of negotiations, the sale of a 70 percent stake in the club to an Indonesian group of investors headed by the media and entertainment mogul Erick Thohir had been completed. "Are you a bit sad?" a reporter asked. "... You're not necessarily happy," Moratti replied, but "you are relieved to think you've left it in good hands."

How, though, had it come to this? According to La Repubblica, Moratti has put an estimated 473 million euros into Inter over the last five years alone. Considering that Saras, the family oil refinery, has paid him "only" 50 million euros in dividends throughout the same period, almost all of that money has come out of his own pocket. Some would call it a burden, a heavy one too. But for Moratti, it has always been a labour of love. Unconditional love. Sometimes arduous, but never without ardor.

"You know," he told La Gazzetta dello Sport, "Inter are like a daughter. A beautiful girl with extraordinary gifts. A girl from a bygone era ... You give her everything to make her happy because it's right that way. But there comes a time when it's best to send her to college. Discipline and education are fundamental to her development. Only that way will she learn how to walk by herself ..."

It's a remarkable analogy for the insight it gives into how Moratti thinks of Inter. He has spoilt her, overindulged her, lavishing more than a billion -- yes, a billion -- euros on her over the past 18½ years. Whatever Inter (and Moratti) wanted, she more or less got: Ronaldo in 1997 for what at the time was a world-record fee of 28 million euros, Christian Vieri in 1999 for 45 million -- the list goes on.

Did Moratti bring her up right? He has had the courage to admit he made mistakes: "For years, and I take my share of the blame for this, Italian football won on the pitch away from home but, financially speaking, played at home and lost." They relied too much on individually bargained TV rights and invested their money in transfers, not revenue generators like privately owned new stadia or the development of their brands in new markets. For some time now they've been paying the price for it.

Covering Inter's debts, Moratti insisted, wouldn't be an issue. "Debts, the debts; you always talk about them but it's a mistake," he explained. "Inter's debt is similar to that of other great clubs, and I'm not at all worried about it ... I could comfortably carry on by myself. The problem isn't the debt; the real problem is the turnover. It provides the resources necessary for development."

Unless they increase it, Moratti recognised, Inter would stay where they are now or, worse, go backwards.

For over a year, he has been looking for the kind of investment required to take Inter forward. Lazard, the financial advisory and asset management firm, were enlisted to source it. In August 2012, a breakthrough seemed to have been made. A preliminary agreement to sell a minority stake was reached with the China Railway Construction Corporation, which seemed to suit Moratti; he'd retain control of Inter and acquire the finance and expertise to build a new stadium ("by 2017"). How ideal. But it fell through.

Then Thohir entered the scene. Co-owner of DC United and involved in the takeover of the Philadelphia 76ers two years ago, he expressed an interest in a majority stake. Moratti had only been prepared to sell "30-40 percent" but soon had to accept that it was unlikely someone would be prepared to invest the sort of money he feels Inter need without also getting a decisive say in how the club is run.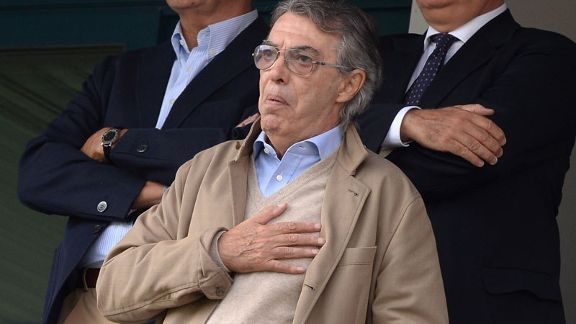 GettyImagesMassimo Moratti has opted to place the club in new hands.
The bid was 250 million for 70 percent -- a quarter of what Moratti has spent on Inter. He never bought the club to make a profit, though. He did so because his passion for Inter is profound. On account of that love he was prepared to set her free: 200 million euros of Thohir's offer is supposedly to clear Inter's existing debt. Moratti accepted.

The news has been met as though this is the end of an era. Inter has been in the Moratti family on and off for almost 32 years (18½ under Massimo between 1995 and today; 13 under his father, Angelo, between 1955 and 1968). Together they have won eight scudetti, four Coppe Italia, four Italian Super Cups, three European Cups, three Club World Cups and a UEFA Cup; that's two-thirds of all the silverware Inter have ever amassed. It makes the Moratti dynasty one of sport's greatest.

They treated the club and its players as an extension of their family. When Angelo's first signing, Antonio Angelillo, was contemplating his first Christmas in Italy away from his family back in Argentina, Inter's owner invited him to spend it with the Moratti family. A present was even waiting under the tree for the striker. Gestures like that continued under Massimo. Writing in his biography, Zlatan Ibrahimovic couldn't believe how he indulged Inter's players, rewarding them with bonuses for the most trivial things. He considered it a reason that Inter hadn't won the Scudetto under him until after the Calciopoli scandal broke in 2006.

That they hadn't could only be excused up to a point by the system of power operating behind the scenes in Italian football. Inter were often their own worst enemy -- for instance, when they threw away the title on the final day of the 2001-02 season.

Things changed after Calciopoli, of course. Roberto Mancini led Inter to their first Scudetto "on the pitch" in 18 years, cultivating a winning mentality, but to make the next step it would take Jose Mourinho, undoubtedly Moratti's most important signing of all. He was to Massimo what Helenio Herrera had been to Angelo. Without the treble in 2010, an unprecedented feat in Italian football, it's unlikely that Massimo's time at Inter would be considered more of a success than his father's. That's a debate still worth having.

Maybe it'll swing on what kind of future Moratti has secured for Inter. This takeover is not comparable with Chelsea's and Monaco's, or Manchester City's and Paris Saint-Germain's. Asked whether Inter would be able to do the sort of deals they did in the past for Ronaldo, Moratti replied: "Well, the transfer that has really made an impression in recent times is Bale's, and I don't believe Inter fans can expect something similar."

Reference has instead been made to Roma under the American consortium led by James Pallotta and their efforts to increase revenue by globalising the brand and getting plans for a new stadium off the ground. More will become clear after the next board meeting on Oct. 28.

Moratti will remain on Inter's board and have the influence to shape decision-making if not the final say. Will he stay on as president? "Perhaps," he smiled to Il Corriere dello Sport. "It seems the natural thing to do under every point of view because my family has an important stake in Inter and the new shareholders would like me to have a role in the club."

Thohir will lean on his expertise. But it is to him that Moratti is looking to open Inter up to the world and bring about the internationalisation of Internazionale. Think about it in those terms, and although some are still finding the takeover hard to come to terms with, in some respects it honors the tradition of the club. After all, why did its founders decide on March 9, 1908, to call it Internazionale? "Because," Giorgio Muggiani wrote, "we are the brothers of the world."