Pogba emblematic of Serie A struggles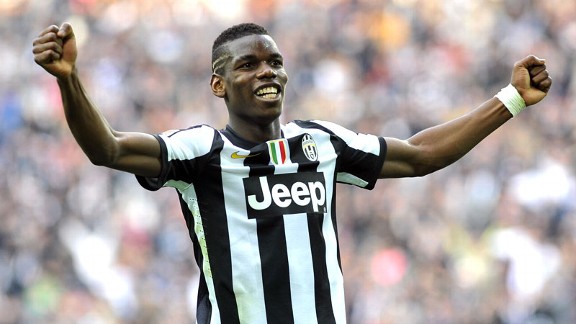 AssociatedPogba's impressive performances for Juventus make him a target for a number of European clubs.
Speaking at the Leaders in Football conference in London last week, Juventus president Andrea Agnelli was once again discussing the state of Italian football. Ever since he followed in the footsteps of his father, Umberto, and became the face of the club in 2010, Agnelli hasn't been afraid to tell it how it is. Like many of the crumbling old grounds up and down Serie A [but not the Juventus Stadium], he's a glass-half-empty kind of guy.

Many of Italian football's structural problems have long been well documented. The day after Juventus retained the Scudetto in May, Agnelli, ever the reformer, wrote an editorial in Il Corriere della Sera, imploring other clubs in Serie A to "follow our road map." It's in the interest of everyone involved in Italian football, not just the Old Lady herself, "that the whole [Serie A] economic system grows" and becomes stronger. Otherwise, the league will continue to lack appeal, limit the income it can generate and any investment it might attract.

To give an example, in 2004-05 Milan, Juventus, Inter, Roma and Lazio were all among Deloitte's top 20 richest clubs. They accounted for nearly 30 percent of total revenue on that list. By 2009-10, some were no longer on it and Serie A's contribution was only 13 percent. Things have improved in the meantime, but relatively speaking and for a number of reasons the league isn't the money maker it once was.

A weak Serie A doesn't make for a strong Juventus regardless of how much the club has done to modernise and market itself as "a pocket of excellence in a decaying country." That's the phrase Agnelli used in an interview with the Financial Times early this year. Until Serie A gets its collective act together, one of the hard realities supporters must continue to come to terms with, as Agnelli explained to the audience gathered at Stamford Bridge, is that: "Italy is no longer a final destination [for players], but a transitory destination."

To further underline his point and relate it back to Juventus, he added: "I am trying to think what will be of us in two or three years time if we get a massive offer for one of the best talents we've got today, [Paul] Pogba. You know, the French 20-year-old. Will we be able to retain him? I don't know. I don't think at the moment we have the strength to retain such a player."

Rather than focus on the wider issues that Agnelli was raising here, the sports papers in Italy chose instead to narrow their attention to Pogba and his future. It was a front-page lead. "Agnelli's alarm," wrote La Gazzetta dello Sport. "Pogba is on the market."

Is that what he said? No, it's not.

The words "two or three years' time" would indicate Juventus have no intention of selling Pogba in the short-term, not at his current value, which has been estimated at 35 million euros. That figure might seem high, but remember he forced his way onto a team that was undefeated in Serie A, helped them retain the title, then played a starring role in France's under-20 World Cup winning side and also made his senior international debut for Les Bleus last season.

Considering his age, his projected potential and the interest he generated during the summer, you can kind of see -- particularly when Marquinhos went for 34 million euros -- how the papers have arrived at that valuation. Juventus appear confident they can resist an offer of that size. But what if Pogba's value keeps rising and reaches 50 million euros or goes beyond even that in "two or three years' time"?

Then Juventus, like any club receiving a bid of that nature, would have to give serious thought to it. No player is unsellable. "Agnelli said what deep down everybody knows," Juventus defender Giorgio Chiellini insisted. "If someone doesn't want to hear it or keep believing that Father Christmas is real, then that's their problem. The president already showed in the summer [when Real Madrid and Paris Saint-Germain supposedly bid 30 million euros for the player] that he didn't want to sell Paul. He's the most promising player in the world in his position. But if an indecent proposal were to arrive, it'd be normal to take it into consideration."

That's what Juventus have always done even in times when, in financial terms, they have compared more favourably with Europe's other elite clubs. In 1995, they sold Roberto Baggio to Milan just 18 months after he'd won the Ballon d'Or, and -- with his replacement Alessandro Del Piero in-house -- used the money to buy Vladimir Jugovic, who would score the winning penalty against Ajax in the Champions League final at the end of the season.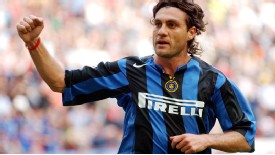 PA PhotosChristian Vieri's sale to Atletico Madrid in 1997 provided a windfall for Juve.
Following that historic triumph in Rome, Juventus allowed Gianluca Vialli to leave and off-loaded Fabrizio Ravanelli to Middlesbrough too. So in came Christian Vieri, Alen Boksic and Nicola Amoruso. Lo and behold, they won the Scudetto and reached another Champions League final only to lose to Borussia Dortmund. After that, they received a bid for Vieri from Atletico Madrid. Initially, Juventus said he wasn't for sale, but then cashed in and acquired Pippo Inzaghi in his place. Another Champions League final followed, as did another defeat, this time to Real.

The most famous case of all regarding Juventus came of course in 2001. Real paid a world-record fee for Zinedine Zidane, Milan got their hands on Inzaghi and Juventus used the proceeds to completely redimension the team, bringing in Gigi Buffon, Lilian Thuram and Pavel Nedved. Juventus won the Scudetto in dramatic fashion that season and reached another ill-fated Champions League final the next.

Through the mid-to-late 1990s and early 2000s, no club sold better than they did. Juventus remained competitive, often getting stronger, not weaker, as a collective with the sale of a star individual each year. It wouldn't come as a surprise then if one day the same strategy came to be conceived around Pogba.

It must be said Agnelli was speaking in general when he mentioned him at the Leaders Conference. You could have swapped his name with Arturo Vidal's, for instance, the point would have been the same. In hindsight, he perhaps shouldn't have name checked anyone. It was inopportune, a gaffe even, one that could be construed as making Juventus look weak while also destabilising a player who only a couple of days earlier had told La Gazzetta dello Sport: "I look at the present and am able to say to myself that I am very happy here in Turin. … I adore everything about this club: the directors, the coach, my teammates and the fans. … At the moment I don't see myself anywhere other than at Juve."

A new contract is in the offing and the expectation is that Pogba will sign and stay. "We want to renew with Juve," said his agent, Mino Raiola. "Are there any offers for him? It's not true. None have come in. And besides, even in that case, Juve wouldn't have any reason to worry." Yet it's hard not to when Raiola, who represents Zlatan Ibrahimovic and Mario Balotelli, is in the middle of a situation like this.

The whole affair has raised a number of questions. One that keeps coming up is, even though there is a case for selling a star player for the kind of sum that would allow Juventus to reinforce the team across the board, should a club of their stature ever be seen as unable to keep its best performers?

"For a Juventino, it's too sad to also have to digest the fact that their club is not able to hold on to its jewels," wrote Guido Vaciago in Tuttosport, "experiencing a sort of Udines-isation of the club." Is that a fair assessment of Juve or does it apply to Serie A as a whole?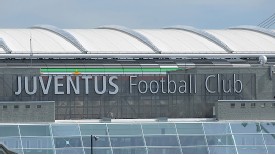 GettyImagesThe modern Juventus Stadium makes operating costs higher for the Bianconeri.
"Look at AC Milan, they had to give away Ibrahimovic," Agnelli said. But that was only because they had to slash the wage bill and get to a stage where they might be able to comply with UEFA's financial fair play rules. Juventus shouldn't have to do the same, right? Their latest set of accounts showed a record turnover of 274.8 million euros over the past financial year.

Still, that was "only" 22.1 million euros more than in 2004-05, a time when Juventus didn't have a privately owned stadium. The club wouldn't have hit that high either had Udinese's Maicosuel not missed his penalty kick in a shootout against Braga, which meant his team didn't make the Champions League group stages last season. Instead of having to divide their TV market pool money from the competition between three Serie A representatives, Juve had to split it only with Milan. They took home 65.3 million euros from their participation in the Champions League, more than anyone else including finalists Borussia Dortmund and Bayern Munich.

Absurd, no? Even if Juventus were to win the competition this season they wouldn't receive the same money as last season because this time they will have to share the money with Milan and another club, Napoli. One of the stands to pull from this is that the Juventus Stadium isn't enough on its own, despite tripling match-day revenues since its opening to make its owner a financial superpower.

Upon reflection, perhaps Juve should have made the ground bigger than its 41,000 capacity. They are also constrained by what they can charge for tickets on account of Italy's financial crisis and the fact that their rivals -- playing in older stadiums -- have lower prices. To add another perspective to this, Stamford Bridge, the venue of last week's Leaders conference, has almost the exact same capacity as the Juventus Stadium but turns over double what it does.

While Juventus are developing the Continassa area next door to the stadium -- and not just into a new training ground and headquarters, but flats, a hotel, cinema, bars and restaurants -- the truth that Agnelli is not afraid to confront is that until "the whole [Serie A] economic system grows" (and that of Italy as a nation), Juventus will only be able to drive revenue so far. That is what the Pogba affair tells us more than anything. It's plain for all to see. There are no shades of gray. It's black and white, just like Juventus.