Mauro Icardi's long road home to Argentina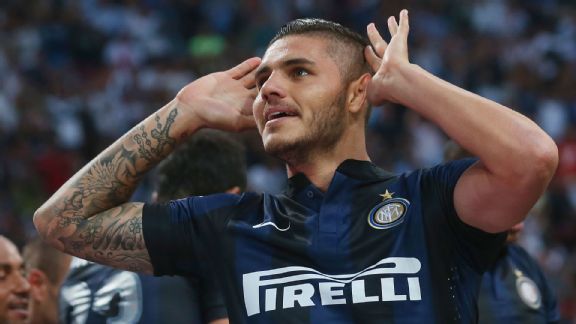 AP Photo/Luca BrunoMauro Icardi has two goals in five matches for Inter Milan.
In Rosario, Argentina, there is a barrio by the name of Alberdi. Jose Alberto Cordoba works in one of its restaurants. When he's not waiting tables, he can be found at the clubhouse of Sarratea, the local football team where he coaches. Laid out on the table are various newspaper cuttings and photographs. They tell of Mauro Icardi, the Inter striker Cordoba once had on his books.

"It was 1998," Cordoba recalled to La Gazzetta dello Sport. "I was coaching the 5-year-olds. Mauro was brought to me. Even then, he was already bigger than his teammates. I gave him a ball and told him to dribble it up to the halfway line to see how he did. He ran the length of the pitch and back in a minute; he had incredible speed. I had to look at his documents again to convince myself that he wasn't a couple of years older than the others. Almost immediately, I knew that I had a natural talent on my hands."

Cordoba wasn't wrong. Icardi's father Juan had been a promising footballer back in the day. On the books of Rosario Central, the club Che Guevara supported whose yellow-and-blue colours were worn by Argentina's 1978 World Cup-winning hero Mario Kempes, Juan had been on the brink of making his first-team debut when the death of his father meant he had to give up his football career to support his family.

When Mauro was born, Juan insisted that his son take up the game. "I didn't even like football," Icardi admitted to SportWeek. Living vicariously through him, however, clearly meant a lot to his father. "He has said to me many times, 'You must succeed where I failed.'" Rather than a burden, it was "an added motivation. He always wanted me to become No. 1."

Icardi would get to Sarra about an hour before everyone else and, finding the ground still locked, hop over the wall and start training. As Cordoba opened the place up, he would often get a surprise. "How'd you get in here?"

That work ethic paid off. The young Icardi scored 58 goals in his first season at Sarra and 108 the next as they began to dominate the Asociacion de Futbol Infantil di Rosario. Nicknamed "Canito" -- the firework -- for his explosiveness, his numbers were not too dissimilar to those put up by another kid from the barrio of Bajada in the south of the city playing for Grandoli a few years earlier -- a certain Lionel Messi.

To an extent, their fates are intertwined. A thigh injury suffered in Barcelona's 2-0 win at Almeria toward the end of last month ruled Messi out of Argentina's final World Cup qualifiers against Peru in Buenos Aires on Friday -- a 3-1 win -- and Uruguay in Montevideo next week. With their place in Brazil already booked, coach Alejandro Sabella could allow himself to be creative about replacing Messi over this international fortnight. So he called up the 20-year-old Icardi for the first time.

"I'm really happy," the player said. "It's a dream to be here."

He could have played for Spain. Italy too. How so? "Argentina," to borrow a phrase from Icardi, "was suffocated by crisis" in the late '90s and early 2000s. The country defaulted on its debt. Levels of unemployment and underemployment rose to 30 percent. Icardi's grandparents looked after him, his sister Ivana and brother Guido while their parents held down a number of jobs to make ends meet. Times were hard, and when Icardi was 9, his father decided to move the family to the Canary Islands. He said good-bye to Sarra. "No ocean can separate us when you have Sarra in your blood," Icardi wrote to Cordoba.

Icardi found a new boys' club on the other side of the Atlantic, Union Deportiva Vecindario. There, his reputation grew. Icardi scored goal after goal after goal on the dusty pitches of the Canary Islands, 384 to be precise. It wasn't long before word reached Barcelona. Their scouts had discovered Pedro playing in the same islands some years earlier. One went to watch Icardi, liked what he saw and recommended the club offer him a place at La Masia.

According to the player, reports that Messi bombarded him with text messages, imploring his fellow Rosarino to join Barca, aren't true. But Icardi did receive a signed photograph of Messi through the post one day, recommending that he follow him to Catalunya.

"Only a madman would have refused the offer of entering the academy of the best club in the world," Icardi said. "I met Leo for the first time a while later when I was leaving training one day. I went up to him and said, 'You remember that kid who you sent a photo to? That was me.' From that day, we saw each other quite a lot in Barcelona, never in Rosario. He took me out to dinner. He even invited me to his house once, but I couldn't go. Now we've lost touch a bit."

That's because after winning the Juvenil Championship and the Copa Catalunya and scoring 38 goals over a two-and-a-half-year period at La Masia, Icardi came to the same conclusion that Cesc Fabregas did before joining Arsenal a decade ago. Competition for places in the first team was so fierce that, realistically, he wouldn't get the playing time he needed to develop at Barca.

Also, his profile was different from that of the players who tend to make it from the youth team to the first team at the Camp Nou.

"Someone with my characteristics couldn't find space in that team," Icardi said. "Look at [Zlatan] Ibrahimovic. Even he failed. Barca play without a centre-forward. All my teammates in the youth system who were big and tall like me have left the club."

Icardi came to the attention of Sampdoria at a youth tournament in Italy in 2010. Since its relegation, the club had made a priority of identifying the best young talent in Europe and nurturing it. Chief scout Riccardo Pecini, who has since taken up the same post at Monaco, had already plucked Pedro Obiang from Atletico Madrid. After seeing Icardi curl in an extraordinary free-kick for Barca's Juvenil side in a 5-1 win against a Milan team with players two to three years his senior, Pecini reported back to his director of sport at the time, Sergio Gasparin, that this was a kid they absolutely had to have at Bogliasco. He was a star in the making.

An agreement was reached with Barca for 400,000 euros, and with hindsight, it's perhaps one of the best deals Samp have done in recent memory. Icardi scored on his debut against Juve Stabia, clinching the club a place in the playoffs through which it was promoted back to Serie A. His first appearance in the top flight was in the Derby della Lanterna, a match Samp went into on a run of seven straight defeats. Icardi scored the decisive goal in a 3-1 win. In the first game back from the winter break at the turn of this year came a performance that made everyone stand up and pay attention.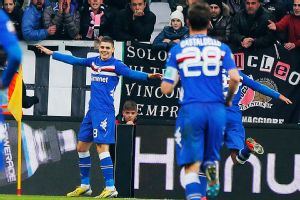 Fabio Muzzi/AFP/Getty ImagesIcardi scored twice to earn Sampdoria a shock win at Serie A champion Juventus last season.
Behind a goal and down to 10 men at the Juventus Stadium, no one gave Samp a prayer of getting a result against the champions. Icardi, however, scored twice and claimed an improbable victory for his side. It was one of the shocks of last season in Serie A. Some weeks later, he struck four times in one game against Pescara, becoming the first Samp player to hit a poker since Sergio Brighenti over half a century before. By coincidence, Messi managed the same feat that day as Barca trounced Osasuna 5-1.

Hearing that he had an Italian passport on account of his father's side of the family originating from Piedmont, the FIGC -- Italy's Football Federation -- approached Icardi on a number of occasions to see if he would consider playing for the Azzurri. A matter of months after joining Samp, he was called up for the under-19s ahead of a match against Hungary but declined. Icardi wanted to hold out for Argentina.

He played for their under-20s and wasn't particularly pleased when Samp told him that he wouldn't be going to the sub-20 youth tournament in South America in the spring of this year because of the delicate situation the club found itself in following the dismissal of Ciro Ferrara. Even so, Icardi, or at least his camp, was giving out mixed signals.

Although he has often repeated, "I feel Argentine. I don't feel Italian or Spanish. I have said it from the beginning," he has also said, "For now, I'm Argentine, but you never know." He was keeping his options open, it seemed, preparing perhaps to follow the many other Oriundi and become the 20th player born in Argentina of Italian ancestry to go on and represent the Azzurri.

An interview with Italy coach Cesare Prandelli by La Gazzetta dello Sport's Luigi Garlando gave a rather illuminating insight into how close the FIGC thought it was to getting Icardi. When it was put to him that, "The player wants Argentina," Prandelli replied, "He told us otherwise. We've talked to him about it. There was an agreement. Then something happened."

That something was perhaps Sabella travelling to Genova to watch Icardi in person and reassuring him that Argentina were monitoring him closely. "If you keep scoring, I'll find a place for you," he said. And Icardi did just that. He finished his first full season in Serie A with 11 goals, the final one proving the winner in another unlikely 3-2 triumph over Juve.

On moving to Inter, he picked up where he left off, scoring against Juve in the Derby d'Italia and in a 1-1 draw with Cagliari. Used as an impact sub by coach Walter Mazzarri, stats from WhoScored.com show he has the fewest touches per goal in Europe (14.5).

That might partly explain why there's a belief among his peers that, as was the case with Pippo Inzaghi, aside from scoring, he doesn't do much else. Fifty topflight footballers polled anonymously by La Gazzetta dello Sport voted Icardi, along with Mario Balotelli and Ezequiel Schelotto, the most overrated player in Serie A.

But if Icardi is overrated, then goals must be too. He has an instinct for them. And in the big games. Players with intangibles like that are hard to come by. Quick and of a size that has prompted Esteban Cambiasso to draw comparisons between Icardi and Hernan Crespo, he'll learn a lot from training alongside Rodrigo Palacio and Diego Milito every day.

He'll gain in influence too. According to La Nacion, it was Icardi's captain at club level Javier Zanetti who pushed Sabella to finally call him up for this round of games.

Kept on the bench against Peru, perhaps his debut will come in Uruguay. If so, expect there to be quite a roar in Rosario.