Global EPL makes it hard for England to follow German model
A league in rude financial health, blessed with international talent and clubs that challenge regularly for the Champions League. The flip-side: A national team that's uninspiring and functional, just good enough to eek out results to qualify for international tournaments. Sounds familiar, doesn't it? At the turn of the millennium, German football was in a similar place as England's is today.

At the time, the increasing dearth of local talent had already become a recognised problem. The German FA and the Bundesliga had just committed to an expensive, systematic overhaul of youth development, not too dissimilar to the Premier League's £340m Elite Player Performance Plan that was adopted a year ago. The rest of the German story is a familiar one, and its inherent logic -- better coaches plus better coaching equal better players -- provides plenty of hope that England's problems should begin to ease three to five years down the line.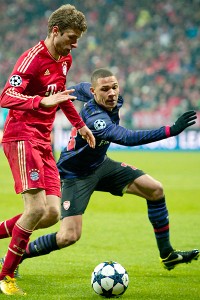 Odd Andersen/Getty ImagesBayern Munich's Thomas Mueller plays in a Bundesliga in which 48.5 percent of players are eligible for the German national team. Meanwhile, Kieran Gibbs of Arsenal is part of a paltry 26 percent of Premier players eligible for England.
It's reasonable to expect improvement in terms of supply, but what about demand? In that respect, the German experience offers less assurance, because it will be impossible to recreate: It took a financial crash of epic proportions to dampen the clamour for foreign players and increase the appeal of cheaper, younger home-grown pros.

In 2001, the Kirch media group, the Bundesliga's long-standing TV partner, ran into difficulties. The clubs were facing a severe shortfall of income and in some cases, insolvency. VfB Stuttgart, one of the top sides, couldn't afford to sign a single player in the summer of 2001-02. Manager Felix Magath was forced to promote youngsters like Alex Hleb, Timo Hildebrand and Kevin Kuranyi. The Swabians sensationally finished second behind Bayern Munich the following season and became the trailblazers for a revolution in attitude. Supporters responded enthusiastically to the young players and it suddenly became cool to field home-grown talent.

In an article for Suddeutsche Zeitung in June 2003, Christoph Biermann noted a "Stuttgartification" of the league. The need to field a strong team for the 2006 World Cup on home soil amplified this trend, with German club bosses and managers pulling together toward a common cause. On the whole, German football weaned itself off its traditional reliance on experience and began to appreciate youthful enthusiasm. This shift enabled Jurgen Klinsmann to force through a radical repositioning of the German national team from 2004 to 2006. Bastian Schweinsteiger and Lukas Podolski were promoted to the gung-ho first team, the pragmatism of the Rudi Voller years was ditched.

The overall numbers of foreigners employed by Bundesliga clubs has remained relatively stable over the last years, the percentage mark has consistently remained in the low 50s from 2002-03 (51.5 percent) to 2012-13 (52.4). The Kirch crisis, in other words, didn't result in an exodus. Its impact was more subtle than that. A bout of cost-cutting and debt reduction in the ensuing years made clubs think a lot more carefully about importing mediocre foreigners clogging up starting places. Hannover 96, for example, cut their foreign contingent from 21 to 11 in the space of one year before the 2006 World Cup in Germany. While the top sides could still afford to recruit quality players like Roy Makaay, signed by Bayern Munich for a then club record of €18.5m from Deportivo La Coruna in 2003, the majority of clubs had to look for cheaper options. The collapse of the "middle market" for foreigners has opened up opportunities for German players, who were also beginning to come through in increasing numbers at the same time.

German football needed both the grass-roots changes and the happy accident of financial meltdown to change its fortunes. Nothing in the current set-up of the Premier League, the world's best-marketed football competition, suggests that history could repeat itself in such a fashion. If anything, the process of globalisation, the driving force of the PL's success, looks set to accelerate further. We're probably not far away from the day when all 20 clubs will be controlled by foreign owners and have foreign managers in charge. Promoting English players (and coaches) is of little concern to them. In fact, it might even be detrimental to the League's bottom line -- foreign involvement increases attention abroad and swells the coffers in the shape of better TV and sponsorship deals.

In the absence of grave financial problems or a dramatic, patriotic shift in supporter attitudes -- neither look plausible at the moment -- there are two possible outcomes. The increased supply of well-trained EPPP graduates could have a deflationary effect on transfer values and provide a compelling financial incentive to cut out "middle market" foreigners. Alternatively, the PL bottle-neck could just prove too tight. There'll be more good English players, but they'll be forced to play in the lower divisions or abroad.

In any event, it's instructive to look at the current numbers to realise just how limited Roy Hodgson's options are at the moment. Only 58 out 220 starters on match day 3 -- I've included Chelseas 2-1 win over Aston Villa -- were English. That's a depressingly low 26 percent. Or to put it differently: Hodgson had less than three players to pick from for every man in his 23-strong squad.

Over in Germany, 96 out of 198 starters in the last Bundesliga round were eligible for Jogi Low's team. That's 48.5 percent. If you add the seven foreign-based internationals (Khedira, Podolski, Ozil, Mertesacker, Schurrle, Klose, Gomez) to the pool, you'll end up with 103 players -- closer to a one in five choice for Low. Until England (who are without a foreign-based international at the moment) can provide a similar number of alternatives to their national manager, the Three Lions will continue to face insurmountable odds vis-a-vis the world's elite -- regardless of tactics and questions of personnel.