The voters are always right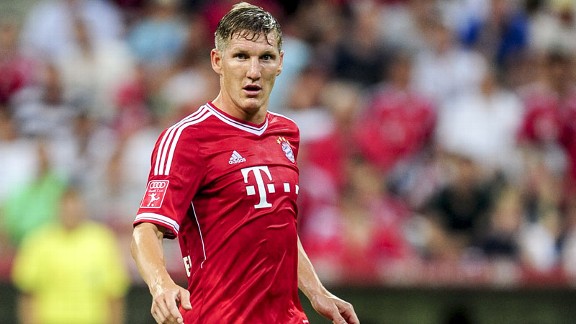 PA PhotosBastian Schweinsteiger's German Footballer of the Year award has been cast into doubt.
Last month, Bastian Schweinsteiger was voted German Footballer of the Year - somewhat controversially, it has to be said, but more about that in a minute or two.

It is the 19th time a Bayern Munich player has won this prestigious award. The first was, as you'd expect, Franz Beckenbauer, who was named German Footballer of the Year in 1966, when he was only 20 years old. (The Kaiser won it another three times to set the German record.)

We have handed out this accolade since 1960, which means Germany introduced the award fairly early, though we were by no means the first country to do it. Most people presume that honouring a player of the year is yet another English invention, considering England's first-ever Footballer of the Year (Stan Matthews) was crowned as early as 1948. Yet three countries on the continent beat the English to it.

As early as 1946, the legendary Franz "Bimbo" Binder, then a striker with Rapid Vienna, was named Austria's Footballer of the Year. Also in 1946, the even more legendary Gunnar Gren became Sweden's first Footballer of the Year, three seasons before the forward moved from Gothenburg to Milan and became an international star. And in 1947, Finland made Leo Turunen, an attacker with a club called Sudet (the name means Wolves), their original Footballer of the Year.

Belgium created a similar trophy, the Golden Shoe, in 1954. And I guess Germany was next. In 1960, we organised a vote and striker Uwe Seeler won the first-ever German Footballer of the Year award.

During the following decade, many countries followed suit: Bulgaria (1961), Denmark and France (1963), Hungary and the Soviet Union (1964), Scotland and Czechoslovakia (1965), Romania (1966). Strangely, really big footballing nations such as Portugal, Argentina, Brazil, Italy and Spain would create comparable awards only during the 1970s. The Dutch even waited until 1982.

However, that all these countries, and quite a few others, crown a player of the year doesn't mean they all do it the same way. The Italians, for instance, use a highly idiosyncratic system. Guerin Sportivo, the magazine which started the award, combines the players' ratings from four different publications and rewards the footballer with the best average rating. (There has been a similar award in France since 1957, the Etoile d'Or, which is often confused with the Footballer of the Year trophy).

What is quite typical about Italy, though, is that a magazine or newspaper plays a leading role. Back in 1946, when Austria and Sweden set the precedents, two publications paved the way: the now-defunct Austrian magazine Sportfunk and the Swedish paper Aftonbladet, which teamed up with the Swedish Football Association. In France, the winner was elected by the editors of the esteemed France Football until roughly a dozen years ago. It's a similar situation in Germany, where kicker, our most tradition-laden football paper, was instrumental in creating the award and organises the vote to this day.

The first question with regard to such awards is: who is eligible? In France, foreign players couldn't win the trophy until 1995. Germany used to have a similar rule, which explains why Kevin Keegan was twice voted European Footballer of the Year during his time in Hamburg but never became Germany's Footballer of the Year.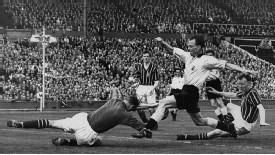 GettyImagesManchester City 3-1 Birmingham, 1956: Whilst making this save at the feet of Peter Murphy City keeper Bert Trautmann unknowingly broke his neck. He played on to make some crucial saves.
In some countries, though, it was always possible to win the trophy as a non-native. The great German goalkeeper Bernd (or "Bert", as the English say) Trautmann, who sadly passed away less than two weeks before Schweinsteiger was honoured, was voted England's Footballer of the Year in 1956.

The second question is: who gets to vote? When Austria's Sportfunk honoured Binder back in 1946, the magazine simply polled its readers, who cast their votes by letter or postcard. (Which is why there was no Austrian Footballer of the Year in 1947: the post-war paper shortage made this voting procedure impossible.) In France, they now have a committee consisting of former winners of the award that decides who is named joueur francais de l'annee, French footballer of the year.

But most countries, including Germany, follow the model set by Finland in 1947 and England in 1948. They poll their organised professional sports writers.

The key word here is 'organised'. I am German and I am a professional sports writer, but I have never been asked to vote for a German Footballer of the Year, because I'm not a member of the VDS, the Association of German Sports Journalists. (Let's not delve into this. You know the one about Groucho Marx and being a member of a club.)

The VDS has about 3,700 members. Only 527 cast their vote this year. 92 of them put Bastian Schweinsteiger in first place. Runner-up Franck Ribery collected 87 votes, third-placed Thomas Müller got 85.

These are not many ballots. Last year, 92 votes would have put you only in fourth place. In 2011, a player would have come fifth with 92 votes. In 2010, Schweinsteiger got almost twice as many votes as he has now (180) but finished only a very distant second, as Arjen Robben received 445 votes.

The small number of votes cast has given rise to the suspicion that something must have gone wrong with this year's award. It's obvious that some members of VDS will always decline to vote for whatever reason, maybe simply because football isn't the sport they cover. But still, a voter turnout of 527 - less than 15% - is spectacularly low.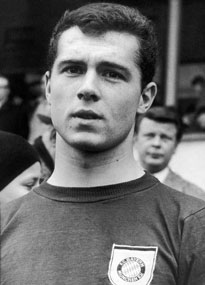 GettyImagesFranz Beckenbauer became the first Bayern Munich player to win the German Player of the Year award in 1966.
It has since turned out that there's indeed been a mistake at kicker HQ, something having to do with a corrupt Excel file that resulted in mails going out to wrong addresses. However, kicker says the error was detected early and then repaired immediately.

The magazine's editor, Rainer Holzschuh, added that "the number of participants has been gradually declining, and in the past two years it's gone down quite drastically". If he means that this year's low turnout has nothing to do with a mistake on the part of kicker but reflects a general trend, then he's plainly wrong.

In 2010, 925 votes came in. A year later, the number rose to 968. Then, in 2012, it fell to 846. That's not a gradual decline and the fluctuation is in no way drastic. Rather, the number of participants has always swung back and forth. The low point of the last decade was reached in 2004, when only 712 VDS members cast a ballot. But in the very next year, 2005, the figure rose to 1012.

The same thing happened a few years later: in 2008, only 766 writers voted, but in 2009 the number was 1042. However, what has never happened is that the voter turnout sank below 700. So 527 is indeed a very suspicious-looking figure and kicker should try to find out if there's an explanation for it. But does that mean the vote must be disputed?

VDS president Erich Laaser has said it was "not a regular vote" on account of "the very low turnout". And the sports media expert Josef Hackforth called the result of the vote "random and arbitrary", unless kicker could prove that "a representative cross section of sports writers" had been polled. Approaching the realm of the truly absurd, he then suggested getting help from a professional survey research company.

Yet the quality and validity of an award has nothing to do with the number of people who vote. England's Football Writers' Association has only 400 members. In France, less than 40 people decide who is named Footballer of the Year – and they certainly do not form a representative cross section of any kind.

And the fact that only seven votes separated Schweinsteiger, Ribery and Müller only tells us that the race was as close as had to be expected after Bayern's monster season. It doesn't mean the voting is "random and arbitrary". When Bobby Charlton was named European Footballer of the Year in 1966, he finished only one single point ahead of Eusebio. And in 1969, Tony Brook and Dave Mackay were joint winners of England's Footballer of the Year award.

Back in June, kicker polled the Bundesliga players and a solid majority (almost 30%) voted Ribery the league's best outfield player. Schweinsteiger finished third, behind Robert Lewandowski.
Ribery was also the top player of the past season with regard to the player ratings kicker painstakingly compiles. In this particular ranking, Schweinsteiger only came ninth.

However, neither the ratings nor the players' opinions are relevant. Mario Gotze, Kevin Trapp and Rene Adler placed above Schweinsteiger in terms of average rating, but none of the three was a serious Footballer of the Year candidate.

If you view the award as a title that honours not only performance but also things such as character, leadership qualities or sportsmanship, then I can't really find fault with Schweinsteiger's triumph. Especially when you consider that it's notoriously difficult for a primarily defensive outfield player to claim such an individual award.