Joachim Low yet to make case for defensive football
It didn't take long for the jokes and conspiracy theories to start last week.

Bastian Schweinsteiger had conveniently picked up an ankle injury in a 1-1 draw with Freiburg last Tuesday, just in time to miss the next two international games with Germany, the wicked whispers went. You couldn't really blame the doubters, either. The Bayern Munich midfielder had missed the past 12 friendly matches for Jogi Low's team with a series of problems of varying seriousness.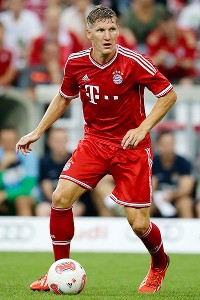 VI Images/Getty ImagesBastian Schweinsteiger hasn't been around for friendlies lately, but his latest issue -- an ankle injury -- is genuine as Germany plays two key World Cup qualifiers.
The low-level but audible discontent with key player and firm Low favourite Schweinsteiger implicitly claiming "Extrawurst" status (a person who makes use of special privileges) by not turning up for meaningless games was naturally most noticeable in the camp of Borussia Dortmund supporters. They lost playmaker Ilkay Gundogan to a back injury for four weeks, when the 22-year-old stood in for Schweinsteiger in the 3-3 draw with Paraguay in mid-August. Gundogan had complained of back trouble before the game but was keen to play for the national team. As Schweinsteiger's deputy, he simply wasn't in the position to refuse Low's call.

While it won't be much consolation to BvB coach Jurgen Klopp and Dortmund's supporters, it should be remembered that Schweinsteiger's latest complaint is genuine. His ankle problem was bad enough to keep him out of Bayern's UEFA Supercup win on penalties Friday over Chelsea in Prague. More importantly still, Germany's matches against Austria (in Munich, on Friday) and away to the Faroe Islands next Tuesday are not friendlies but important World Cup qualifiers -- perhaps the last two important ones -- if Germany take maximum points. Sweden and Ireland, who meet in Dublin on Friday, must each win all of their remaining four games if they are to still catch the league leaders in Group C. A draw in Dublin and two subsequent by Low's side would knock them both out, in other words.

If that still doesn't allay suspicions -- maybe Schweinsteiger feels Germany doesn't really need him against Austria and the Faroes? -- the next numbers should. The 29-year-old would have played his 99th and 100th international game this week. The select club of three-figure Nationalspieler only contains seven players (Matthaus, Klose, Podolski, Klinsmann, Kohler, Beckenbauer and Hasser) -- three more (Streich, Dorner, Kirsten) if you count caps for the defunct GDR -- and you don't pass up the chance to join it willfully. Just ask Michael Ballack, forever marooned on 98 after getting scythed down by Kevin-Prince Boateng (Portsmouth) in the 2010 FA Cup final with Chelsea.

Low must hope that nobody will mention Schweinsteiger after the next two games, that there will be no need to bring up his absence because the team ultimately succeeded without him. But against the Austrians, who have useful forwards in Martin Harnik and Marko Arnautovic, as well as strong motivation for the game against their fiercest rival, that won't be easy. No Schweinsteiger and no Gundogan will most probably force Low to play Bayern's Toni Kroos in central midfield, partnered by Sami Khedira of Real Madrid. A strong partnership, on paper. On the pitch, however, Germany crashed to a chaotic 4-4 draw with Sweden (after a 4-0 lead) the last time Kroos played a qualifier.

Schweinsteiger was his partner at the time -- a duo that was possibly too attacking and/or cultured to deal with Sweden's direct and physical (read: long balls to Ibrahimovic) approach. Low will be more relaxed in the knowledge that Khedira, who's more of a box-to-box player and possesses good defensive skills, will provide protection for the defence behind Kroos. (It's a defence that has plenty of its own problems, it could be added.)

Khedira's status has grown since Schweinsteiger's poor 2012 Euros. Low made a point of calling the 26-year-old a "leader" Wednesday. German FA insiders speak of his tremendously important role in the dressing room, where he's an expert in bringing everyone together and creating a good atmosphere. But the Madrid midfielder also exemplifies the continued and as of yet unsuccessful search for balance at the heart of Low's Germany. At Euro 2012, Khedira dominated the centre with powerful runs as the not-quite-fit Schweinsteiger sat back. It only worked up to a point. What it did prove was that both weren't really defensive midfielders.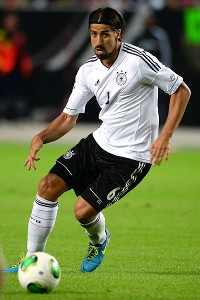 PATRIK STOLLARZ/AFP/Getty ImagesA matured Sammy Khedira ies expected to provide protection for Germany's defense behind Toni Kroos.
Since the defeat by Italy in Warsaw, Low has tried many different partnerships, but he is yet to make a convincing case for a version of football that feels that it can do without defensive midfielders altogether. The national manager wants ballplaying men in the centre; in his view, destructive specialists are a waste because his team is expected to dominate possession. Even Khedira, who's clearly enjoyed the licence to go forward in contrast to his more limited role at Mourinho's Madrid, cautiously suggested that Low might be wrong. "We can't just play spectacular attacking football, we have to come back to the old virtues," he said Tuesday.

The next day, however, Low insisted that there won't be any changes to his tactics. "I'm not prepared for us to sit back and simply play on the counter," he said. "We have to do the right things defensively. But that doesn't mean the whole setup has to be more defensive." Barring any catastrophes against Austria or even the Faroes, Low will not change his mind. His Germany has become a victim to its own success in youth development, to a certain extent. There are so many good, elegant creative players that ball-winners -- who only 10 years ago swamped the squad -- are in danger of becoming a dying breed. Dortmund's Sven Bender and his twin brother Lars (Leverkusen, currently injured) are the only serious options, but you sense that Low, the aesthete, prefers different types.

One can only hope that Low will consider coming test matches (or dead rubbers) as a chance to try out a defensive specialist. Against the very best sides at the World Cup, it might prove useful. Chances are he'll stick to his own dogma, though. The case for more defence in Germany isn't helped by Pep Guardiola, who has installed Schweinsteiger in the Busquets role, without a second holding midfielder. "Guardiola and Low are very similar," Thomas Mueller said this week. The Bayern forward was referring to their management styles but could have just as easily referenced their tactical approach. Both have no choice but to keep on winning -- preferably without conceding three goals, in Low's case -- to keep the doubters at bay.