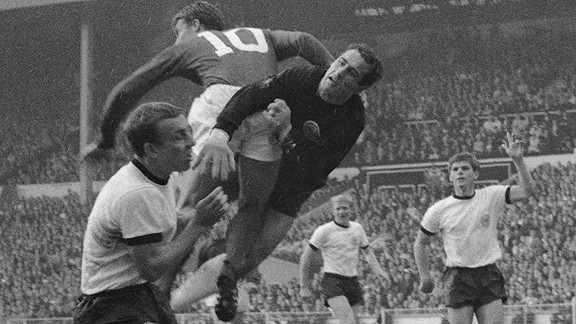 GettyImagesHans Tilkowski clashes with Geoff Hurst in the 1966 World Cup final.
"Hi Uli," Michael wrote. "I came across SC Westfalia Herne, the first team of Hans Tilkowski. That was quite surprising. I consider myself very knowledgeable on German football, but never heard about this club before." He added: "Checked the internet and found out that you, most probably, have never written about it. So here is an idea -- maybe you should. I'd like to know more about them."

Now, like Bob Dylan and Joachim Low (just ask Stefan Kiessling) I don't normally take requests. But I'm going to make an exception for this one, because the story of Westfalia Herne touches upon two subjects that could turn out to be the red threads of this season, namely corporate involvement (see: Moneyball -- June 25, 2013) and, well, names (see: Hope You Don't Guess My Name -- August 20, 2013).

Michael already mentioned one player who made his name in Herne, a city eight miles east of Gelsenkirchen and twelve miles west of Dortmund. Hans Tilkowski, West Germany's goalkeeper in the 1966 World Cup final, played seven years for Westfalia, before signing for his hometown club Dortmund.

But there are some others, such as the future star coaches Helmut Benthaus and Werner Lorant. And in late 1958, no less than three Westfalia players started for West Germany when Sepp Herberger's team met Egypt. In the following two years, Herne -- not Dortmund or Schalke -- represented the Oberliga West in the final, nationwide rounds for the German championship.

Yet when the Bundesliga was formed, almost exactly 50 years ago, Herne's application was rejected in favour of the bigger teams from the region. Thus Westfalia's tradition-laden, scenic and very popular Schloss Strunkede ground hosted second-division football through most of the 1960s and 70s.

Now, why is this a story about corporate involvement and names? Because in 1977, the club's official name became Westfalia Goldin Herne. Goldin was a large chain of independent petrol stations. "Independent" in the sense that they were not owned by one of the big multi-national oil companies but instead by a former coal merchant called Erhard Goldbach.

Whenever you mention this, people (both German and non-German) normally frown and say: "But that is against the rules in Germany! Look at RB Leipzig, they can't call themselves Red Bull and thus use this unwieldy German name that starts with an R and a B!"

Indeed. Paragraph 15 of the German FA (DFB) bylaws -- headed "Names of Members," because football clubs are considered association members -- states that "changes, additions and new creations of club names or club insignia for advertising purposes are prohibited". However, this paragraph wasn't always there.

Just have a look at the 1971-72 season in the Regionalliga Southwest, which was then part of the multi-tiered second division. The second best team that season was Rochling Volklingen. In the mid-60s, this club had added "Rochling" to its name in order to honour a dynasty of steel barons -- the Rochlings -- who ran a huge ironwork in Volklingen for which 17,000 people, almost half of the population, worked.

In fifth place, there was a club that used to be called simply ASV Landau but that now, in the early 1970s, carried the daft moniker Gummi Mayer Landau. It translated as Rubber Mayer and referred to a local tire company.

Finally, in fifteenth place, there was VfR Pegulan Frankenthal. The Pegulan plant in Frankenthal was the second-largest producer of linoleum in the country and had lent its name to the club since 1969.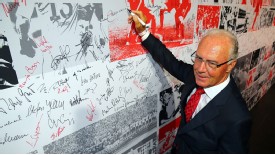 GettyImagesBundesliga fans have seen the game change dramatically over the past 50 years.
What would be unthinkable today was actually a fairly common custom in that decade. Older German fans will surely remember how famous, tradition-laden Waldhof Mannheim (Sepp Herberger's club) received 190,000 Marks from a crisps company in 1972 to become Chio Waldhof, a name the club carried for six long years.

Other well-known examples were third-division Quelle Furth, named for a big mail-order house after merging with the company team. And between 1973 and 1982, VfR Burstadt -- briefly a Second Bundesliga club -- competed as VfR OLI Burstadt, after a corporation which manufactured cooking pots from aluminium (and polluted groundwater in the process).

There were only few regulations at the time that governed the names clubs could give themselves. They were fairly hazy and largely concerned labels that could hurt religious feelings and people's morals or were overtly political. This last rule led the Hessian Football Association to stop a small Kassel-based club from calling itself "Dynamo" in the summer of 1982. In those pre-reunification days, the football authorities considered it too much of a "leftist" name because it evoked club monikers typical of the GDR.

In retrospect, it seems strange that German clubs could easily pick up a sponsor's name from the 1960s until, as we shall see, the early 1980s.

However, there are countries where this is the norm and where people don't bat an eyelid over even the most bizarre concoctions. Take our neighbours Austria.

As early as 1977, tradition-laden Austria Wien from Vienna, Matthias Sindelar's club, became Austria Memphis Wien and thus didn't just carry the name of a sponsor but of a cigarette company at that. (Which answers the question I had a while back about clubs that endorsed tobacco, (see: If the price is right -- July 30, 2013.)

As if that wasn't bad enough, Austria were taken over in 1999 by the MAGNA auto-parts consortium and became Austria Memphis MAGNA, thus carrying not one but two corporate names until 2004, when Memphis got out of football on account of the restrictions placed on tobacco advertising.

Then, in 1983, Eintracht Braunschweig found themselves in one of their regular financial straits and the DFB's great old nemesis, Gunter Mast, took centre stage again. Mast promised Eintracht money if the members would agree to change the club's name into Jagermeister Braunschweig. They did.

Now the DFB panicked. Minnows like Burstadt and Frankenthal were apparently of little concern in the corridors of power, but a line had to be drawn when it came to an established Bundesliga club like Braunschweig. And, we may presume, that dreaded trouble-maker Mast.

The above-mentioned bylaw was hastily drawn up and railroaded through the annual general assembly on October 29, 1983. (The item wasn't even mentioned on the agenda which the delegates had received prior to the
meeting.) In fact, this haste would lead to a protracted legal battle between Mast and the DFB.

In late 1986, the highest German court even found in Mast's favour, ordered the DFB to introduce the motion to amend the bylaws all over again and provisionally allowed Eintracht Braunschweig to change their name to "Jagermeister". However, it had all become a moot point by then, because Mast had already put considerable daylight between himself and this stubborn game of football.

It's worth pointing out, however, that the bylaw's wording, despite the haste, was handled with care. Note that it only speaks of "changes" or "additions" to existing names or the creation of "new" names. This meant that clubs which already carried the names of commercial enterprises were free to continue to do so. It's one reason why we still have Bayer Leverkusen.

The wording didn't make much difference to Westfalia Herne, though. In May 1979, the Internal Revenue Service raided the offices of Goldin, suspecting fraud and large-scale tax evasion. Erhard Goldbach fled the country but was later arrested and sentenced to almost 20 years in prison.

Without their main sponsor, Westfalia Herne could no longer afford professional football, were demoted to the third division and would eventually sink to the sixth level of the football pyramid. These days, the club competes in the Oberliga Westfalen, the fifth division, together with Arminia Bielefeld's reserve team.