Bundesliga turns 50: Konietzka will never be forgotten
Lothar Emmerich throws his hands in the air. SV Werder Bremen 'keeper Klaus Lambertz, his head towards the goal-line, has been beaten by Friedhelm 'Timo' Konietzka, who turns away celebrating. A Bremen player is down on the ground, shocked. The old stadium clock at Bremen's Weserstadion still shows 5pm. It is August 24, 1963. Konietzka, born on August 2, 1938, in Lunen, a small town north of Dortmund, has scored the first ever Bundesliga goal.

This Saturday, 50 years ago, only 58 seconds into the newly founded Bundesliga, Borussia Dortmund's Konietzka made history. Unthinkable in the present day, the goal that started the big Bundesliga show was not captured on film. The few TV cameras in Bremen's Weserstadion had not started rolling. The photographers, the legend goes, had mostly taken their position behind the Dortmund goal. And so all we are left with these days is this iconic picture of Emmerich celebrating and Konietzka in the background.

Whenever the Bundesliga tale is told -- and, during the run to the 50th Bundesliga anniversary, it has often been told -- the tale of the first Bundesliga goal ever is always included; pictures that are burned deep into the public conscience.

It stands alongside Gazza's tears in 1990, the 'Hand Of God', Terry Butcher's blood-soaked, bandaged head, Ballack down on his knees during the penalty shoot-out, young Lars Ricken writing his name into Champions League history in 1997, Wembley 1966, Zinedine Zidane in Berlin in 2006. The picture of Emmerich and Konietzka is a part of Germany's national football memory. "The 50th anniversary of the first Bundesliga goal will be a highlight for me," Konietzka said in an interview in January 2012.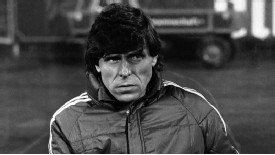 APTimo Konietzka, in 1983, when he was manager of Bayer Uerdingen.
In 1958, Friedhelm Konietzka made the switch from his hometown club VfB Lunen 08 to the big neighbours Borussia Dortmund, who had won back-to-back German titles in 1956 and 1957. He stayed at Dortmund for seven years and during that time turned into one of the deadliest strikers in Germany.

Borussia Dortmund won their third German championship in 1963. It was the last league title that was decided by a final. At Stuttgart's Neckarstadion, Dortmund beat Cologne 3-1. That summer, the Bundesliga -- the first professional football league in Germany -- was introduced.

During the five years leading up to Bundesliga, Konietzka had scored 92 goals in only 118 appearances for Borussia. During his two Bundesliga seasons for Dortmund, he added another 42 in 53 appearances to his tally.

In the summer of 1965, aged 27, Konietzka joined TSV 1860 Munich. Again Konietzka was on target in his first appearance for his new club. He scored for 1860 against the newly promoted local rivals Bayern Munich. He won his second German championship with TSV 1860 Munich in 1966. In his two seasons with the Lions, Konietzka scored another 30 goals in only 47 games.

Maybe out of frustration over a six-month ban -- which stands as the second-longest ban in Bundesliga history -- following an alleged attack on the referee during a game between TSV 1860 Munich and Borussia Dortmund, Konietzka made the switch to FC Winterthur in the second tier in Switzerland in 1967. The German public was astonished: Konietzka had turned down offers from Real Madrid and Inter Milan. This decision would have a great effect on his personal future.

He quietly ended his professional career over the next few years and switched to the dugout, where had a few successful years until the mid-'80s. In 1977, he led his FC Zurich team to the European Cup semi-final only to be beaten by Liverpool. In 1984, Konietzka returned to Dortmund, who now played at the Westfalenstadion. But, after only four months, his second spell at Borussia, this time as the coach, came to an end. And slowly he turned away from football altogether. Konietzka changed his first name from Friedhelm to Timo and in 1988 became a Swiss citizen.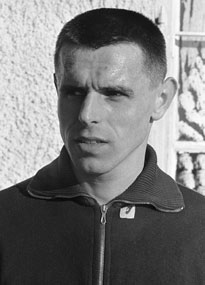 APA photo of Timo Konietzka taken in 1966, when he was contracted to TSV 1860 Munich.
His haircut had earned him the nickname 'Timo' early on in his career. Whenever questioned about Konietzka, Borussia Dortmund historian Gerd Koble likes to tell the following tale: "The name Timo was totally uncommon in Germany. Only in Scandinavia would you find the name every once in a while. But because of his similarities with the Soviet Minister of Defence, Timoschenko, his colleagues nicknamed Friedhelm 'Timo'. At some point Konietzka grew fond of his nickname and wanted to officially wear it. The legend says that Konietzka then traipsed round administrative bodies and made sure the name Timo was officially allowed in Germany. And so today, every Timo in Germany can look back on his famous, black-and-yellow eponym."

With his wife Claudia, whom he describes as the "best transfer in my life", he opened a guesthouse in Brunnen at the Lake Lucerne. Occasionally he returned to his old home, Dortmund. But Switzerland had become the centre of his life. He became an ambassador for the euthanasia organisation Exit. In several interviews, he emphasised that he would neither expose himself to the agonies of a deadly disease nor the slow loss of his memory. In a number of powerful interviews, he advocated self-determined time of death.

When diagnosed with an incurable cholangiocarcinoma -- a form of cancer -- Konietzka decided to put an end to his life. On Monday, March 12, 2012, with the help of the Euthanasia organization Exit, he passed away.

He never lived to see the day of the 50th Bundesliga anniversary. The weekend after his death, Borussia Dortmund took on Werder Bremen in Bundesliga. And, on August 23, 2013, both clubs met once again. Walking up to the stadium, fans from both clubs chatted on the streets of Dortmund and remembered one of Germany's great strikers. That day when Emmerich threw his hands up in the air, and Konietzka's contribution to Bundesliga history, will never be forgotten.