Wenger's transfer fear confusing given summer moves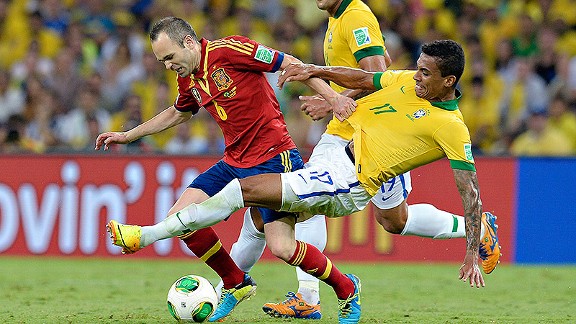 Luusi Gene/AFP/Getty ImagesWhen Arsene Wenger says no one was available this summer, he must be forgetting the combative brilliance of Luiz Gustavo (17).
Where I live in Northwest London, within a brisk walking distance of the Emirates, you can't move these days without bumping into unhappy Arsenal fans. Only this morning, a cab driver who's been "supporting the Arsenal for 50 years" told me he can't remember being "so frustrated" with the club. His grievance was amplified by the sense that were no easy fixes. "I want the manager to stay because he's a great manager," he explained, "but I'm worried that he'll never change. A leopard doesn't change his spots, does he?"

Complaints about manager Arsene Wenger's inactivity in the transfer market are nothing new, of course. But there's less tolerance for it these days now that the reasons for it are no longer financial (stadium debt) or ideological (trusting in youth) but are seemingly found in the Frenchman's over-optimistic evaluation of his existing squad. "In January, it is difficult to find the players that are really better and can give something special to the squad," he said seven months ago, shortly before signing left-back Nacho Monreal. "It has become more difficult for one simple reason: We have a good squad."

Before Arsenal's 3-1 home loss to Villa on Saturday, Wenger made the same point. "If you bring me tomorrow players who are better than those we have, I promise you we will look at them," Wenger told reporters. "There are not many in Europe" who would fit the bill, he added.

Is that really true? Take the Bundesliga, for example. It's impossible to know whether stars like, say, Ilkay Gundogan (Borussia Dortmund) or Thomas Muller (Bayern Munich) would have been open to offers from Arsenal and at what price, but we can evaluate the quality of the players who did move clubs in Germany this summer. Here's a look at a selected list of in-and-out transfers, their attainability for Arsenal and the possible benefit they could have provided to the Gunners (loan players excluded):

Mario Gomez, 28 years old: Bayern Munich to Fiorentina, 15.5 million euros
The Germany striker was available relatively cheaply with wages at about 8 million euros per year. He would have been an upgrade to Olivier Giroud but not a game-changer. Verdict: Not a great miss

Mario Gotze, 21: Dortmund to Bayern, 37 million euros
Wenger unsuccessfully bid about 25 million euros for the attacking midfielder in 2011. Gotze's release clause would have made him an obvious, if expensive, target, but would he have been interested? In Germany, the assumption was that he would move only to Real Madrid or Barcelona, which made the Bayern deal all the more surprising. Bayern paying close to 10 million euros a season in salary and the Pep Guardiola factor proved decisive. Verdict: Little realistic chance

Thiago Alcantara, 22: Barcelona to Bayern, 22 million euros
Another release clause made the Spanish international almost a bargain. He would have slotted in well into the Arsenal midfield in a number of positions, but perhaps isn't the physical presence that their midfield needs most. Verdict: Very good player but not necessarily the answer to their most pressing problems


Sokratis Papastathopoulos, 25: Werder Bremen to Dortmund, 9.5 million euros
A no-nonsense, solid and agile centre-back who can also play as right back. Bought in essentially as a backup to Mats Hummels, Neven Subotic and Lukasz Piszczek. Not cheap but very useful. Verdict: Would have complemented the existing Arsenal back line but not an automatic starter

Henrik Mkhitaryan, 24: Shakhtar Donetsk to Dortmund, 27.5 million euros
The Armenian is fast, technically excellent and dangerous as a second striker or No. 10. His style is different to Tomas Rosicky, Jack Wilshere or Santi Cazorla, but he would have played in a similar position -- centrally behind the main forward. Verdict: Expensive but would have given fantastic depth to Arsenal's attacking midfield -- similar to Thiago in that respect

Pierre-Emerick Aubameyang, 24: St. Etienne to Dortmund, 13 million euros
A cross between a striker and a winger, not unlike Gervinho, but faster and more prolific. Would have been a classic Wenger buy: overlooked by many, but with huge potential to improve. Verdict: Strange Wenger passed on Aubameyang given the low price

Heung-Min Son, 21: Hamburg SV to Bayer Leverkusen, 10 million euros
One of the most in-demand Asian players, Son can play wide on either side or centrally in attacking midfield. He thrives on the counterattack and has a mean shot. Verdict: Maybe still a little raw and not physical enough to threaten Arsenal's starting XI immediately, but a very good "prospective" buy

Andre Schurrle, 22: Leverkusen to Chelsea, 24 million euros
An upgrade on Lukas Podolski on the left and superfast, especially on the counter. But very expensive. Verdict: Not a must-buy

Felipe Santana, 27: Dortmund to Schalke, 1 million euros
A complete steal at this price due to a release clause. One of the most underrated centre-backs. Verdict: A no-brainer but there might have been work permit issues in the UK due to his Brazilian passport

Adam Szalai, 25: FSV Mainz 05 to Schalke, 8 million euros
The Hungarian is a striker with guile and pace, but he's been bought as a squad player by the Royal Blues and would not have played a different role at the Emirates, at least initially. Verdict: Not quite AFC material

Leon Goretzka, 18: VfL Bochum to Schalke, 2.8 million euros
Very cheap for the promise he represents since the teenager is widely seen as the next best thing in Germany. Plays in central midfield. It's not sure he would have fancied the move abroad at this stage of his career. Verdict: Could have been the next Cesc Fabregas one day, but not immediately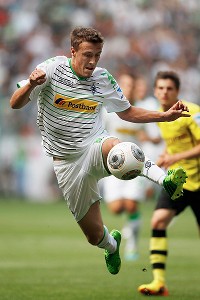 Boris Streubel/Getty ImagesKruse has eight goals in 24 Bundesliga games this season.
Max Kruse, 25: SC Freiburg to Borussia Monchengladbach, 2.5 million euros
A versatile, incredibly intelligent striker who can play wide or deep, Kruse is likely to make the Germany squad for next summer's World Cup. A superb player, even at a significantly higher fee. Gladbach secured him in April. Verdict: Every club that didn't seriously try to sign him should fire their German scouts

Raffael, 28: Dynamo Kyiv to Gladbach, 5 million euros
The Brazilian brings a wealth of experience and a bag of tricks. Can be good when deployed out wide or centrally in attacking midfield. Verdict: A good "body" but not a starter, plus possible work permit issues

Luiz Gustavo, 26: Bayern to Wolfsburg, 17.5 million euros
Estimates of the transfer fee vary between 15 million and 22 million euros, but even at the high end, it's a reasonable prize for a ball-winning specialist who is a great athlete and can slot in at centre-back and left back, too. It's unclear whether Arsenal ever made an official bid, but they certainly should have, even if his wages (7-8 million euros per year) and finding an agreement with the agent would have been quite difficult. Verdict: The perfect signing for this AFC team

Anthony Modeste, 25: Bordeaux to Hoffenheim, 3 million euros
The former Blackburn striker is big and powerful but not of the prerequisite quality. Verdict: No real use to the Gunners

Jan Kirchhoff, 22: Mainz to Bayern, free
An interesting proposition. Kirchhoff can play as a holding midfielder or as centre-back. Time will tell whether he'll make it at Bayern -- it'll be tough -- but few players of his potential were available for so little -- nothing, in fact. Verdict: Probably not technical enough for Wenger, but ticks quite a few boxes

In conclusion, Wenger is right in the sense that there weren't a million players to choose from in the Bundesliga this summer. For example, no full back or goalkeeper of real quality was transferred in or out. But a handful of very good buys (Gotze, Luiz Gustavo, Kruse, Son, Mkhitaryan, Aubameyang) were certainly available, along with half a dozen pros who would have brought at least depth to the squad

But more puzzling than Wenger's reluctance to get involved in the German market is his lack of interest in Spanish-based players. After all, this summer has shown that every non-Real Madrid and non-Barcelona star was on sale. Even a small part of Arsenal's reported 93 million euro transfer kitty would have gone a long way to securing some real talent.