Could 'dictator' Magath be the man to save Fulham?
If the Premier League didn't already have enough strong managerial personalities, enter Felix Magath.

Paolo di Canio didn't last long, but then again he didn't arrive with the same prestigious record. The German is described as the most successful Bundesliga coach and his specialty of saving clubs from relegation is a reputation that has now landed him a job with English side Fulham.

It's the main reason Fulham owner Shahid Khan brought in the polarising figure.

"I'm especially impressed with the reputation Felix has for coming into clubs at difficult times, often late in the season, and lifting them to their potential and beyond," said Khan. "Felix knows that is precisely the task awaiting him at Fulham, and he made it abundantly clear that he wants and is ready for the opportunity."

After all, he did it with Nuernberg, Werder Bremen, Eintracht Frankfurt, and Stuttgart. He also led Bayern Munich to back-to-back doubles and Vfl Wolfsburg to their first Bundesliga title in the club's history.

His former Eintracht Frankfurt player and now a football pundit on Sky Germany, Jan Aage Fjortoft, has provided English fans with glimpses into Magath's world through his Twitter account.


"Whether Felix Magath would have saved the Titanic, I do not know. However, the survivors would have been in top shape." Jan Fjortoft 2001.

— Jan Aage Fjortoft (@JanAageFjortoft) February 14, 2014


But Magath is a complex personality and despite his successful record, he has attracted negative press for his controversial training methods and desire for full control.

Training Methods
The 60-year-old's most contentious side centres around his training methods. He's known for using medicine balls, early morning workouts on empty stomachs, barely any free days off and the feared "Huegel des Leidens" -- "hill of suffering," to describe a set of steps Magath used for conditioning and increasing his players' fitness.

It's these rigorous exercises along with his hunger for absolute power that led to nicknames like "Saddam Hussein," "the last dictator in Europe" and "Qualix," which is a combination of the German word quaelen ("torture") and his first name.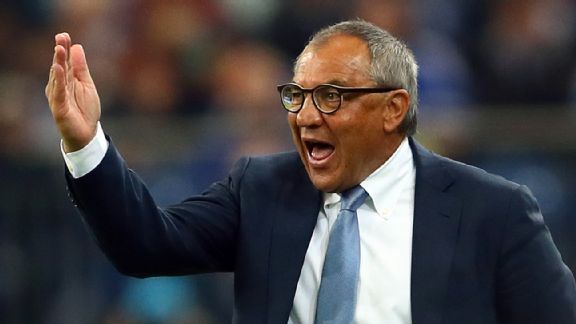 AllsportFelix Magath might not be universally loved, but he is good at helping teams avoid relegation.
If these methods aren't chilling enough, then the water rationing at Wolfsburg certainly surpasses them all. Magath famously once rationed his players' water at the end of a run in the woods, emptying their bottles and leaving them with only 10 to share among themselves. What would lead a man to such fanatical, extreme measures?

Days after the event, Magath accused the media of misrepresenting the incident. Though below most managers' tastes and principles, the former Wolfsburg coach saw it as a simple team-building exercise triggered by a 3-0 defeat to Bayern Munich.

But it wasn't the score or the loss that precipitated the extreme measure. It turns out Magath was upset at his players for leaving their goalkeeper Diego Benaglio laying on the pitch after he had collided with Arjen Robben and hurt his head.

Magath was disappointed his players didn't attend to Benaglio. What he wanted of them was to rush to their goalie to see if he was hurt and to challenge the referee to card Robben. The purpose of the water lesson was to force players to share, take care of each other, and build team spirit.

An image dilemma
What others describe as inhumane is easily part of the territory and job for Magath. To sweat means that one is working hard and pushing their limits.
It's essentially what the German coach expects from his players.

"I know that one can achieve more than they think," Magath said to Audi Star Talk in a long, wide-ranging interview (can watch here, here and here). "There are many people, it's not just about footballers... many people that don't think they're capable of what they can actually achieve and therefore stay under their potential. This is why I try to lead my players to their limits and to show them that they can do more than they believe."

- Report: Fulham appoint Felix Magath
- Mison: Khan hits panic button

Although pushing boundaries is required to reach one's full potential, not everyone agrees Magath's means is acceptable. Bayern president Uli Hoeness didn't have kind words about Magath in an interview with German media after he returned to Wolfsburg for the 2011-12 season.

"There are methods that will squeeze teams and players like a lemon, to physically push them to the limits and beyond. You can possibly have short-term success... but for me that's not a secret to success or a way to treat people." He didn't stop there, going on to say that Magath should ask himself why players throw parties after he leaves.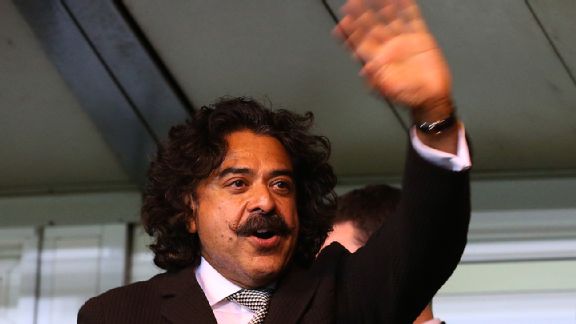 Julian Finney/Getty ImagesMagath's reputation is precisely what attracted Fulham owner Shahid Khan.

Magath of course is the first to disagree and gets very upset when his methods are portrayed as a sentence.

"What bothers me is that these endless repeated descriptions of my character will influence my players. When I say tomorrow we'll go running in the woods then some players immediately think, aha, Magath's training is to punish us. That's also what the newspapers always write. That can burden the teamwork with the players," he said in an interview with the Frankfurter Allgemeine in 2012.

Whether it's an argument of perception or subjectivity, it's clear that Magath's intention isn't to penalise his players, but to simply make them train harder than the opposition, the old belief that if one can outrun and outlast the opponent, one is in a better position to win. It's something Magath knows first hand -- his time at Hamburg (as a player) under coaches like Ernst Happel and Branco Zebec proved that old-fashioned training was part of the success.

Not every player disliked Magath's ways, either; there are those who enjoyed his input. "Magath is a champion and to work with champions is always fun," said Diego, former Wolfsburg midfielder. "The coaching change motivates us."

But training wasn't his only controversial quality; his buying and selling at Schalke 04 raised many questions about his transfer policies. Magath has always believed that ideal team is a mix of young and experienced players. He's a strong believer of bringing in young talent and led Julian Draxler, Joel Matip and Christoph Mortiz to prominence. He also signed Raul and Klaas Jan Huntelaar to achieve that balance between youth and maturity.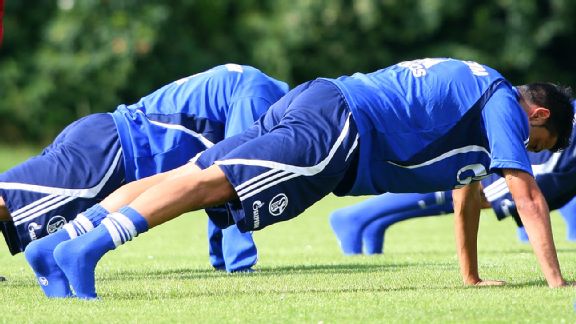 Christof Koepsel/Bongarts/Getty ImagesOnly time will tell if Magath's new team will respond positively to his old-fashioned training methods.

But despite the excessive spending sprees, he was never able to achieve that winning equilibrium. It garnered a huge backlash and discontent among Schalke fans, who felt the club was losing its identity. It was precisely this backlash coupled with media accusations that forced Magath to create his own Facebook page to defend himself.

More than a dictator
The difference in responsibilities offered to coaches and managers will certainly provide Magath with a wider role in Fulham. Magath himself has openly stated he prefers the Premier League system of managers more than that of the Bundesliga, where there's a coach and a manager. It's certainly more fitting with his desire to control more of the decision-making process.

While his training methods overshadow his gentler side, he's not the villain most make him out to be. A softer side depicts a huge tea lover and a strong believer in eating healthy and organic foods. He has six children and once even considered adopting from Haiti after the earthquake.

Magath's tough methods are possibly also influenced with his hard upbringing. His father was a U.S. soldier from Puerto Rico, who left when he was a child. Magath was raised by a single mother and he's thanked football for steering him off the wrong track and providing him with a path in life.

Not so draconian, really, but that's the beauty of narratives. But if there's one facet that is undisputed, it's Magath's track record.

How Fulham players will react to his jarring methods remains to be seen, but judging Magath's football success in times of crisis, he's probably the most fitting person to lift the club out of their current misery, even if it means players will have to work harder than they'll ever do.