Tiny, hard-working Augsburg defying the odds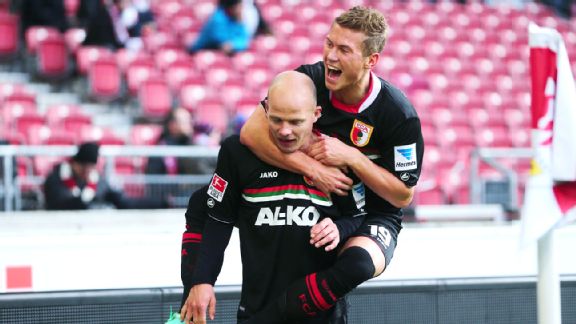 Alex Grimm/Bongarts/Getty ImagesAugsburg have stunned the Bundesliga this season with their relentless pressing game and inconceivable success despite being a league minnow.
We've all heard of the "Second Season Syndrome" (SSS) cliché: the idea being that a newly-promoted team who have magically managed to stay up in their first season in the top flight will almost inevitably go down the following season. (The term also sometimes used in reference to over-achieving sides who come back down to earth with a bump in the next campaign).

SSS is a persuasive concept because it comes with its own set of objectively sound explanations. Small teams who perform well in their first season after promotion don't experience the same wave of euphoria in the second season and more often than not, their star players have moved on to bigger clubs.

Also, Statisticians could add that SSS simply stands for the odds catching up with the teams in question. While it's not impossible to stay up if the minuscule size of the wage bill gives you a 90 per cent chance of going down, you're unlikely to repeat that trick.

In any event, Jos Luhukay seems to have believed in the strong gravitational pull of SSS. The Dutchman resigned from his managerial post at FC Augsburg in May 2012 immediately after he had pulled off a minor miracle. His team had only amassed 15 points in the first half of their first-ever season in the Bundesliga. Unlike most clubs in their situation, they kept faith with their manager, and Luhukay lead to them to safety (14th place).

But that was it for him. The 50-year-old quit while he was ahead and took over Hertha BSC, who had themselves just been relegated. Hertha are a much bigger club than Augsburg, and the financial incentives would have been bigger but Luhukay had obviously made a sporting calculation as well: winning promotion with Hertha the following season looked less daunting a prospect to him than keeping Augsburg up a second time.

Markus Weinzierl, a young manager who had just led third division Regensburg to the second division, was appointed as Luhukay's successor and the first half of the 2012/13 duly bore all the hall-marks of SSS. Augsburg went into the winter break on nine points, in other words: without a hope in hell. Once again club chairman Walther Seinsch, a retired fashion retail entrepreneur, didn't opt for the obvious move. Instead of Weinzierl, the youngest coach in the Bundesliga (he was 37 at the time), newly-appointed sporting director Jürgen Rollmann was axed just before Christmas.

Then lightening struck twice. By virtue of changing the system to a more attacking 4-1-4-1 system, getting rid of egotistical players and fostering the kind of strong team spirit that's needed to play their highly intensive running and pressing game, Weinzierl turned things around. Augsburg, a team packed with no-names, expendables and pros who had never quite made the grade elsewhere, fought their way to 15th place and avoided the drop once more.

A measly budget of 17 million euros, the lowest of the league along with SC Freiburg and Eintracht Braunschweig, marked them out as relegation candidates again before the start of the current campaign.

But things have taken an ever stranger twist in 2013/14 as an incredible run with only one defeat -- 3-0 against Bayern -- since early November has taken the Swabians (from Bavaria) to 8th in the table. They're only six points off a Champions League place and only two points behind the Europa League places that are currently occupied by Borussia Monchengladbach (fifh) and Wolfsburg (sixth) -- two clubs that spend double and more than treble as much on players wages, respectively.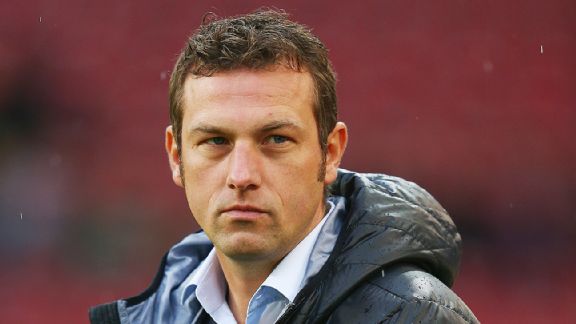 Alex Grimm/Bongarts/Getty ImagesManager Markus Weinzierl has worked wonders with the tiny Swabian club, ditching the egotistical players in favor of those prepared to work tirelessly.

How has that been possible? Weinzierl, a former Bayern Munich apprentice who only played four times in the top-flight with Unterhaching, has been far too modest to talk about his work in great detail.

"Togetherness moves mountains," he has said. "None of this would be possible if everyone wasn't pulling in the right direction." He also joked that the table wasn't an accurate reflection of his team's true status. "The table might not be lying, but it cheats sometimes," he maintained before beating Stuttgart, their bigger, wealthier local rivals 4-1 last Sunday.

While helped by the underachievement of Stuttgart and other heavy-weights (Werder Bremen, Hamburg), Augsburg's lofty league position is no mere accident, either. Few teams are so awkward to play against in the league; fewer still can combine relentless running and pressing with the ability to pass the ball with devastating pace and accuracy when the opportunity arises.

"Nobody wants to play against us, that's a badge of honor for us," said Stefan Reuter, the 1990 World Cup winner with Germany who has succeeded Rollmann as the club's sporting director.

Augsburg are a sort of "little Dortmund" in terms of their full-throttle style -- "they're one of the teams who have developed best in German football in recent years," Klopp said -- but Weinzierl is far less of an extrovert than Jürgen Klopp. His team also don't possess nearly as much individual skill. Winger André Hahn is the only player who's truly been outstanding, with nine goals in 19 games, but the 23-year-old is still very raw. It's their collective effort -- and a healthy dose of humility -- that have taken Augsburg this far.

Reuter and Weinzierl, who was voted the fourth-best manager in the league by readers of Kicker magazine after the Hinrunde (first half of the season), insist that they will only start thinking about Europe once they've amassed 40 points, the minimum to stay up.

Perversely, Europe and its associated pitfalls are increasingly seen as a bigger potential problem for the club than relegation. Freiburg, last year's surprise package, lost half their starting XI before the season and have paid a huge price for competing in the Europa League. Christian Streich's men have spent most of the season in the relegation zone and still look like they might be going down.

There's also an acute danger that Weinzierl might be poached. He renewed his contract until 2017 in the winter but there were enquiries from Bremen and Frankfurt. Another big job is bound to be become available again in the summer.

"I believe the work he does, with such modest means at his disposal, should be considered more impressive than Pep Guardiola's [at Bayern]," said Augsburg CEO Peter Bircks. That might be true but what such statements will only increase the danger that Weinzierl will soon outgrow the Swabian club. "We have to slowly increase our budget and become an established Bundesliga side," said Reuter, but that's easier said than done.

Also, the cautious attitude from Seinsch and Bundesliga regulations make it difficult for clubs to increase their financial power quickly. As relative novices, Augsburg are at a particular disadvantage due their geographical location: the town is sandwiched by Munich and Stuttgart.

Maybe it's best to follow Weinzierl's advice, who has cautioned that everybody connected to the club should enjoy the present without worrying too much about the future. "We're on a run and we'll just want to let it continue as long as possible."