Injury-hit Dortmund desire a return to past glories
There was mixed news for Mats Hummels on Wednesday when a scan on his ankle showed that the ligament rupture he suffered in Germany's friendly against England last November had healed completely.

Unfortunately, though, that wasn't all. Club doctors also diagnosed that the Borussia Dortmund defender will be out for two weeks after picking up a strain at a different section of the joint.

The 25-year-old had just returned to action in Dortmund's 2-1 win at Braunschweig last Friday, after which he was widely praised for having brought some much-needed stability into the defence.

It is an injury-ravaged back line -- the second regular centre-back, Neven Subotic, is unlikely to kick a ball again this season due to a serious knee injury -- that has been manager Jurgen Klopp's biggest problem all season.

Few teams would have been able to absorb such blows but Dortmund have been hit especially hard.

- Hummels suffers new injury
- 'From Dortmund With Love' campaign wins award

In Klopp's high-pressing system, the defenders are often forced into one-on-one situations and so the absence of Hummels and Subotic, as well as injuries to full-backs Lukasz Piszczek and Marcel Schmelzer (both of whom are fit now), has been telling and not just in a purely defensive sense.

Hummels' long and accurate passes into the opposition half allow Dortmund to vary their attacking moves and immediately put on attacking pressure. His deputies -- Sokratis or makeshift defenders, Sebastian Kehl and Sven Bender -- aren't as assured.

As a consequence, Dortmund lose the ball quicker or invite more pressure onto themselves by playing it short at the back.

The six-month absence of Ilkay Gundogan, the club's deep-lying playmaker, also has contributed to the lack of security, with and without the ball. In possession, his slick passing defined Dortmund's rhythm while his clever positioning cut off passes to opposition strikers and forced them into unrewarding spaces.

Without him, the Black and Yellows never seem to be fully in control and there is no element of calmness or no deviation from a speed level that's stuck on 100 mph.

The Champions League has brought out the best of them and there was a thrilling 6-1 destruction of Stuttgart in November that suggested the current team could play even better than last year's side.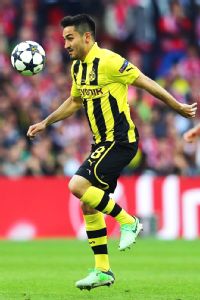 Alex Grimm/Getty ImagesGundogan has played just once in the Bundesliga this season.
However, the absence of Gundogan and forced reshuffles at the back resulted in a loss of momentum. Dortmund are still reasonably well positioned to achieve their No. 1 target -- qualification for next season's Champions League -- but the margins for error have become disturbingly small.

For a side that has come so far at such a rapid pace, having to make do with nervily defending the status quo feels a little deflating.

You can usually get a good sense of a Bundesliga club's state of mind by the amount of attention they pay to their rivals. During Dortmund's sensational championship and double-winning seasons (2010-2012), no interview with a Bayern Munich official passed without an envious dig at the thrillingly successful new kids on the block.

This season, though, the tables have turned. Dortmund CEO Hans-Joachim Watzke complained last week that Bayern were trying "to destroy" Borussia by taking their best players ("we have no chance, they pay double the wages") and added in a radio interview that Dortmund had been "eliminated as [championship] rivals."

If you remember that Bayern bought Mario Goetze in a hostile, unilateral move -- they triggered his release clause of 37 million euros before the start of the current campaign -- and that the Bavarians have ruthlessly engineered a situation that will enable them to add Robert Lewandowski as a free agent in the summer, Watzke's frustration is understandable. His view is also widely shared throughout Germany in the wake of Bayern's total dominance.

But that's not the whole story. A look at last season's table after 19 games shows that Dortmund had exactly the same number of points as they do currently -- 36 -- a tally that included a 1-1 draw with Bayern.

Given that Bayern won 3-0 when the two sides met in November, it follows that this season's results for Dortmund against all of the other Bundesliga teams are actually marginally better than in 2012-13, when Klopp's team finished a full 25 points behind Bayern.

What has changed since then is not so much Dortmund's overall output but their relative, perceived strength vis-a-vis a seemingly unbeatable Bayern, who had five points fewer -- 48 -- at the same stage of last season.

It's probably a bit simplistic to blame that difference in class solely on Goetze's switch -- the 21-year-old has been a starter in 10 of Bayern's 19 league games so far -- even if it's tempting to imagine what the results would have been like without that transfer.

Dortmund's inconsistency in the league, in other words, predates Bayern's attempts to take them apart. The Bavarians have undoubtedly contributed to the Borussia's struggles, but they are not the (only) reason for them.

Watzke, in his heart of hearts, must know that too, and he knows that Bayern aren't really his problem either. Dortmund's wider issue is their difficult position in European football. A turnover of 253 million euros (transfers excluded) in 2012-13 makes them Germany's second-wealthiest team and a member of Europe's top 10.

But a very low base-level for wages (the players were paid less than 90 million euros last season, hefty bonuses included) leaves their squad chronically vulnerable to predators. It's a disadvantage that can only the overcome by continued growth (read: Champions League participation) and plenty of inward investment.

Watzke hinted that Dortmund would spend fairly big in the summer and increase wages. If you take 50 percent of turnover as a realistic ratio, more than an extra 30 million could be made available.

That money could pay for two new strikers -- or one extraordinarily good one -- as well as improved salaries for Gundogan and Marco Reus, the two players who will attract most attention from other clubs over the course of the next few months.

In order to pull that off, however, it's absolutely vital that a top-four and, preferably, top-three finish is secured. Strong challenges from Schalke, Gladbach and Wolfsburg, coupled with Dortmund's bad luck with injuries, have made the situation more precarious than it has ever been in the past four years.

As the unpopular runaway leader, Bayern make for a very good punching ball; an attack on them offers some release. But it's not Pep Guardiola & Co. who really endanger the Dortmund project.

Borussia have to find a way to overcome misfortune and to at last play to their own potential again, in order to keep a hunting pack behind them at bay.

Catching up with Bayern can wait for another day.