Despite strong financials, Bundesliga has work to do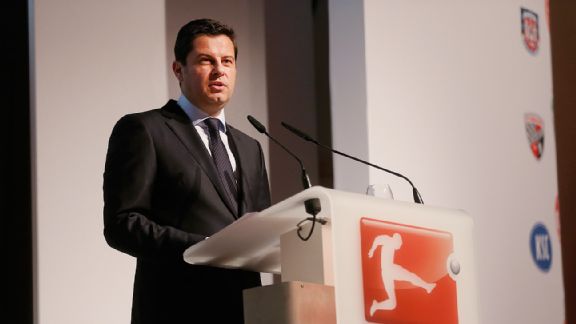 Alexander Hassenstein/Bongarts/Getty ImagesBundesliga chief Christian Seifert offered plenty to praise in his recent statements, but it's not all golden for German football.
The Bundesliga (DFL) CEO Christian Seifert revealed some strong financials on Tuesday. For the ninth time in a row, the top German league's turnover had risen to 2.17 billion euros while twelve of its eighteen clubs had amassed a surplus in 2012/13. (Before taxes and amortisation, 17 out of the 18 clubs were profitable.)

But there was a sobering statistic, too. The English Premier League, Seifert explained, was receiving as much money for their TV rights in Singapore -- a country of five million people -- as the DFL did in all territories combined outside Germany: 75 million euros.

"Light years" separated the two leagues in financial terms, the 43-year-old explained. All things considered, the Premier League is roughly 1 billion euros better off every year. "We won't make up that deficit," Bayern Munich CEO Karl-Heinz Rummenigge also admitted last week.

England's colonial past, the cultural hegemony of the English language and popular culture as well as decades of clever marketing gave the Premier League a head-start while the Bundesliga was in splendid isolation, blissfully unaware of the changing landscapes. A turbo-capitalist set-up, allowing for an unregulated rush of money into the English game, has resulted in a globalised "virtuous cycle" (says Premier League CEO Richard Scudamore) that feeds itself. The Bundesliga can't compete on any of these levels -- and when it comes to selling their clubs to wealthy investors, it doesn't really want to, either.

Nevertheless, there's been a painful realisation that real growth will only be driven from outside Germany. The main reason for that is the artificially deflated value of domestic TV rights. Political pressure ensures free-to-air highlight packages on early Saturday evening, while pay TV broadcaster SKY are a de-facto monopoly with no credible contenders on the horizon. Thus the clubs and the league, who have so far defined their "product" and "appeal" almost exclusively in domestic terms -- note the fan-friendly kick-off times and cheap ticket prices -- are now forced to embark on a process of "internationalisation."

Without recourse to short-cuts to wealth via sheikhs and oligarchs, there's limited scope to generate more "super clubs" overnight. Dortmund are the perfect example. It took them the best part of a decade to come back to the fore after nearly going bust after 2003. Better young players (and better football) have improved the Bundesliga brand at relatively little cost, but the league is crying out for more genuine stars and more competition at the top. This particular cycle is therefore more vicious than virtuous: the clubs need the money to finance the players, which will in turn bring in more money.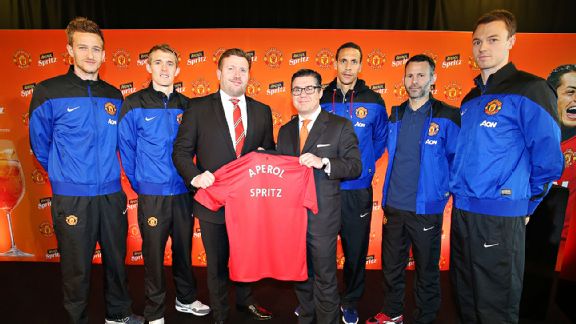 John Peters/Getty ImagesTop German clubs could learn from the likes of Man United when it comes to commercial deals and partnerships.

One way to achieve that aim is to follow the Premier League's lead by fostering more commercial connections with foreign sponsors. Dortmund's tie-up with Turkish Airlines is a good case study. Borussia don't just benefit financially; they also increase their international footprint. Bayern, the masters of maximising non-match and non-TV related income, are quietly considering whether they should ditch their existing "one global sponsor per industry" strategy and adopt the unashamedly promiscuous approach of Manchester United, who have multiple partners in multiple territories.

The second option is to stage more friendlies and preseason training camps abroad. Rummenigge has mooted the idea that the Bundesliga could start later in August, in line with the other top leagues, to allow German clubs more time to spend abroad. "That would enable us to represent the league and to generate business," he said, "and that would be reflected in the TV revenue."

With Germany being Europe's leader in exporting goods, the DFL should be able to use its existing ties and company networks overseas more effectively in the future. The only problem is that "Made in Germany" has never been a hallmark of excellence when it comes to popular entertainment. In that respect, perception matters.

German football, long (and unfairly) cast as dull and methodical, has only just been able to shake off those stereotypes. But the detractors now point to Bayern's invincibility in the current campaign and have found another reason not to tune in. Call it the "Scotland syndrome" -- the Bundesliga is in danger of being seen as a one-team league.

Bayern can only hope that Dortmund and the likes of Schalke, Wolfsburg or Hamburg keep growing into more serious and enduring challengers. (Not picking up players from their rivals on free transfers would help in that respect). That will take time and better managerial decisions.

Meanwhile, the Bavarians can find solace in the fact that the consumption of football changes radically the moment a neutral observer becomes a supporter. Full stadiums and strong TV ratings in Germany show that people don't tune in to see competition but because they follow their teams.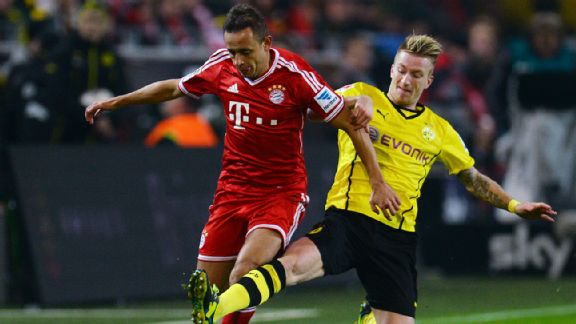 Patrik Stollarz/AFP/Getty ImagesAnother way for the Bundesliga to increase global interest would be for Bayern to have stronger domestic competition like Dortmund.

A newly-converted Bayern Munich supporter in Singapore or Istanbul supporter is unlikely to be worried about Bayern toying with the opposition, either. They're attracted to the brilliance and star-quality of the current team, not so much the league as whole. This theory is easily confirmed by a look at the low value of Bundesliga rights throughout the first decade in the new millennium. Stuttgart (2007) and Wolfsburg (2009) were surprise winners when the championship race opened up dramatically, but very few people outside Germany noticed.

History suggests that a lack of internal competitiveness can, to an extent, be offset by continued external success in Europe, even if only Bayern will stay the course. It validates the league and creates strong, loyal "consumers" -- once they're hooked, they tend to stick with their particular team, come what may. 21 years without a single championship in the Premier League have never hurt Liverpool's global fan-base, for example.

In an ideal scenario, the Bundesliga will boast three or four Bayerns with big international stars in the near future. But the present, with one super powerful Bayern, brings benefits too. Their new fans will tune in, whether the opposition stands a chance or not. Otherwise, very few would have watched Barcelona and Real Madrid habitually destroy the other 18 teams in La Liga over the past few years. The competitive imbalance is even stronger and more ingrained in Spain than it is in Germany due to their inequitable distribution of TV revenue.

As it happens, Seifert predicted that the Bundesliga would pull level with Serie A and La Liga in terms of international TV rights in 2015 when a new, multi-territory deal kicks in. Hopefully, it will be well worth watching for those without a particular affiliation, too.