Hope you don't guess my name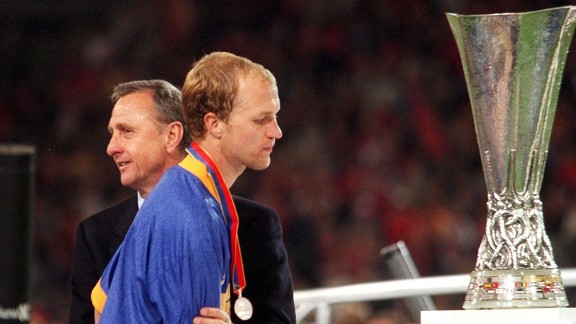 GettyImagesJordi Cruyff is consoled by his legendary father after Alaves' defeat in the 2001 UEFA Cup final
Some six years ago, somebody named Jordi sent me an email from Spain. It's a complicated story, so let's just say that I was then working in a roundabout way for a company that assisted a professional goalkeeper in raising money for charity. Jordi had a question about this, hence his mail.

Being, as you will surely know, a communicative fellow, I casually mentioned in my reply that Michael Ballack had called his youngest son Jordi and that it was a pretty cool name. Whereupon my new pen pal reminded me that Johan Cruyff had chosen this name for his son, too.

I responded that I was very much aware of this fact because I'd been sitting in the stands when Jordi Cruyff scored the late equaliser for Deportivo Alaves in the incredible 2001 UEFA Cup final. My correspondent from Spain replied that it had indeed been an unforgettable night, even though the Spanish team had lost. Then we exchanged a few more mails about this and that, mostly football.

A few weeks later, for reasons we don't have to go into here, I asked him for his street address. What happened next may have been very obvious, but I must be a bit slow-witted, as I never saw it coming. When the mail with his address arrived, it was a palm-slap-to-the-forehead moment. His full name was, of course, Jordi Cruyff.

I had totally forgotten about this episode until last week, when there was something about Unterhaching on the telly. You may be familiar with this small club from a Munich suburb, because they spent two seasons in the Bundesliga more than 10 years ago.

These days, Unterhaching compete in the third division and do so with an amazingly young team -- when the club played Darmstadt on Sunday, the average age of the side was 20.55 years.

Now, what's this got to do with Jordi Cruyff? Well, in Unterhaching's squad you'll find striker Pascal Kopke, centre back Jonas Hummels and left back Fabian Gotze.

Pascal is 17 years old and the son of former Germany goalkeeper Andreas Kopke. Jonas is 23 and the younger brother of Dortmund's Mats Hummels. Fabian is also 23 and the older brother of Bayern's Mario Gotze.

Unterhaching appear to have a penchant for brothers or sons of famous players. Last season, when Pascal Kopke and Fabian Gotze were still at other clubs, Jonas Hummels was playing alongside Markus Schwabl and Tobias Schweinsteiger.

Markus (now at 1860) will be 23 next week and is the son of Manfred Schwabl, who won the league and cup Double with Bayern in 1986. Tobias (now with Bayern's reserves) is Bastian Schweinsteiger's older brother.

The players themselves say it's just a coincidence that they are or were members of the same team at the same time. Perhaps that's true. But perhaps somebody at Unterhaching hit upon the really smart idea to pool a few footballers who carry a famous name. It would be a smart idea, because such players normally struggle when they are on their own in a squad, but maybe they blossom if there are a few teammates around who know and understand their plight.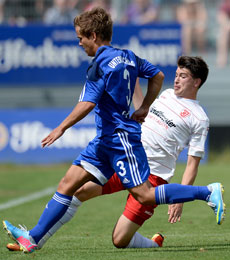 GettyImagesFabian Gotze plays for Unterhaching in the 3. Liga.
For a plight it is. Many fans and writers -- and I guess fellow players, too -- assume that someone like Fabian Gotze has so many genetic similarities with his brother Mario that he should possess the same innate quality generally known as talent -- should, in other words, be just as good as his sibling.

Yet over the past two decades, modern sports science and psychology have largely done away with the concept of genetic gifts when it comes to artistic or athletic brilliance. (In a nutshell: experts currently consider endless repetition -- meaning practice -- and learning to break down masses of information into chunks -- meaning the perception of patterns -- vastly more important than genes.)

That does not mean it's a mere coincidence that you'll find many brothers in the game (or fathers and sons). After all, they will normally grow up together and share experiences or hobbies, and if one sibling (or the father) shows great enthusiasm for football, the game will become an important part of the family's life, making it likely that a brother or sister (or son or daughter) also develops an interest.

It means, however, that there should be no reason to expect Fabian Gotze to be as skilled as Mario or Jonas Hummels to be as good as Mats. It is, in fact, extremely rare. The Bender twins come to mind, but normally one brother is a lot better. Since I mentioned Christoph Metzelder recently, it's worth pointing out that most people don't even know he has a brother, Malte Metzelder, who also became a professional -- and even briefly played in the Bundesliga -- without ever getting anywhere near Christoph's level. That is the normal case.

On the other hand, I suppose Fabian or Jonas or Tobias or Malte don't mind being compared with their more celebrated brothers, simply because athletes are used to being compared with their peers all the time. After all, they are compared with other players at their own club for a place in the starting XI and the best of them are also constantly measured against players at other clubs to see who deserves to be called up to the national team.

Yet being compared with someone who's no longer playing the game, that must be tough. And it's unfair. Consider that roughly 1.3 million boys under the age of 14 are playing organised football in Germany. Their odds of one day making the squad of a professional club in this country, let alone actually playing in the top flight, are thus roughly 2,700-1.

That gives you an idea of just how well Stephan B. played this game. In the 1992-93 season, he made 12 appearances for Saarbrucken in the Bundesliga, also turned out for that team in the lower division and later became a respected youth coach. Put differently, Stephan B. had a very fine career in football. But because his surname is Beckenbauer, people still think he didn't really cut it.

Maybe that's why Pascal Kopke became a forward, rather than a goalkeeper. Or why Benjamin Kirsten, the son of legendary striker Ulf Kirsten, went between the sticks. It makes it harder for people to say: "He's not as good as his dad was."

But there are some names -- not many, just a few -- that are so mythical that you just cannot escape eternal comparison. We've mentioned one, Beckenbauer. Maradona is another one. And, of course, Cruyff.

Which is why Jordi Cruyff put his first name on the back of his shirt rather than the family name. Still, everyone knew who he was, of course. And that's why I would like to say something now that I didn't say six years ago: I tip my hat to you, Jordi Cruyff!

You were burdened with one of the most taxing names in the game's history, but you didn't crumble under the burden. You managed to play for some of the biggest clubs in the world and you became a Netherlands international. Of course, people still say: "He was not as good as his dad was," and they are right. But they are also wrong, because your dad never had to live up to a name.

P.S. Oh, and I hope you eventually got that match-worn shirt for your collection.