Bayern in search of perfection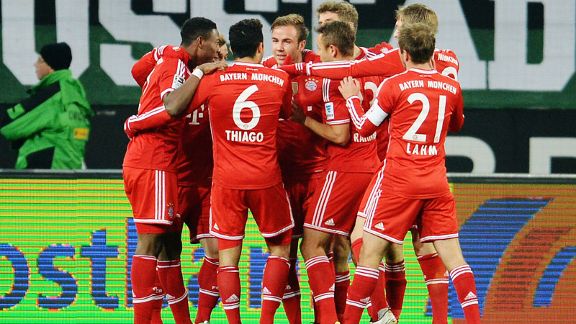 GettyImagesBayern Munich celebrate a goal against Borussia Moenchengladbach.
The question is no longer whether Bayern Munich will win the league or not; the question is if they can do so without suffering a defeat.

No side in Bundesliga history have gone unbeaten for an entire season. In fact, only a handful ever stood an honest chance. These are our nearly men:

1963-64: Cologne -- two defeats
1982-83: Hamburg -- two defeats
1986-87: Bayern -- one defeat
2007-08: Bayern -- two defeats
2012-13: Bayern -- one defeat

Quite a few people firmly believe that the current Bayern team will finally break the spell and pull it off -- or, at the very least, that they stand a better chance of doing it than any side before. So, does that mean you should bet on Bayern making history yet again? To be honest, I wouldn't recommend it.

If Pep Guardiola 's for-the-time-being-invincibles escape unscathed from their game in hand -- on Wednesday away at VfB Stuttgart -- they will be the fourth team to remain unbeaten during the first 18 matchdays of a Bundesliga season. The other three were Hamburg in 1983, Bayern themselves in 1989 and Leverkusen in 2010. These teams finished the season with two, three and five defeats, respectively.

This should tell you that it's really difficult to remain undefeated for a whole season at the top level of the game, but how difficult exactly? Well, let's have a look.

In the modern era -- meaning in the almost seven decades since the end of World War II -- no team has ever done it in France, Spain, Belgium, Switzerland, Denmark, Finland or Scotland. It has happened only once in England, the Netherlands, Poland, Norway, Sweden and Austria.

And Germany? You often hear that Bayern are trying to become the first German team to go through a whole season without defeat. That's not quite correct. In 1982-83, Dynamo Berlin won their fifth East German league title in a row by losing not a single game. However, this achievement is not without blemishes.

A minor one is that the GDR's top flight had only 14 clubs, so Dynamo compiled their perfect record over just 26 games, while, for example, Arsenal needed 38 matches to earn themselves the nickname "The Invincibles" in 2003-04.

The major blemish is that one of the worst-kept secrets in East German football was how regularly and how blatantly Dynamo were favoured by referees. They happened to be Erich Mielke's favourite club, and Mielke was the head of the GDR's notorious and feared secret police.

Actually, you could say this is an excellent illustration of how tough it is to go unbeaten -- that even a team backed by one of the most powerful and ruthless men in the country -- and helped by referees whenever help was needed -- managed to do it only once. But there's an even better illustration.

Across the border, in West Germany, the highest level of the game was multitiered for almost two decades after the war. Between 1945 and the launch of the Bundesliga in 1963, the country's best teams competed in five different Oberligen: North, West, South, Southwest and Berlin.

Despite the huge number of teams involved, some of these leagues were very strong. The Oberliga West included not only the famous Ruhr area teams like Dortmund, Schalke, Essen and Meiderich (later Duisburg), but also the Rhineland giants Cologne, Aachen and Duesseldorf. And while the Oberliga South was often dominated by Nuernberg, there were also plenty of other big clubs -- Frankfurt, Stuttgart, Karlsruhe, Offenbach, 1860 Munich.

Some Oberligen, though, were rather feeble. The Oberliga Berlin might have been hotly contested (it produced nine different champions), but its clubs weren't really competitive when pitted against teams from other regions. The Oberliga Southwest, meanwhile, was for large parts of its lifespan basically owned by Kaiserslautern.

And yet, during all these years of all these different Oberligen, there was never a team that completed the regular season unbeaten! You have to think about this for a moment to realise how mind-boggling it is. We are talking about 86 individual league campaigns of widely varying quality and competitiveness. But not once did a team remain unbeaten. In fact, hardly anyone even came seriously close.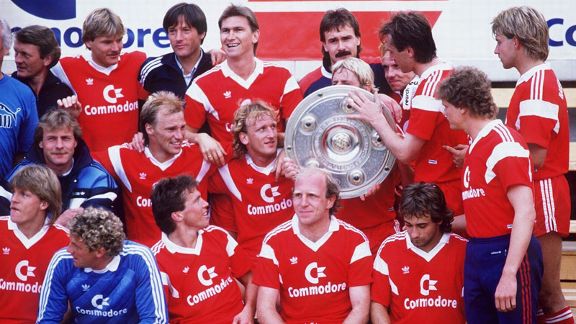 GettyImagesBayern came close in 1987 but it wasn't quite close enough.
In the Oberliga West, the best someone managed was four defeats (Dortmund in 1953 and Herne in 1959). In the Oberliga Nord, it was three defeats (Hamburg did that on numerous occasions). In the Oberliga South, the record stood at two defeats and was held by Offenbach. (It was set in 1949. Amazingly, one of those two losses was an 8-1 drubbing at the hands of Nuernberg. A contemporary account said Nuernberg played like men possessed and "weren't out to beat Offenbach but annihilate them.")

It was only in the small Oberliga Berlin, in which teams normally played less than 30 games, and in the Oberliga Southwest that we find clubs who finished a season with just one defeat. The mighty Kaiserslautern side that would eventually lead West Germany to World Cup glory a few years later won 25 games, drew four and lost only one in 1949-50. Paradoxically, the sole defeat came at home -- on Nov. 27, 1949, against Wormatia Worms.

That's interesting because the two teams that lost only one game over the course of a Bundesliga season also blew their opportunity to make history at their own ground: In November 1986 and October 2012, Bayern suffered shock defeats at home, both times against Leverkusen.

There are no two ways about it: You don't go a league season unbeaten in Germany. In this country, it's always nice to try, but you end up with no cigar. So, if the past has any bearing on the present, we have to conclude that the odds are still stacked sky-high against Bayern -- at the very least until they get their home game against nemesis Leverkusen out of the way, which is scheduled for March 15.

Then again, let's not send Bayern's many fans home with all hopes dashed. Because, while we've seen that seasons of invincibility are nearly impossible in most of the respectable European leagues, there are a handful of notable exceptions.

Portugal, for instance, have produced no less than four undefeated clubs since the end of the war. Italy has had three. One of them -- Perugia in 1978-79 -- hold the truly unusual distinction of being unbeatable for an entire season … and yet didn't win the league. They finished runners-up behind Milan as they drew 19 of their 30 games.

If we can state anything with certainty, then it's this: Perugia's fate will not befall Bayern this year.