Lucien Favre has proud Gladbach back on track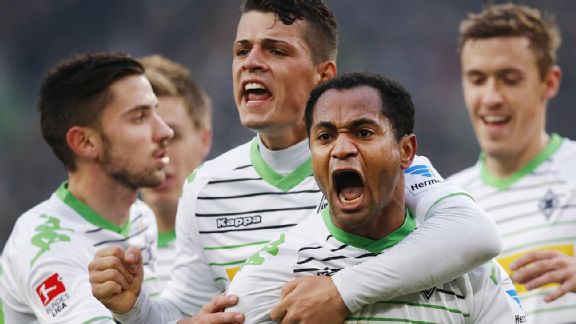 Nordbert Schmidt/AFP/Getty ImagesIf underdog stories take your fancy, Borussia Monchengladbach have been the story of the Bundesliga season so far.
Borussia Moenchengladbach coach Lucien Favre was only 12 when he noticed he had a photographic memory for lineups and tactical systems. But decades of experience have also taught the 56-year-old just how important it is to clear one's head of football for a few hours each day.

"It's very hard, but you must. When you can't do it, then you have a problem. It's not good to always think about football. Thereby one loses a lot of creativity," he said during an interview with the Frankfurter Allgemeine (FAZ) back in November.

Whether it's reading a book or immersing himself in nature, it's that healthy balance that has provided Favre with the vision to renew and rebuild die Fohlen. It's no coincidence that Gladbach's recent rise has a lot to do with the arrival of the Swiss coach, who was once linked to the coaching jobs at Bayern Munich as well as Bayer Leverkusen.

- Schaaf: Bayern faces tough foe after break

While the Marc-Andre ter Stegen-to-Barcelona trade reports have largely overshadowed the Foals' incredible Bundesliga form, Favre's side isn't far from repeating their sensational 2011-2012 season, when they placed fourth with the second-best defensive record in the league and allowed only 24 goals in 34 games, just two more than Bayern.

Halfway into the current campaign, they sit in third with 33 points, ahead of Borussia Dortmund, a chain of events that has flipped most preseason predictions. If this were the end of the season, Gladbach would automatically qualify for the Champions League.

But with the current attacking prowess of Max Kruse, Raffael, Patrick Herrmann and one of the best free-kick specialists around in Juan Arango, it's less than accidental. Kruse and Raffael alone have scored nearly half of Gladbach's 35 goals this season, while Granit Xhaka and Christoph Kramer have also jelled quite smoothly in defensive midfield.

But that's not to take away from the rest of the team. Full-backs Tony Jantschke, Oscar Wendt or Filip Daems all boast the ability to get involved in attack and midfield link-up play, and perform well as part of the defensive unit, equally vital to Gladbach's success.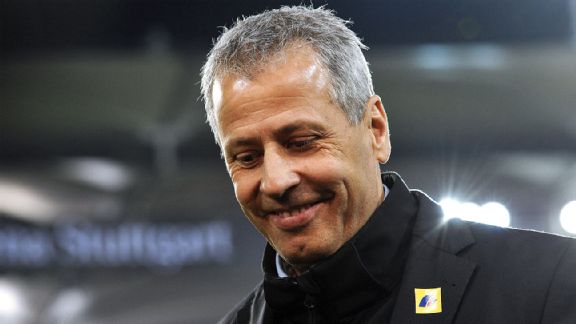 Thomas Kienzle/AFP/Getty ImagesLucien Favre's enthusiasm, positive reinforcement and belief in the counter-attack have revitalized the five-time Bundesliga champions.

When Favre first arrived at Borussia-Park, his resume didn't do much to convince some of his sceptics. Despite his having some modest success at Hertha Berlin, critics didn't think Favre's portfolio was grand enough to save the Foals -- that's how dire the situation was at the club. But Favre's charm, tactical intelligence and unique philosophy quickly silenced his critics. He took a team from relegation to a Champions League qualifying spot a season later.

Favre injected confidence into a struggling and dejected side. Although he inherited a team at the bottom of the table, he soon introduced tactical discipline. On the road Gladbach barely improved, but their home record did. They miraculously escaped the plunge when they beat VfL Bochum 2-1 in the relegation playoff.

From that low, Favre went to take his team to fourth place the next season and a Champions League qualification spot. He brought out the best in his players. Up front something clicked among Marco Reus, Mike Hanke and Arango. A young ter Stegen also began to show his prodigious skills, but that didn't stop Favre from making the team focus on defence. Their impressive home record continued, losing only once while also beating Bayern Munich in both meetings.

Signs of the Swiss coach's mark have been visible ever since. Favre brought fluidity, speed and movement to this team. Gladbach are strong on the counterattack, comfortable making short passes and play a high pressing game. It's a style that suits his players and brings out their best. He's direct and honest with his squad and isn't afraid to give the young players chances.

While last season didn't build on the success of the previous one (they finished eighth in 2012-13), Favre and his players are hardly to blame. The team lost three important players: Marco Reus to Dortmund, Dante to Bayern Munich and Roman Neustadter to Schalke 04. As with any loss, it takes time to rebuild, but the process was quicker than it could have been. The Swiss coach brought in Kruse from Freiburg (who had an exceptional season there) and Raffael from Dynamo Kyiv, whom he had previously coached at Hertha Berlin, last summer.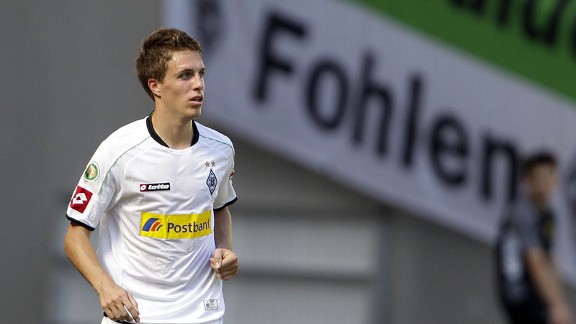 AllsportPatrick Hermann, coveted by Spurs and Inter Milan, has added dynamism and quality to Gladbach's midfield.

Yet with the second half of the season beginning at home to Bayern this Friday, Gladbach's Champions League hopes depend on many variables. Schalke 04 could make another late push for a Champions League spot. Then there's the return of a healthy BvB squad, who aren't willing to settle for less than second. Wolfsburg are also close behind and Hertha Berlin and Augsburg are two more dark horses qualifying for the UEFA competitions.

While many are anticipating a European spot of some sort, Favre has a different goal in mind.

"We want to further stabilize the team. It would be stupid to dream too much. Believe me: We are ambitious. But we must also be healthy. You need years to build a very good team. And when good players leave the club, that's always a setback," he told Die Welt back in October.

Of course his objective may have changed over the winter break, but he makes a strong point that can't be cast aside. It's difficult to build something when the base layers are constantly being taken away. That brings the conversation back to ter Stegen.

Certainly for the 21-year-old it's best for his development if he stays at Gladbach, a club where he can continue to gain more experience and regular playing time. But Gladbach knew in advance his departure was a real possibility. So it comes as no surprise that ter Stegen has decided not to extend his contract at the club, though it's not just their goalkeeper; rumours are also making the rounds linking Herrmann and Kruse to Manchester United while Spurs and Inter have also expressed interest in the former.

But none of that should detract from the Foals' incredible season so far, a feeling of euphoria that left-back Oscar Wendt doesn't want to end. "We want to stay near the top of the table so that we're happy not just now but at the end of the season as well."

With Favre at the helm, it's a feeling that won't be dissipating anytime soon.