Wanted by Germany and the U.S., Green focuses on Bayern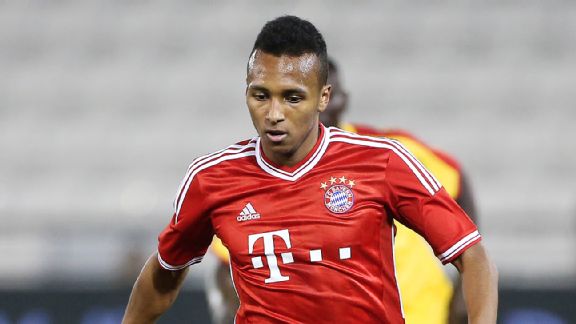 John Berry/Getty ImagesJulian Green has been tipped for a bright future in the game.
Seven months since Julian Green's promotion to Bayern Munich's senior squad, the 18-year-old still struggles to believe what is happening at times.

He expected to be allowed to train with the treble winners this season -- players from the club's under-23 team generally do -- but his progress has been more rapid than anyone could have anticipated.

Seven goals in preseason friendlies for Pep Guardiola's side, as well as strong performances with the U23s in Germany's fourth division, have earned the United States-born forward a professional contract, a cameo in the Champions League, a lot of praise and the opportunity to represent two national teams.

"It's a dream to play with this side," he told ESPNFC.com with genuine enthusiasm from his hotel room in Doha, where Bayern were training during the Bundesliga winter break last week.

Green was on target again for the treble-winners during the trip to the Gulf, in friendlies against Sudanese champions Al-Merrikh (2-0) and Al Kuwait (8-0).

The reaction back in Germany was muted, though, because fans and the media have become used to Green, who stands 1.72 meters tall, looking totally at ease at this level.

The son of a community outreach officer at Eckerd College in Florida and a German mother, Green modestly insisted that he hadn't "achieved anything yet" but also admitted to feeling encouraged by Guardiola's continued support. "I know I can hold my own at this level," he said, proudly.

His superiors and teammates concur. For example, Thomas Mueller has declared himself a fan:

"He's very strong for his age, fast, very hard-working and technically very good," said the Germany international. "I like him."

- Green impresses Sammer
- Schaaf: Heynckes takes the cake

Bayern sporting director Matthias Sammer praised Green as "clued-up," "brave" and "well-integrated," adding "we hope that he'll continue on this path."

Mueller and Sammer also could have mentioned his goal-scoring instinct, his versatility -- Green can play wide, as a centre forward or "in the hole" behind another striker -- or the one quality you cannot teach: He is a player who boasts real "Spielintelligenz," as Germans call it, which means he possesses a real football brain.

"Green is a Pep player," wrote Suddeutsche Zeitung in gushing article last month, "and he's a players' player, too. Professionals quickly notice when a rookie doesn't play like a rookie in training, when he's at their level, when they don't have to fear that he'll ruin the next attacking move."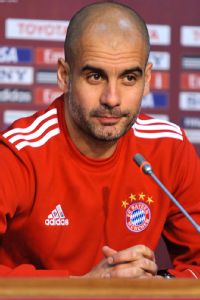 Jalal Morchidi/Anadolu Agency/Getty ImagesGuardiola has been impressed by Green since he took over at Bayern.
Guardiola agrees. The 43-year-old has been won over by Green's "movement into space" and his "discipline."

Earlier this week, the obsessively perfectionist coach spent five minutes explaining the correct pace and trajectory of a short, simple pass to midfielder Thiago, a player of supreme technical ability.

Green said that he benefits from the same attention to detail. "[Guardiola] knows exactly when to talk to a player, and how much or how little needs to be said. I get a lot of great input from him. Mostly, he asks me to make runs beyond the defenders, he likes that. He told me: 'Go and bang them in.'"

As a junior player, Green has to carry the odd the kit sack and move the goalposts in training but Sabenerstrasse, the club's headquarters, has become a much more welcoming place for talents over the past decade or so.

Canadian-born Owen Hargreaves was deliberately subjected to bone-crunching challenges by the established players when he came through as a teenager, and before Louis van Gaal's arrival in 2009, promising youngsters were rarely given a chance.

Like his former coach and mentor at Barcelona, who promoted the likes of Müller, Holger Badstuber, David Alaba and Diego Contento, Guardiola is quick to trust in-house products. "There's no old or young here, only a question of being good enough," Green said.

He singled out Thiago, Mario Goetze and Franck Ribery as the team-mates he most enjoys playing with. "You only get a true sense of the power, pace and technical skills of these guys when you're on the pitch with them," he said.

A bigger surprise, however, was the work ethic he encountered: "They've won the treble but no one is easing off. Everyone is trying their hardest in each session, there's a real sense of hunger here."

Green's own dedication has been rewarded with a three-minute outing in a 3-1 Champions League win at CSKA Moscow, a cameo he described as a "dream come true" and "the highlight" of his career so far: "You hear the anthem, you sit on the bench and suddenly, you're playing in the Champions League. It was incredible."

Competitive game time will remain hard to come by in the light of Bayern's squad depth and the arrival of Robert Lewandowski -- "a super player," says Green -- next season will not exactly enhance his chances either.

However, Green is unperturbed. "They have given me a professional contract [in November], that showed me that the club have faith in me. My goal is to repay that," he said. It'll be interesting to see whether Bayern will contemplate a loan-deal next season.

In the meantime, there's the small matter of a tug of war between Germany and the United States for his services.

Tampa-born Green moved to rural Bavaria with his mother and brother in 1997. He holds dual citizenship and is in close contact with his father Jerry, who enthusiastically follows every Bayern game from afar and regularly takes to Twitter to document his son's exploits, on the pitch and otherwise.

His father hasn't put any pressure on him to declare for the U.S., Green explained. Jurgen Klinsmann has been in touch, however. Suddeutsche Zeitung reported that the U.S. men's national team coach wanted to invite him to play in two friendlies for the senior team in the autumn and promised a possible call-up to the World Cup.

"To play at a World Cup at my age would be something," Green admitted, "but I haven't heard anything to that effect." For the moment, he added, he was committed to playing in the European Championship qualifiers with Germany's U19 team.

Green also revealed that he had spoken to friends and family about making a decision between the two nations, albeit not with any of the other German-Americans, such as Jermaine Jones or Fabian Johnson, in the Bundesliga.

Bayern, too, have told him that the choice is up to him but, in Sammer, a former sporting director at the German FA, Joachim Loew has a very powerful ally.

"Travelling to all these games [with the United States] could be a problem," Sammer has said, and Green got the feeling after talking to him that the club would prefer that he stuck with the Germans.

"There's no deadline though," the teenager added. "And in any case, my priority is to move forward at Bayern. Everything else will fall into place, I'm sure."