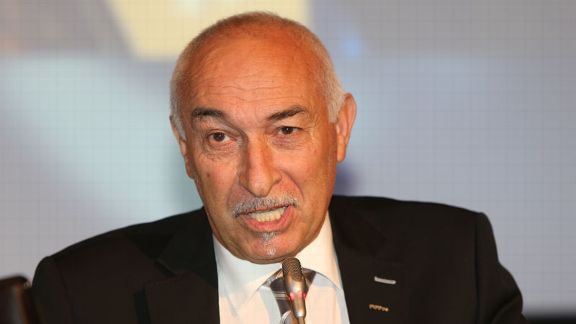 OtherFIFPro president Philippe Piat has made challenging the current transfer system a priority.
Over the past fortnight or so, you will have heard more than once that 2014 is going to be a momentous year for football. What people usually mean when they say this is that the World Cup in Brazil promises to be a gargantuan affair.

However, the coming 12 months could have effects on the game that are more far-reaching than crowning a new world champion. That's because two very different groups of people have decided to challenge the sport's governing bodies.

In fact, one of those groups has already been doing this for five long years. But it's only now that the matter is slowly coming to a head and could -- in an admittedly unlikely worst-case scenario -- even change the face of the World Cup in Brazil.

But let's start with the other group. Last month, a week before Christmas, an organisation called FIFPro issued a statement that said it "had launched a legal challenge aimed squarely at the transfer system and the current economic make-up of professional football."

FIFPro calls itself "the exclusive collective international voice of the world's professional footballers." It's not too fancy a claim, as the organisation represents 55 national players' associations and thus speaks for more than 65,000 pros. Almost two decades after the Bosman ruling prohibited clubs from asking for transfer money even if a player's contract had run its course, the union now aims to abolish such fees altogether.

"Football players are workers and only when they are able to enjoy the rights enshrined in law and enjoyed by all other workers, will FIFPro be satisfied," the organisation's president, Philippe Piat, said on its website.

Even though the statement was as wordy as it was vague, FIFPro's aims are very simple. What Piat's assertion boils down to is that players unhappy with their clubs could simply walk up to the chairman and hand him a termination notice.

It would mean that players could move from one club to another after a normal notice period as stipulated by local law. Such periods differ from country to country, but it's a good rule of thumb to say that terminating a contract is easier for an employee than for an employer and that employees should be able to take up a new job after a few weeks at the most.

FIFPro says it's prepared to "take its recommendations and complaints to the European Commission, the European Court of Justice and human rights courts," which is bound to strike fear not only in the hearts of agents, who pocket a lot of money whenever transfer fees change hands, but also UEFA and FIFA.

They will have to rethink their entire eligibility system, if and when regular courts of justice share FIFPro's views. And as history has shown, such courts tend to disagree with how UEFA and FIFA go about their business. That's why both bodies avoid courts like the plague.

Which leads us to the second group that is standing up to FIFA and why the World Cup could be dragged into a drawn-out legal battle. This second group is the men who run a small, unfashionable club from the northwest of Germany that has never played higher than the third division.

Almost exactly seven years ago, in January 2007, SV Wilhelmshaven signed no fewer than nine players during the winter break in a desperate attempt to avoid relegation. One of them was a 19-year-old Argentinian midfielder with an Italian passport by the name of Sergio Sagarzazu, who had offered the Germans his services.

He came from River Plate on a free transfer, or so the club thought. One-and-a-half years and 11 appearances later, the young man went back to his home country and joined San Martin de Tucuman. These days, he plays for Gimnasia y Esgrima in the multitiered third division. "He was a nice guy, but he wasn't very good," the Wilhelmshaven press officer remembers.

However, while there was no transfer money involved when Sagarzazu joined Wilhelmshaven, FIFA's rules know another form of payment, the so-called "training compensation." The regulations explain that "training compensation shall be paid to a player's training club(s) when a player signs his first contract as a professional, and on each transfer of a professional until the end of the season of his 23rd birthday. The obligation to pay training compensation arises whether the transfer takes place during or at the end of the player's contract."

Note that the rule says there can be more than one training club. And so two teams -- River Plate and Atletico Excursionistas, a small Buenos Aires club where Sagarzazu had played youth football -- got in touch with FIFA and asked it to fight their case. In December 2008, four months after Sagarzazu had left Germany, FIFA presented Wilhelmshaven with a bill for 157,500 euros in training compensation.

That was a huge sum for a small club like Wilhelmshaven, which had an annual budget of only 250,000 euros and simply couldn't afford to pay so much money. What's more, the Germans felt FIFA's "training compensation" was just a transfer fee by another name.

The club also knew that the custom contravened European law, because a few years earlier, in 2004, Wilhelmshaven had refused to pay training compensation to a German club and had won the ensuing case when a district court ruled that training compensation unduly restricted an employee's free choice of employment.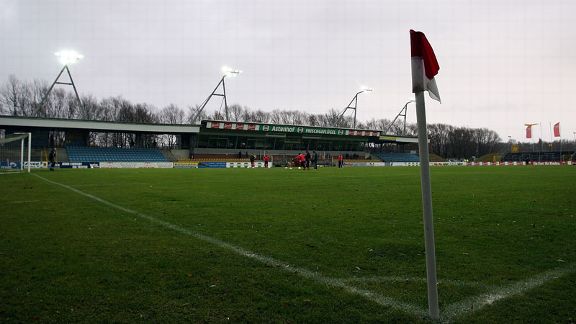 GettyImagesWilhelmshaven's ground, the Jadestadion, is battle ground against FIFA.
However, Wilhelmshaven also knew that FIFA was a very powerful foe. Which is why the club offered a settlement payment of 40,000 euros. FIFA refused, steadfast in its belief of its own rulebook, and so Wilhelmshaven ignored the bill. After the Court of Arbitration for Sport heard the case in 2009 and found, on Oct. 5, that the two Argentinian clubs had a valid claim (according to FIFA rules, not common law), in March 2012, FIFA told the German FA (DFB) to deduct Wilhelsmhaven six points.

Through sheer luck, the team avoided relegation despite having those points taken away from them and so FIFA demanded another points deduction a few months later, in August 2012. Again Wilhelmshaven played a season with six points fewer than they had earned on the field of play -- but again a stroke of luck intervened: Two other clubs went bust and Wilhelmshaven stayed up.

Since deducting points didn't seem to have the desired effect, FIFA went a step further. In November, the world governing body informed the DFB that Wilhelmshaven would have to be automatically demoted at the end of the season. It also reminded the DFB of possible consequences if it refused to carry out this order -- right up to banning the German national team from participating in the World Cup in Brazil.

"We don't want to go to war against FIFA or the DFB," Wilhelmshaven's chairman, Harald Naraschewski, said, "but when we're being attacked with a bludgeon we have to defend ourselves." And so the small club -- whose biggest claim to fame is that your trusted columnist thinks they sell one of the best bratwursts in the entire country -- will bring the matter to a regular court.

Even an organisation as powerful as FIFA shouldn't be too certain of winning the case against tiny Wilhelmshaven. You can bet that one man who will be following the proceedings very closely is FIFPro president Philippe Piat.