Lewandowski's departure marks an end to Dortmund as we know it
It took Pep Guardiola and Uli Hoeness longer than expected but they got their man...again.

Ever since those dreaded few weeks between the shock announcement of the Mario Gotze transfer in late April and the first training session for preseason in Dortmund, it had been European football's worst kept secret: Robert Lewandowski would join Bayern Munich in 2014 on a free transfer.

Three days into 2014, the announcement of the transfer was long overdue, and, on Saturday, the transfer saga finally came to an end.

Borussia Dortmund were -- in the end -- left without a chance and not able to hang on to one of the best strikers in the club's history. But instead of letting go of Lewandowski in the summer, when all the cards were on the table, the Dortmund's trio in charge, Jurgen Klopp, sporting director Michael Zorc and CEO Aki Watzke vowed that the wantaway Pole needs to see out his contract.

Dortmund on one hand and Lewandowski and his agents on the other side, agreed on a cease fire that guaranteed Lewandowski more money in his final year in black and yellow and bought Dortmund more time and freedom to start looking for a replacement who fits into Borussia's plans.

In January 2014, Borussia Dortmund, however, have not given away a single drop of information of how and with whom the 2013 Champions League finalists want to replace the single force in their attack ever since Lucas Barrios' departure into obscurity in 2012.

In a recent interview during the festive season, Dortmund CEO Aki Watzke took it as far as to claim that Lewandowski could be replaced with either Germany star Marco Reus or the fleet-footed Gabonese Pierre-Emerick Aubameyang, who both spent the first part of the ongoing season on the wings.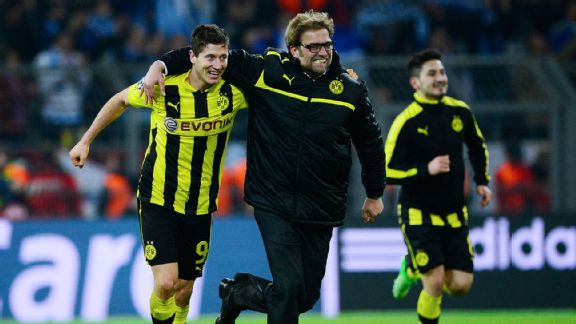 John MacDougal/AFP/Getty ImagesJurgen Klopp will now need to find another attacker who is as consistent as Robert Lewandowski was for Dortmund.
Borussia have had to cope with an exodus of their star players in recent years. They first lost Nuri Sahin to Real Madrid, which was followed with Shinji Kagawa's transfer to Manchester United and Gotze return to his native Bavaria in the years that followed. While Borussia Dortmund continued -- and to a certain extent still continue -- to write their comeback story, and received enormous praise worldwide and boosted their finances, they have not been able to cope with what the second part of 2013 had in store for them.

Not only Mario Goetze left Dortmund, but Dortmund were also hit by several injuries. Juergen Klopp was never able to field the back four that had played the Champions League final. Midfield hope Ilkay Gundogan missed the first half of the season with a mysterious back injury and the club's record signing, the Armenia international Henrikh Mkhitaryan missed the crucial first couple of weeks during the summer training camp.

When, with Mats Hummels and Neven Subotic, the two centre-backs got injured within a couple of days, Dortmund fell apart towards the end of the year. For the first time in over 10 years, Dortmund lost three consecutive home games and only recorded one win out of their last six Bundesliga games of the year.

With the Bundesliga title out of reach, Dortmund have fallen down to fourth place and will need a major team effort in 2014 to secure a return to Champions League. By the end of 2013, the team had looked increasingly tired from a year that changed the face of the club. The Champions League final, one could argue, came too early. They might have come too close to beauty and were not able to grow as fast off the pitch as on the pitch.

Intended or not, the Gotze transfer and the subsequent decision to not allow Lewandowski a 2013 switch to Bayern, gave the club a rough spell of bad luck. The controversial decision to keep the striker from joining up with his desired club has mooted over the past few months, with most split on whether it was the right choice.

Despite his 11 goals in Bundesliga, and important goals in Champions League like the game-deciding goal against Arsenal in a 2-1 win, most Dortmund fans have now let go of their romantic picture of a team of eleven friends first storming through Bundesliga and then winning over Europe. Fans enjoyed Dortmund's spirit and which was echoed in the Echte Liebe (real love) marketing slogan highlighting companionship and passion. Money back then, it seemed, played only a minor role.

A professional footballer, however, will most of the time be just that: A professional footballer. He will go where the sporting perspective is better, or he will go where he will earn more money, where he can take the next step in his ten to twelve year long career. This has always been the case in football and it will always be the case.

Borussia Dortmund have suffered hard coming to terms with reality in recent years, and with Ilkay Gundogan so far reluctant to sign a new contract, the Schwarzgelben face an interesting final six months with Lewandowski. They need to find his successor, they need to stay calm, but at the same time deliver in Bundesliga, Champions League and the German Cup. Interesting times indeed at the Westfalenstadion, but nobody ever said that running a football club was easy.