What to watch: The top 10 Bundesliga storylines for 2014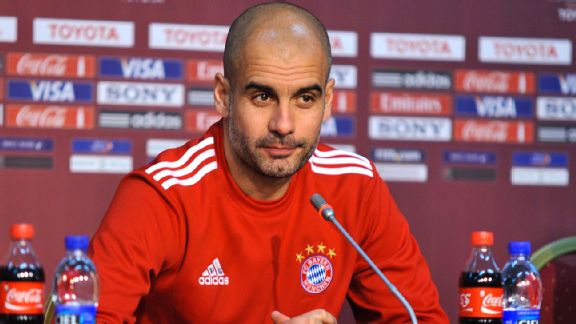 Jalal Morchidi/Anadolu Agency/Getty ImagesPep Guardiola's Bayern Munich have dominated the German Bundesliga so far but the Champions League will be their true test.
After a short and restorative winter-break, Bundesliga clubs recommence training this week. The real action is still three weeks away but here's a sneak preview of the topics and debates that will shape German football over the next six months.

Ten story-lines to watch out for in 2014

1. Invincible Bayern Munich?

The league leaders are unbeaten in 16 games that included three of the most difficult fixtures -- away games at Leverkusen, Dortmund and Schalke. The second half of the campaign starts with a tricky tie at third-placed Mönchengladbach Their dominance is such that it's hard to see anyone putting them to the sword domestically before the season's over.

"Why shouldn't we win every single game?" asked sporting director Matthias Sammer rhetorically.

The true measure of the side's success will come in Europe, however. Recent history provides a sense of caution. Ten years ago, Arsenal's Invincibles, arguably the best Gunners ever, were eliminated by Claudio Ranieri's Chelsea in the quarter-finals.

2. The Mandzukic question

The imminent confirmation of Robert Lewandowski's move to the Allianz Arena in the summer has brought with it inevitable speculation about the future of striker Mario Mandzukic. There's no chance that Pep Guardiola will let the Croat leave this winter but will there be room for two centre-forwards next season? Much will depend on Mandzukic's reaction. Guardiola is stickler for dressing room discipline and won't want to go into the following campaign with a disgruntled player sending out negatives vibes. If Mandzukic remains professional, however, he's likely to stay. With veteran Claudio Pizarro moving on, having two (orthodox) strikers in the squad should be considered a bare minimum.

3. Another mixed season for Dortmund?

"I can't imagine (finishing the season) 25 points behind Bayern again," Borussia CEO Hans-Joachim Watzke had said back in August. Well, Dortmund sit twelve points behind Bayern at the half-way mark, so history could well repeat itself. The good news for Dortmund at this point is that lack of success in one major competition has always come with success at another one since their first title win under Jurgen Klopp in 2011. A decent run in the Champions League will provide plenty of solace for inconsistency in the league, as long as they don't miss out on direct qualification for next season's group stage.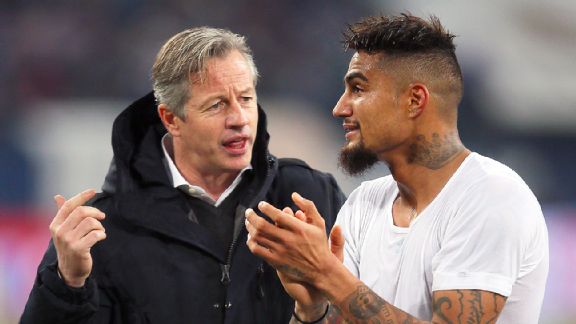 Christof Koepsel/Bongarts/Getty ImagesJens Keller's disappointing run as Schalke manager may come to an end shortly.
4. Jens Keller on borrowed time

The Schalke 04 manager has been continuously flirting with dismissal since getting the job 13 months ago. It's an open secret that the 43-year-old was only kept on because the Royal Blues could not find a suitable replacement in December. Keller will be both a lame duck as well as a sitting one in the second half of the season as the club keep on searching for a manager with more stature, experience and star appeal.

5. The fight for fourth spot

Gladbach, Wolfsburg, Hertha and Schalke will most probably slug it out for the last Champions League place behind Bayern, Leverkusen and Dortmund. The outcome of this race will be the most exciting aspect of the season and also shape the next one. For Hertha, UEFA's millions would provide an instant upgrade of the squad, whereas Gladbach and Wolfsburg would be able to consolidate and become a serious power. For Schalke, the stakes are the highest. Missing out on the Champions League could lead to the departure of key players like Julian Draxler and Klaas-Jan Huntelaar.

6. Markus Weinzierl's mighty Augsburg

A challenge for European places will be just beyond Markus Weinzierl's hard-fighting, hard-running men but a mid-table finish is almost the stuff of fairy-tales, too, considering the modest budget. They've been tipped to go down to the second division ever since winning promotion in 2011. Weinzierl's reputation has grown to the point where had been linked with the succession Armin Veh at Frankfurt but he's decided to renew his contract in Bavaria. The second half of the season will tell if he can also negotiate the trappings of relative success, like other clubs coming in for his best players.

7. Can Frankfurt save their season?

Eintracht Frankfurt are the sole German survivors in the Europa League. A tough draw against FC Porto in the last 32 might spell the end of their adventure but to a large extent, the damage has already been done. The team hasn't been able to handle the dual pressures of international football and the Bundesliga and are currently sitting in 14th spot, only four points clear of an automatic relegation spot. There's enough quality in the squad to climb up the table but manager Armin Veh doesn't have a good track-record when it comes to finding ways to escape a negative spiral. It'll be a close shave.

8. Uli Hoeness on trial

The Bayern Munich president will be on trial for tax evasion in mid-March. The club members will continue to back the 61-year-old patriarch but there'll more than his personal future at stake. A jail sentence would make it impossible for him continue in office and Bayern would be radically different club, almost overnight. Hoeness' departure from German football would amount to a veritable earthquake with incalculable consequences.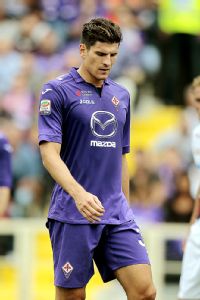 Gabriele Maltinti/Getty ImagesMario Gomez's run at Fiorentina has been disappointing so far and leaves Germany with plenty of questions at striker.
9. Who will lead the line for Germany?

Fiorentina's Mario Gomez has hardly kicked a ball this season, Miroslav Klose has struggled with form and injuries. Considering Joachim Low's continued disregard for Stefan Kiessling, Max Kruse (Gladbach) or Kevin Volland (Hoffenheim) might have to come in. Unless Low decides to play with "a false nine" in Brazil, that is.

10. Philipp Lahm: central midfielder at the World Cup?

Kicker magazine has just praised the Bayern Munich captain as the only "world class" central midfielder in the league -- no mean feat for a player who's never featured much in the middle of the park before. Lahm has reportedly made up his mind that he wants to play in that position for Germany next summer as well. It'll be interesting to see whether Low agrees.