Can flawless Bayern Munich keep this up?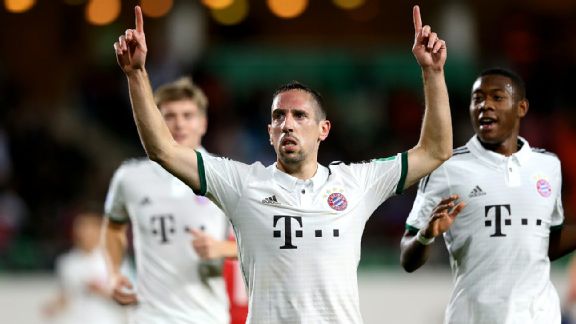 Alex Livesey/Getty ImagesFranck Ribery and Bayern cruised versus Guangzhou Evergrande, proof of their impossible standard.
AGADIR, Morocco -- It wasn't much of a game.

Bayern Munich were so vastly superior to Guangzhou Evergrande FC that the match in Agadir on Tuesday night took on the characteristics of an early DFB Cup round against lower-league opposition. The only question pertained to scoring the first goal against the ultra-defensive Chinese, and after that, scoring a few more.

Bayern's biggest problem was that they knew that. In fact, it's been their biggest (and some would say their sole) problem all season. Overconfidence can seep into a side like moisture into wood, making it mouldy. Pep Guardiola's team drew two -- yes, two -- matches in the Bundesliga, and they somehow sleepwalked to a 3-2 defeat against Manchester City after going up 2-0 inside 12 minutes. There were two 1-1 draws versus Freiburg and Leverkusen in which the disconnect between Bayern's dominance and the final scoreline was simply unbelievable.

All other games they have won, most of them in Guangzhou-style. They've patiently passed sides to death while making sure they won't get caught on the break.

- Schaaf: Another dominant win
- Guardiola: Praise for Ribery
- Report: Bayern's Club World Cup romp

Bayern in 2013 have reached a rare state for any football team: winning or losing is no longer a matter of beating the opposition, but only their own complacency. They've won the treble, the European Super Cup and are one game away from securing the Club World Cup. That in itself is an amazing feat -- one that won't be repeated in a hurry -- but the numbers underpinning these triumphs are almost more impressive than the trophy haul.

Out of 55 games in the calendar year, Bayern have won 48. There were four draws, if you include the 2-2 versus Chelsea in Prague that Bayern won on penalties, and two home defeats in matches that Bayern could afford to lose within certain parameters: the 2-0 versus Arsenal and 3-2 versus Man City at the Allianz Arena.

The remaining game was the only one that really hurt the Bavarians, albeit on a mostly symbolic level. Going down 4-2 in the German Super Cup against Borussia Dortmund before the regular season started was worrying in terms of the performance, but of lesser importance in terms of the actual result and the trophy that comes with it. (By way of comparison, think of the FA Community shield minus Wembley and the tradition and you're almost there.)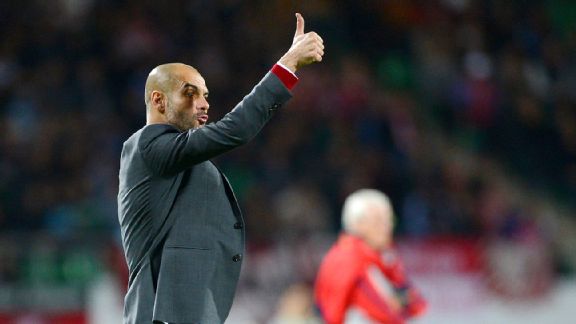 Lars Baron/Bongarts/Getty ImagesPep Guardiola has set a high standard since joining Bayern, but can it be sustained all season?

Considering all of the above, it was interesting to listen to Franck Ribery after the final whistle. The Frenchman has a tendency of rolling out the same three or four answers regardless of the question posed by the German interviewer, but he used the word "seriös" to describe Bayern's attitude. It translates as "serious" or "earnest," and was very telling. Guardiola, too, spoke of his team playing "seriös" against a side "with very quick wingers." Ribery had obviously listened to the team talk of the Catalan coach.

Pep's style is to prepare for every game as if it's the most important one of the season. It's a case of professional diligence but also a psychological trick; anything less and the team will subconsciously believe that they can take it easy. Captain Philipp Lahm explained that they had watched plenty of video clips of their opponents in Morocco and that Guardiola had drummed into them the mantra of "dominating possession against a team that is very good at counterattacking."

Guardiola probably oversold the quality of the opposition and will do so again before the final on Saturday. Bayern need to feel as if they're being challenged, even if the other team pose relatively little danger.

The Germans have a big chance to scoop up one more trophy and then jet off into a winter break that will refresh tired legs and minds. But that's not the whole truth. The pressure is still on. A defeat of any description would be seen as unacceptable and result in one month of intense soul-searching. It might seem ridiculous, but the rarity of games without a win have come to amplify their importance beyond anything that would be considered normal.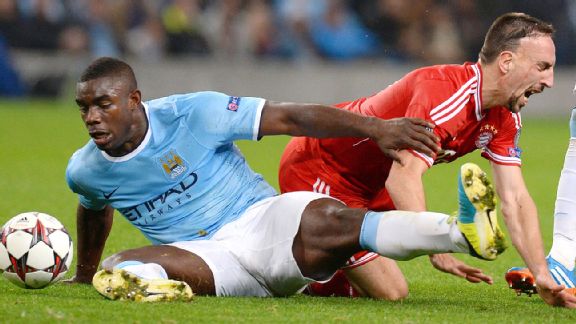 Andrew Yates/AFP/Getty Images Defeat to Man City will have taught Bayern a valuable lesson, but such complacency could strike again this season.

A good example was Süddeutsche Zeitung's insistence that the City defeat exposed "a whole list of deficiencies that need addressing" at Christmas. The broadsheet is usually much more measured in its appraisals, but this Bayern side has shifted the goalposts so much that it's disorientating. They've almost become too good to be appreciated fully -- unlike their 2001 predecessors.

The team of Oliver Kahn and Stefan Effenberg were past their best when they dragged themselves over the line with a last-minute equaliser against Hamburg to win the title and then overcame Valencia in a pure test of nerves (on penalties) to lift the European Cup in Milan four days later. That November, they also won the Intercontintental Cup against Boca Juniors in Tokyo, but the team was in the process of disintegrating. Manager Ottmar Hitzfeld later expressed regret at not stepping down in the previous summer.

By contrast, this Bayern team have negotiated all trials and tribulations since the 2012 final defeat against Chelsea with a remarkable effortlessness. "I've never seen a Bayern team who have more fun playing football," said Mehmet Scholl, a member of the 2001 squad who now works as a pundit for German television. It's doubtful that anyone has. Bayern used to be a byword for hard-nosed professionalism and the ability to grind out results. Now, they almost play too much football for their own good.

The three defeats in 2013 all proved beneficial in that sense. Bayern recovered from the scare against Arsenal to beat Juventus and Barcelona by a total of 11-0. Losing the Super Cup with Thiago Alcantara as the sole holding midfielder taught Guardiola to modify his tactics, while the City game will have helped to focus minds on the remaining three matches before the break.

At this moment, it's hard to see any German team doing Bayern a similar "favour" come the second half of the season. As a consequence, Guardiola will have to work even harder to keep up the level of mental dedication -- not being challenged domestically could well be Bayern's biggest problem in Europe.

There won't be too much sympathy for that particular predicament.