Champions League history is made as all four German sides advance
For the first time ever, four German sides have made it to the last 16 of the Champions League (it was only the third time four German teams had started in the group stage, but still).

While Bayern Munich were nearly knocked off first spot in the group by Manchester City in a 3-2 home defeat, the trio of Schalke (2-0 versus Basel), Dortmund (2-1 at Marseille) and Leverkusen (1-0 at Real Sociedad) made up for earlier slip-ups with (mostly) nervy wins that just pushed them over the line.

Leverkusen (Group A)

The win in Spain marked a hat trick of gratifying results for Sami Hyypia's team. They won in the cup (2-1 versus Freiburg on Dec. 4), in the Bundesliga crunch game at Dortmund (1-0 on Dec. 7) and secured three more points on Tuesday night to ensure they'll be in the draw come Monday.

Bayer won't be favourites against any of the possible opponents -- there is neither enough depth nor extraordinary quality in the squad -- but that's not really the point. Qualifying from a pretty good group is a reward in itself.

On top of that, Leverkusen will go into the winter break feeling mighty good about themselves: They've come back from the most humbling experience for any German club in Europe this season and banished all fundamental doubts about the team's character (for another three months at least, that is). Interestingly, the 5-0 defeat by Manchester United two weeks ago, an embarrassment for the league and the club alike, has come to be seen as a blessing in disguise by many Bayer players.

"It was good that we didn't just lose 1-0 but got really hammered," said Lars Bender.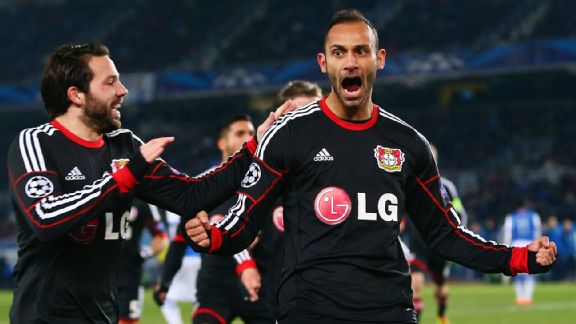 Alex Grimm/Bongarts/Getty ImagesOmer Toprak had plenty to celebrate as Leverkusen advanced out of the Champions League group stages.
"It brought us closer together," added defender Omer Toprak, the goal scorer in San Sebastian.

Leverkusen were full of purpose against the Spaniards and turned in a nearly perfect away performance that could be faulted only for a lack of goals as the visitors missed a few easy chances.

"1-0 was maybe too little [of an offensive output]," said Hyypia.

In the space of a couple of weeks, the club have gone from the depths of despair to the absolute pinnacle: They simply can't play any better. As stated elsewhere, it's likely that their foray into the elite gathering that is the knockout rounds won't last much longer. But doing yourself justice is possibly the best Christmas present there is.

Especially in Leverkusen, where coming short has so often been part of the deal.

Bayern (Group D)

Some Champions League defeats have become part of this club's mythology, too. There are the traumatic final defeats in 1999 and 2012, both of which were later widely credited for inspiring the side(s) to subsequent triumphs in 2001 and 2013, respectively.

Less famous, but curiously more important in the minds of the Bavarians, were two less dramatic losses, however. The first one occurred in the group stage of 2000-01: Bayern were beaten 3-0 by Lyon and castigated for playing like "a senior [citizen] team" by then president Franz Beckenbauer. To much amusement, Ottmar Hitzfeld then suggested that his team could win the European Cup with a defence of Thomas Linke and Sammy Kuffour, and he was to be proved right.

Twelve years later, Arsenal came close to knocking Bayern out of the Champions League with a 2-0 win at the Allianz Arena. Jupp Heynckes' team had taken their foot off the pedal after a 3-1 win at the Emirates in the first leg of the last-16 game. After that mighty scare, they played at a completely differently level, beating Juve 4-0 and Barca 7-0 on aggregate, respectively, before closing the deal in the Wembley final against Dortmund.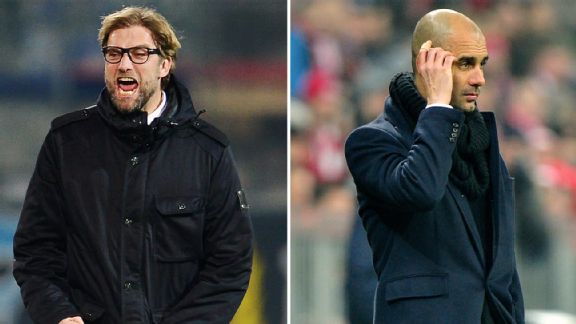 Getty ImagesThough fatigued this year, few clubs in Europe will look forward to facing Dortmund or Bayern Munich in the Champions League knockout stages.
On Tuesday night, Pep Guardiola seemed to suggest that going down to a spirited City after a 2-0 lead might have similar beneficial qualities.

"Maybe this club, the coach and team need a defeat in order to know how difficult it is to win games," said the Catalan.

Aside from a 4-2 defeat versus Dortmund in the curtain raiser, the Supercup, his team had drawn only two out of 23 matches. Winning has become routine and as such maybe dulled the senses a little bit.

"Not everyone knew what was at stake here tonight," said Thomas Mueller about the lackadaisical way in which his team had almost thrown away first-place advantage in the group. The below-par performances of centre-backs Dante and Jérôme Boateng were strongly indicative of a lack of concentration and focus. And it's clear that a taste of defeat is not the only thing this team needed after a season of unparalleled success: They need a break, desperately.

"Our team is tired," admitted one club official privately. Only a maximum of three games to go, if they reach the final of the World Club championship, that is.

Schalke (Group E)

On paper, the Royal Blues had an easy assignment: Any win against Basel at home would do.

They started well, then struggled before taking advantage of the sort of good fortune that has mostly befallen their opponents this season: Bulgarian Ivan Ivanov was sent off -- harshly -- for a professional foul after 32 minutes.
That incident changed the whole balance of the game, partly thanks to a good, instinctive decision from embattled coach Jens Keller three minutes earlier.

He had brought on striker Adam Szalai for the injured captain Benny Howedes (Joel Matip moved into defence in his place, and Kevin-Prince Boateng into a deeper midfield role). Suddenly, Schalke's front line found spaces. The 2-0 win, in the end, was inevitable. But there was even more good luck: Matip's decisive goal (in the 57th minute) after the opener from Julian Draxler was scored from a blatant offside position.

Two defeats in four days -- against Hoffenheim in the cup and against Gladbach in the league -- had made this a Schicksalsspiel (which translates to "game of fate") for Keller.

"No one can appreciate the amount of pressure we were under, the team and me had been criticised relentlessly," he said. "No one had confidence in us."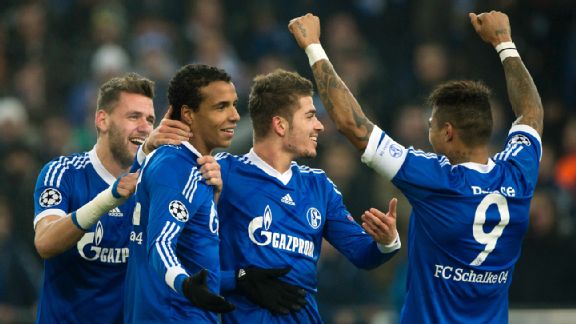 JOHN MACDOUGALL/AFP/Getty ImagesJoel Matip's controversial goal sent Schalke through to the knockout stages.
It's true. Schalke's persistent troubles had most people worrying about another disaster. Getting the job done has significantly calmed nerves ahead of the two remaining, pretty winnable league fixtures (versus Freiburg and Nuremberg), but there could still be another coach in charge when European football resumes in February.

"We will see after the Nuremberg game," said sporting director Horst Heldt, when asked about Keller's future.

Schalke would do well not to be blinded by a rare good night; a radical overhaul remains a must. With Heldt in charge, however, the worry must be that they will get it only half-right again, as is their wont.

Dortmund (Group F)

"We did almost everything right and so much wrong," said an exhausted Juergen Klopp after the final whistle.

Dortmund had left it uncomfortably late in Marseille.

"We missed so many chances, I couldn't believe it," said the Borussia coach, not for the first time this season.

Robert Lewandowski and Marco Reus were both especially guilty of wasting opportunities, and it took an unlikely, unseemly effort from Kevin Grobkreutz five minutes from the end to score the 2-1 winner that changed everything: In that moment, Dortmund went from a disappointing slip-up into the Europa League (and plenty of soul-searching) to the elation of topping the most difficult Champions League group in recent memory.

"It was a super successful day, we all deserve it," said captain Sebastian Kehl.

Rarely can a team have longed so much for the winter break. Dortmund were on their last legs, both in terms of fitness and available personnel; 18-year-old centre-back Marvin Sarr had to be given his professional debut at the Velodrome due to a lack of alternatives. Borussia still have the same flaws as last season: Their high-intensity game is too demanding to deliver consistent results on all fronts. But they have the same strengths, too.

Klopp's team will once again go into the second half of the season as the side that nobody in Europe wants to play against. That's exactly where they want to be.