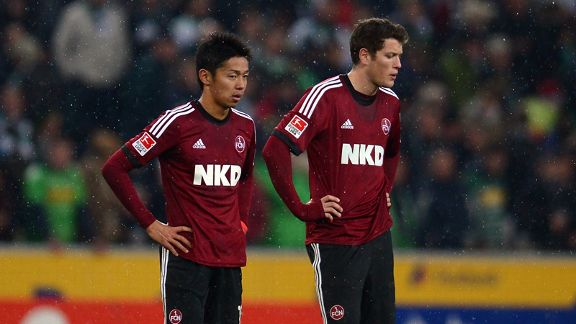 GettyImagesNurnberg have drawn nine of their 15 Bundesliga matches this season.
On Friday evening, a Nurnberg team mired in the relegation zone drew 1-1 with Mainz. Without wishing to sound smart-alecky, that was to be expected.

- Highlights: Nurnberg 1-1 Mainz

First, Nurnberg find it very hard to win this season. More precisely, they find it impossible. They have now gone the first 15 games of the season without collecting the full three points, which is a new record. Suffice it to say that Nurnberg couldn't even win in the cup against second-division side Sandhausen.

Second, teams find it fairly hard to win against them this season. While the Franconians are second from bottom, it doesn't mean they are cannon fodder. They have lost only six league games so far. Good teams like Dortmund or Wolfsburg found it impossible to break Nurnberg down, even the Bayern juggernaut was held scoreless until the final stretch. And the above-mentioned cup game was tied, too, after regulation time.

Which tells you that Nurnberg's main problem is that they share the spoils so often. They have now drawn nine of 15 games. The Bundesliga record for a 34-matchday season stands at 18, set by Kaiserslautern in 1995-96. After 15 games, Kaiserslautern had only eight draws back then. Which means Nurnberg are on course to break that record, too.

Kaiserslautern, incidentally, went down despite all those draws in 1996. Or rather, because of them. It was the first season in which the "three points for a win" rule was used in Germany, which vastly devalued draws. It's almost needless to say, but if the 1995-96 season had been played under the old rule, Kaiserslautern would have stayed up with those 18 draws.

The third reason that Friday's result between Nurnberg and Mainz was to be expected is that 1-1 is the most common final scoreline in the German professional game. In the top two flights, a solid 11.7 percent of all games played in the past have finished 1-1. (The second most probable result is 2-1, but it's a fairly distant second at 8.8 percent.)

In all, exactly a quarter of all Bundesliga games in Germany produce a draw. These stats are not dramatically different in the other big leagues. In Spain, 23 percent of matches finish without a winner or a loser. In Italy and England the figure stands at 27 percent, while in France it's 30 percent.

The idea behind the "three points for a win," devised by a panel chaired by Jimmy Hill and first used in England as early as 1981, was to encourage attacking play. Ever since, stattos and scientists have periodically looked into the effects of the rule. Their findings are usually the same: If anything, it's been counterproductive.

In 2005, the economists Luis Garicano and Ignacio Palacios-Huerta found that the number of ties had decreased but that defensive play had become more widespread, arguing that "when ahead, teams became more conservative, increasing their defenders, scoring less goals, and allowing fewer attempts to score by their opponents."

Only four years later, the German sports psychologists Bernd Strauss, Norbert Hagemann and Florian Loffing from Muenster University even calculated that the number of draws had marginally increased since the adoption of the new rule. They argued that "psychologically, for coaches and players it's not about winning but about avoiding defeat and the three-point rule hasn't changed that principle."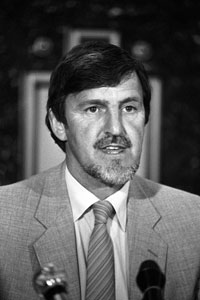 PA PhotosJimmy Hill helped introduce the "three points for a win" rule.
Put differently, if you don't like draws, the only solution is to abolish them. After all, that's what the NFL did. Until 1974 and the introduction of sudden-death overtime for regular-season games, ties were rare in the NFL -- because gridiron football is a high-scoring sport and the more points you distribute the less likely it becomes that two teams end up with the same amount -- but not uncommon. In 1967, both the Vikings and the Redskins drew three out of 14 games.

It's no surprise that the NFL came up with overtimes if you take into account that it was an American football coach, Eddie Erdelatz, who coined the famous phrase about ties being like kissing your sister -- both of which have done a lot to cement the role of the tie/draw as the ugly duckling in the world of sports.

But maybe it's really the beautiful swan? After all, it was a much more famous American coach -- Morris Buttermaker of the Bad News Bears -- who said: "Now, my old coach used to say a tie is like kissing your sister, but the way we've been playing, it's more like kissing a really hot stepsister."

In other words, sometimes a draw IS as good as a win. And why not? There's nothing wrong with an underdog playing for a draw against a highly favoured team. The game would be a lot poorer without this option. And not just this game.

I guess that, all in all, my own greatest sporting achievement was the moment when the Czech grandmaster Vlastimil Hort squinted at the chess board, looked at me, squinted at the board again and then said with his charming accent: "That's a draw."

It was just a simultaneous exhibition, but my picture was in the local paper the next day and for a few weeks I was known at our club as The Kid Vlastimil Hort Couldn't Beat. I felt as if I had "kissed a really hot stepsister."

P.S.

If you still don't like draws, there's always Norway. On the lower levels of the Norwegian game, they have basically been put on the red list of threatened species. The all-time top anti-draw league was the old "3. Divisjon Avdeling 20," in which only 7 percent of games ended without a winner. (The third division in Norway was 24-tiered until 2010; now there are only 12 "Avdelings" -- sections or departments -- left.)