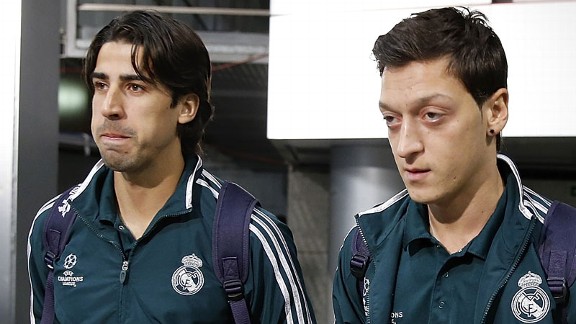 GettyImagesReal Madrid stars Sami Khedira and Mesut Ozil are part of Joachim Low's current Germany set-up.
In the squad national coach Joachim Low has assembled for Wednesday's friendly against Paraguay, there are five players who earn their money in a league other than the Bundesliga. In all likelihood, this number will increase as the season progresses. A season that culminates, of course, in a World Cup.

For many years, people bemoaned the fact that hardly a German was playing abroad. It was seen as proof that -- with the sole exception of Michael Ballack -- our players were not of international calibre.

But now no fewer than eight players who nurture reasonable hopes of making the World Cup squad are not plying their trade at home: Per Mertesacker and Lukas Podolski (Arsenal), Andre Schurrle (Chelsea), Lewis Holtby (Tottenham), Mesut Ozil and Sami Khedira (Real Madrid), Miroslav Klose (Lazio), and Mario Gomez (Fiorentina).

It means we could set a new German record with regard to World Cups next summer in Brazil. So far, we've never sent more than six players to a World Cup who were under contract at a non-German club. This record was set in 1994, when Jurgen Kohler, Stefan Effenberg, Thomas Hassler, Andreas Moller, Rudi Voller and Jurgen Klinsmann were playing elsewhere. Even the 1990 squad -- famously built around the Internazionale trio of Klinsmann, Andreas Brehme and Lothar Matthaus -- included only five players who were playing abroad.

Which leads us to Bernd (or "Bert") Trautmann, the Manchester City legend who died three weeks ago. You sometimes hear that Trautmann, without doubt the best German goalkeeper of his generation, never played for his country because national coach Sepp Herberger didn't rate him or because the two didn't get along. Nothing could be farther from the truth.

Herberger liked Trautmann immensely, both as a person and as a footballer. But there was an unwritten rule that said nobody who played abroad would be called up to the national team. It was one reason Trautmann readily accepted an offer from Schalke in the summer of 1952.

The deal eventually fell through, because the Germans weren't familiar with the realities of the professional game in England. When Schalke offered City £1,000 for Trautmann's services, roars of laughter shook the foundations of Maine Road. Then "the grizzled jowls of Bob Smith wobbled with indignation," to use the words of Trautmann's first biographer, Alan Rowlands. Smith, City's chairman, coolly informed Schalke that the going price was more like £20,000. It put an abrupt end to all negotiations and buried Trautmann's hopes of becoming an international.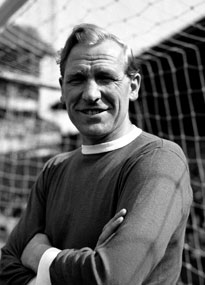 PA PhotosBert Trautmann's international prospects suffered because he played for Manchester City.
When I talked to Trautmann in 1998, on the occasion of his 75th birthday, he told me that he understood and respected the unwritten rule and never held it against Herberger that he wasn't capped. "Imagine he'd called me up and I'd turned out to be a donkey," Trautmann said matter-of-factly. "That would have made Sepp look very bad."

However, this practical element -- that Herberger couldn't monitor the form of a footballer who was playing abroad because travelling was more difficult then and there was little coverage of foreign leagues -- formed only one aspect of the ban, and it's not why and how the rule, which predates Herberger, came into being.

In March 1933, Germany drew 3-3 with France thanks to two goals from young Bayern Munich striker Oskar Rohr, apparently destined for a glowing future. But then Bayern coach Richard Kohn (better known as Richard Dombi), who was Jewish, decided to leave Germany on account of the political situation and joined Grasshoppers in Switzerland.

The Swiss had just, in marked contrast to the Germans, legalised professionalism. So Rohr decided to follow his mentor Dombi and make a living playing the game. Just a few months into the Nazi dictatorship, he had perhaps unwittingly committed two grave sins: He had left his country (for which people called him "a deserter"), and he played a game for money (for which the Munich-based magazine Fussball labelled him "a gladiator who is selling himself abroad"). Consequently, Rohr never played for Germany again. National coach Otto Nerz, Herberger's predecessor, couldn't have called him up even if he had wanted to, such was the public outrage.

The ban survived the war, although, truth be told, there weren't too many players who were affected by it. Ludwig Janda joined Fiorentina in November 1949 from 1860 Munich, but the striker was almost 31 years old at the time and it's doubtful he would have figured in Herberger's plans anyway.

Three years later, in 1952, Horst Buhtz signed with Torino, where he was paid more than 8,000 marks per month (some sources even speak of 12,000 marks) while players who stayed in Germany couldn't earn more than 400 marks. But Buhtz, like Janda, was a veteran and couldn't really expect to play for (West) Germany, as his position was blocked by a certain Fritz Walter.

The blacklisting was periodically debated, even criticised, but it never became a truly pressing matter -- until 26 April 1961. On that Wednesday evening, Hamburg defeated Barcelona in the European Cup. Herberger was sitting in the stands, but he wasn't really watching the game. He was watching the man who sat next to him: Internazionale coach Helenio Herrera.

Almost three decades before the Klinsmann/Brehme/Matthaus trio would power Inter, Herrera desperately wanted a German player -- Hamburg icon Uwe Seeler. A year earlier, the striker had turned down an offer from Real Madrid, perhaps in part because he feared he could no longer play for Germany if he accepted. But now Herrera was in Hamburg to offer the 24-year-old an annual salary of 155,000 marks and a signing-on bonus of 500,000 marks, all after taxes.

You normally read even bigger figures these days, because Seeler remembers the offer as 500,000 marks salary and a cool million as a signing-on bonus, but after meeting Herrera, Seeler immediately informed Herberger, who wrote down the numbers above in his famous notebook. Regardless of the exact sums, for a man who was making 6,000 marks per year before taxes, Inter's offer was astronomical. Seeler declined.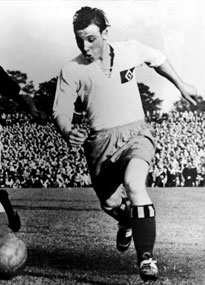 PA PhotosUwe Seeler ultimately spent his entire professional career with Hamburg.
Herberger sighed with relief, but he could read the writing on the wall. He knew it was only a matter of time until he would lose a star such as Seeler to deep foreign pockets. It was why he became an advocate of introducing professionalism, and it was why he decided to lift the ban when the next player knocked on the door and sheepishly informed him about an offer from Italy.

That player was one of Herberger's favourites, Karlsruhe attacking midfielder Horst Szymaniak. Herberger was confident Seeler would always have a good life, but he had doubts about Szymaniak, a very simple man without proper education. When Catania offered the player a bag of money, Herberger felt it was unethical to put stepping stones into Szymaniak's path to fortune.

And so, in August 1961, Szymaniak, Herberger and Calcio Catania reached an agreement over how often the national coach could call up the player, who would cover insurance and all the other details that had to be worked out.

Eight months later, in April 1962, Szymaniak saw action for West Germany, against Uruguay in Hamburg, as what came to be known as a "legionnaire." And in the summer, he played at the World Cup -- the first German footballer to be fielded at a major tournament even though he was a professional and played abroad. Next to him were men such as Helmut Haller, Albert Brulls and Karl-Heinz Schnellinger. Within 12 months, all of them would be with Italian clubs.

But it would be quite some time before playing abroad became so commonplace that it wasn't even mentioned anymore. When Schnellinger, then with Milan, scored West Germany's last-minute equaliser against Italy in the 1970 World Cup semifinal, German TV commentator Ernst Huberty famously gasped: "Schnellinger of all people, the Italians will say. Schnellinger of all people!"