Hamburg's fans fight to retain autonomy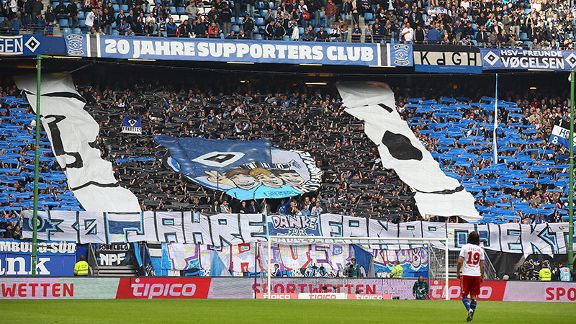 GettyImagesSupporters of HSV demonstrate their passion for the cause.
With its soaring international popularity, the Bundesliga has been cultivating an image as a panacea on many levels. Germany's vivid fan culture represents a large part of this attraction, but as its profile grows, supporters are finding it is a battle to keep things as they are -- and to retain their say in matters.

As it stands, Hamburger Sport-Verein e.V is one of a small handful of Bundesliga clubs -- including Bayern Munich -- still 100 percent fan-owned, but some interested parties want to change this. Former club chairman Ernst-Otto Rieckhoff outlined the plans of his HSV Plus movement in a September interview with Die Welt, calling for a major change to the club's structure: dividing the administrative body from the football side and selling off stock to create "several million euros of investment."

The aftermath of going public, of course, nearly sent Borussia Dortmund to the wall in 2005, and though Rieckhoff has been swift to rebuff concerns, pointing out that a maximum of 24.9 percent of the club's equity will be sold, many fans are unconvinced.

Dominic Fleischer, from the HSV Not For Sale campaign, is adamant that supporters would instantly be marginalised at a club particularly admired for the strength of its fan power. "If it happens," Fleischer tells ESPN, "it would mean that the members would lose nearly all of their influence in some important decision-making processes concerning football in Hamburg. Currently, only the AGM (Annual General Meeting) can change our club statutes. If we separate the team from the club, it would mean that the members would just be represented by maybe five delegates at the AGM (as opposed to up to 5,000 who attend for the 72,000 members at the moment) on the new subsidiary that will run the professional football team. Consequently we will change from a democracy into an oligarchy."

Fleischer is clear on HSV Not For Sale's aims, for those who need clarity. "When we're talking about fan influence," he points out, "we're not talking about the team line-up or which player we will buy or sell in the future. These decisions have to be made by the board of directors." Fleischer describes the Supporters Club (SC) as "a political institution concerning the club's policy." It has a role in representing fan rights and dictating club ethics -- which is only proper, given that the club stands for its fans.

The SC has recently shown its potential for tangible good. "The SC board discusses the ticket prices before every season starts with the club's directors," says Fleischer. "It's also why we have a second safe standing area in our stadium now. A very good example of member influence is the petition at the AGM last year, for the directors to cancel a contract that they made with Viagogo (the online ticket re-seller). Many members and fans thought that this would be kind of a legal black market for our tickets. This petition was successful and directors had to cancel the contract. We are convinced that we would lose all of this kind of influence when it comes to the separation."

That the HSV hardcore's campaign shares a name with Manchester United fans' successful drive against an attempted BskyB takeover is significant, as is sharing the message with other fans across Europe. "This is very important for us," emphasises Fleischer, "because it says that there are really a lot of fans out there, all over Europe, who respect our club because of what we as members have gained, and not just because we won a few titles."

HSV Not For Sale are also keen to underline that the Bundesliga has to be on its guard in this age of expansion. It is not a utopia.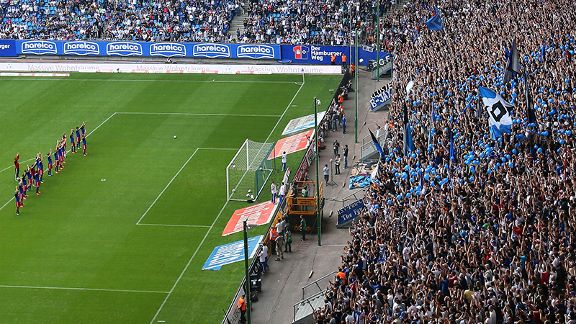 GettyImagesHamburg run the risk of disconnecting fans from the club.
"In my opinion, there have never been so many clubs in Germany close to bankruptcy as at the moment," laments Fleischer. "Many clubs below the Bundesliga are really struggling. We also made losses in the last three years (9 million euros last year -- ed.), so even member influence doesn't protect you from financial problems. But as a member-owned club it is a lot easier to get rid of the people who are responsible for all of this. As soon as we (divide the institution), this would be nearly impossible."

Current chairman Manfred Ertel is on the same page as HSV Not For Sale, but Rieckhoff's proposals are not falling on deaf ears everywhere. Years of sporting struggle, with little money in the pot to buy better players, mean that his call to create "flexibility on a financial level" has found some sympathy. He has floated billionaire Klaus-Michael Kuhne as "a potential strategic partner". Of course, men like Kuhne rarely hand over the cash for free; they tend to want control. What should also concern is Rieckhoff's next argument, that the club "needs this money urgently". That sort of desperation rarely equals measured, long-term thinking.

Despite Rieckhoff's claim to Die Welt that he has been "overwhelmed by the positive response," HSV Not For Sale are confident that he and HSV Plus will fall short of the necessary 75 percent majority for the proposals in January's AGM vote. This alone, however, would not be the end of it, as Fleischer admits.

"This (attaining 75 percent) will be very hard for them," he says. "But even if they're not successful and just get around 60 percent, the discussion will never end. There would always be trouble in the club and that wouldn't make it easier for us to have future success. So we have to keep on fighting and hope that we will have an absolute majority on the next AGM."

And the worst-case scenario? "If our members -- and fans -- vote for the separation and consequently for less influence," says Fleischer, "then it will be 100 percent clear that the majority of the fans just want success and don't care about anything else. This is frustrating, but take a look at Manchester City or Cardiff City. So many fans accepted what was going on at these clubs."

Not just HSV, but the whole of German football, faces a battle for its soul.