In Europe, Leverkusen and Schalke still trail the Bundesliga's big two
Match Day 5 served as (another) reminder that it'll take some time before other Bundesliga clubs can play at a similar level to that of last season's Champions League finalists, Bayern Munich and Borussia Dortmund.

While that state of affairs will only have surprised the most blinkered fans of the German league, it's nevertheless disheartening to see that Bayer Leverkusen and Schalke 04, clubs with similar financial means to those of Dortmund, continue to underperform, relative to their own resources.

Bayer Leverkusen (Group A)

"It won't be easy to beat us," Sami Hyypia had said on the eve of the game against Manchester United. His players, too, had been unusually buoyant, which made the subsequent disaster all the more embarrassing.

"They will make fun of us now," said sporting director Rudi Völler after the final whistle. "We've only got ourselves to blame".

Leverkusen's excellent run of results in the league had given hope for a decent performance against the English champions.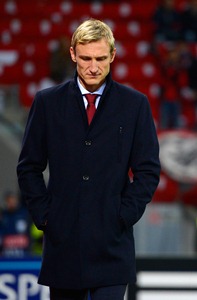 GettyImages / Dennis GrombkowskiSami Hyypia's Leverkusen were humbled by Man United.
However, after the 90 minutes started out resembling the first meeting at Old Trafford -- where Bayer had begun well before more or less falling apart after conceding -- they then became gradually worse until the result verged on "Barcelona" territory (in 2012, Pep Guardiola's Catalans had humiliated the Germans 3-1 at the Bay-Arena and 7-1 in the Nou Camp).

Bayer can still qualify for the last 16, but in the wider sense, the damage is done. The relatively small club wanted to use the match to win some new fans around the world and to promote itself as a young, attractive side.

As one of only two company-owned clubs in the league -- pharmaceutical company Bayer subsidises the team -- 04 has always had to fight for legitimacy and attention. Terrestrial viewing figures for the game reflect this problem: They were the lowest for the state broadcaster ZDF in the current season.

Bayer made mistakes at the back, played with inhibition in the final third and got even the most basic passes wrong. It was by far their poorest showing of the season, so devoid of any confidence and aggression that it brought back some fundamental questions about the side's character.

"Against big names, this team contracts a strange type of subservience, a kind of fatalism that no professional team can afford," wrote Spiegel Online.

Bayer will, of course, continue to attract good players: Their scouting has long been excellent. But the non-show against United makes you wonder if they'll ever have a team of serial winners who will give their all for the club and create a culture of real success in the dressing room.

Bayer's curious position in the order of things in the Bundesliga -- they're one of the wealthiest clubs but have few fans and almost no pressure to produce titles -- seems to create a psychological environment in which players subconsciously feel it's OK to lose against the best teams in Europe.

Even if Leverkusen do qualify for the knockout rounds, that pattern is unlikely to change.

Bayern Munich (Group D)

The holders bettered Barcelona's record with a tenth consecutive win in the Champions League. Not even traffic jams, sub-zero temperatures and a very difficult pitch were not enough to stop Bayern in their tracks, even if the 3-1 win over CSKA Moscow flattered them a little bit.

The Russian side did create some very good chances, especially in the second half, and on another day Keisuke Honda could well have scored a hat-trick. The way that the Bavarians nevertheless came away with a good win underlined their quality and substance.

"Sometimes, you play with sun, sometimes with snow," said Pep Guardiola, "but you always have to play with character. And my players have a very good character".

The manager seems to have forgiven his team for a few indiscretions, too. There was no more talk about a mole in the dressing room. Instead, Thursday's training was cancelled.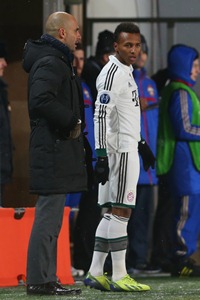 GettyImages / Alexander HassensteinAmerica-born Julian Green replaced Mario Goetze in the 88th minute.
Julian Green made his debut at the end of a performance in which Arjen Robben was the star of the show. The Dutchman contributed a goal and also won the penalty that Thomas Müller converted.

Meanwhile, it was also noticeable that Mario Gotze is getting closer to his best. His goal was a fine individual effort and a sign that both his confidence and fitness is returning after two lengthy lay-offs earlier this year.

Schalke 04 (Group E)

A 0-0 was not the worst result for Schalke in Bucharest. Qualification is still within their grasp and a win against Basel in the last group game will see them through, perhaps even as group winners.

The performance, however, left a lot to be desired. The Royal Blues have very decent players but no discernible style or over-arching idea. They rely on individual moments of brilliance but that's not enough against the better sides, who have a sense of cohesion. As a result, Schalke are treading water -- at best -- while Bayern improve and Dortmund consolidate.

The buck has to stop at Jens Keller, the S04 manager, who couldn't be less inspirational if he tried. "Our plan is still to reach the last 16," he said on Wednesday, with a minimum of conviction.

Ironically, Schalke's problems, might be smaller if Keller was grossly incompetent. But the former Germany U-23 coach is clearly a decent coach; just not nearly good enough to get the best out of this team.

Schalke's laboured performances in the Champions League and similarly unexciting showings in the Bundesliga are reflective of this basic dilemma and Keller's results have just about sufficed to keep him in the job, without ever suggesting a real sense of progress.

Renewed fears about the long-term functionality of Kevin-Prince Boateng's left knee -- the Ghanaian international had to leave Romania before the match to seek more treatment – hasn't exactly lifted the mood in Gelsenkirchen either.

Borussia Dortmund (Group F)

Sven "Manni" Bender was on his fourth shirt at the final whistle. The midfielder, who played as a makeshift centre-back against Napoli, had played on with a broken nose and through heavy bleeding.

Dortmund's kit man was so worried that the five available shirts would not suffice that he ordered employees in the neighbouring Borussia mega-store to print a couple of extra jerseys with number six on the back.

"Genuine tales of heroics need wounds," wrote Süddeutsche Zeitung in recognition of the selfless suffering the 24-year-old, who had broken his nose twice before, endured.

Unlike in previous weeks, the Black and Yellows got a bit of luck when it mattered. Marco Reus' opener was preceded by the award of a somewhat soft penalty, after which the game opened up beautifully for the hosts. Dortmund's finishing was lacking, once again, but with the help of the outstanding Henrikh Mkhitaryan, they created too many chances not to win this game.

After three defeats in a row, the win side came as a great relief for Juergen Klopp and his side, who are once again in charge of their own destiny in this tricky group and everything now hinges on the trip to the south of France in two weeks.

Dortmund will advance with a win, while a draw or even a defeat might also suffice if Napoli don't get a better result than them against Arsenal. It's good position to be in but it's vital that Borussia seize the chance to repeat last season's heroics.

You wouldn't bet against them making life difficult for one of the more established sides in the knockout rounds.