Flexible Bayern find yet another way to win
In the end, Juergen Klopp conceded that it was all Dortmund's fault. "We paid the price for our good deeds in the past," said the dejected Borussia manager. "Bayern arrived here with all their senses sharpened."

Klopp seemed to be saying that the minds of Pep Guardiola's side were more focused on a run of six Bundesliga games without a win against the Black and Yellows than on the home side's injury crisis. There was no sign that over-confidence had crept into the treble-winners' game; if anything, their tactical set-up spoke of respect and an appreciation of Dortmund's capabilities. Guardiola has developed a reputation for subtly tweaking his set-up in order to adjust to the opposition, exploit their weaknesses and, above all, retain an element of unpredictability.

Having said that, his big idea for this match still felt pretty radical. He fielded Javier Martinez as a defensively-minded attacking midfielder. A "false 10," if you will.

- Uersfeld: Goetze's crucial return
- Schaaf: Stars shine for Bayern
- Watch: Bundesliga review

The Spanish midfielder pinned back Dortmund's double pivot, Sven Bender and Nuri Sahin, and chased knock-downs from Mario Mandzukic. Sitting in the heaving Signal Iduna Park, it was hard for me to say whether this fairly reactive worked brilliantly or was backfiring badly. Martinez ensured that Bayern had plenty of possession and made it difficult for Dortmund to build from the back. But at the same time, he wasn't able to control the ball in tight spaces. With Mandzukic pushed up right against the centre-backs and Arjen Robben and Thomas Mueller taking up high positions as well, Bayern didn't get their passing game going. Yet Martinez was so effective in his destructive role that he ended up breaking the whole game, not just that of the opposition.

There was a telling moment midway through the second half when Dante complained that he had no one to play it to. The Brazilian aimed a high ball at Mandzukic, which was easily cut out. Bayern won the ball back a few seconds later and once again, Dante was shaking his head and putting his arms up in "what do you want me to do here?" manner. He hit it long, a second time. Dortmund dealt with it well, a second time.

This, essentially, was the pattern of the first half. The more the game progressed, the more Bayern's long balls played into the hands of the home team. Dortmund's make-shift defence was hardly stretched and in midfield, their transition game began to carve out opportunities. "They are the best counter-attacking team in the world," Guardiola said later. Bayern found it hard to keep track of Robert Lewandowski and Marco Reus as Dortmund rushed forward with an incisiveness that had been missing in recent weeks. The main problem persisted, however. They didn't take their chances. "Sometimes, you need to score a goal," Klopp said ruefully.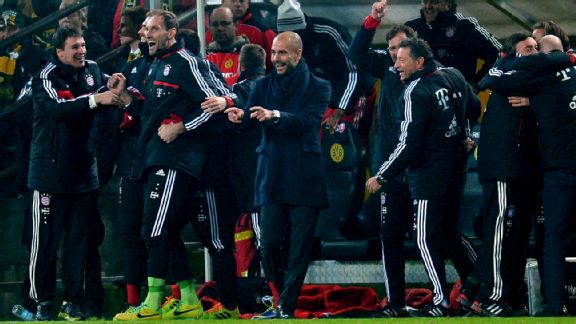 Lars Baron/Bongarts/Getty ImagesPep Guardiola's made a habit of tinkering with his Bayern team and to great effect. Beating Dortmund showed yet another winning dimension.

After the break, everything changed with the introductions of Mario Goeetze and Thiago Alcantara. Without a centre-forward, Bayern attacked from deeper positions and with more control. The first goal from Goetze exemplified the difference. Bayern moved the ball around in the final third, beginning on the right and luring Dortmund to the centre before Philipp Lahm passed it wide right again. Muller had a moment to pick out the former Dortmund player Goetze, who scored with the outside of his boot and captured all the headlines.

"It's a classic football story," Mueller said after the final whistle. Borussia did create a couple of very good chances, too, but Manuel Neuer saved well from Henrikh Mkhitaryan and Reus to protect Bayern's clean sheet. In the end, counter-attacking strikes from Robben and Mueller made the win look a lot more emphatic than it really was.

Asked about the change of dynamics in the second half by ZDF Sportstudio, Guardiola found a simple explanation. "We had the numerical advantage in midfield," he explained. "Everything is decided in midfield. If you want to win the game, you need to control the midfield."

This has been his mantra since taking over the job in Munich, but still begged a big question. Had he voluntarily ceded control in the first 45 minutes in a willful departure from his usual style, or were Bayern forced into an uncomfortable impersonation of Tony Pulis-era Stoke by Dortmund? The advanced positions of Martinez, Mueller and Robben suggested the former while Klopp, too, seemed to suspect that Bayern had deliberately altered their approach.

"I've seen Bayern a lot. Tonight, they played as many high balls as in the last three years combined," Klopp said. The line was delivered with a sneer but it was impossible to tell whether he was paying a compliment to his own team, bemoaning the opposition's retrogressive approach or simply stating a fact. "First, they got at us with long balls, then they bring on the 1.70m boys, not a bad idea," he said, unhappily. This really was "another way to win" for Bayern, albeit a much more pragmatic one than the title of Guardiola's biography suggests.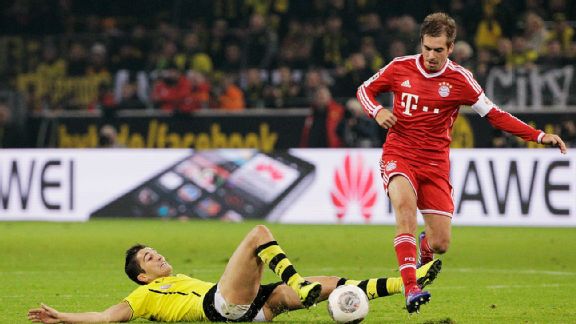 Adam Pretty/Getty ImagesPhilipp Lahm's utility again worked wonders for Bayern Munich.

The Catalan manager, however, didn't look all that pleased when the 90 minutes were over. The performance at the Signal Iduna Park compared unfavourably with those recent efforts against Bayer Leverkusen and Manchester City, he said; in those games, Bayern had come a lot closer to playing the relentlessly dominant football he envisages. "We can do a lot better, we need more time," he said. His constant changes during the game -- Lahm again played in three different positions, as did Martinez -- are not conducive to Bayern's fluidity but they keep the opposition guessing and drill a flexibility into the side.

A seven-point gap between the two teams does not quite guarantee the title but it's obvious that Bayern will head into the winter break pleased with their progress while also optimistic that there's still room for improvement. Dortmund can play better too, of course, but that's not much of a consolation after three defeats in a row.

Furthermore, Klopp strongly dismissed the suggestion that another disappointment in Tuesday's must-win Champions League game with Napoli would effectively end Dortmund's season. That said, their defensive problems make efficiency in front of goal even more vital if they want to retain an interest in the European Cup after the winter break. "Napoli will have seen this game, maybe they will try long balls, too," said Klopp, who warned that Dortmund could not afford to be down-hearted for too long. "I told the boys they have five minutes to feel depressed, then they have to look forward again to the Napoli game," he said.

Dortmund can still put things right. The time is now.