Dortmund's challenge to Bayern dominance to go the distance
For several decades now, Bundesliga clubs have tried to break Bayern Munich's dominance of the German league. Sooner or later, they all failed. Can Borussia Dortmund be the first club to join Bayern at the top of the Bundesliga for more than just a few years?

- Honigstein: Bayern look to tighten Bundesliga grip
- Cox: Toni Kroos has earned right to be Bayern's key

Bayern have won 22 of the 50 Bundesliga titles. Since the introduction of Champions League football in 1992, the Bavarian giants have won 11 league titles, and have never gone without a league title for more than two seasons. Throughout that Bundesliga history, Bayern's superiority was sometimes challenged, but never broken.

Every club -- and there is a long list of teams trying to achieve the impossible and join Bayern on top of the Bundesliga -- have made huge mistakes, have had bad luck in the transfer market or just gave up, exhausted from the efforts necessary to keep up with the powerhouse.

Take 1.FC Nurnberg and their coach Heinz Hoeher: They were Germany's record title holders until 1987 with nine championships, one of them in Bundesliga, during the late 1980s. Hoeher built a young and hungry team in Nurnberg in the mid-80s, which slowly worked its way up from Bundesliga II close to the top of the first league. In 1988 they qualified for the UEFA Cup, and played a different style of football, waiting for counterattacks. They hoped to attack Bayern. It never happened.

Then-Bayern manager Uli Hoeness decided to end the uproar by signing key Nurnberg players Roland Grahammer and future Germany star Stefan Reuter in one summer. Hoeher, tired of building teams over and over again, quit and became the club's general manager. A few years later, through mismanagement and lofty ambitions, Nurnberg were grounded. Basically, ever since those days, Nurnberg became a yo-yo team.

Some 10 years later, Dortmund won back-to-back Bundesliga titles, and the following year triumphed in the Champions League. But Dortmund stars like Matthias Sammer, Andreas Moeller, Julio Cesar, Steffen Freund and Karl-Heinz Riedle not only cost a lot of money, they also had reached the zenith of their careers.

While Dortmund battled Bayern's interest in their star players, they also invested and became big spenders, betting on future success. They ran out of luck when Ottmar Hitzfeld was forced out of his position and promoted to a figurehead position at Dortmund. He then joined Bayern. Dortmund, after blowing all the money they gained from going public, nearly went bust. They had lost the battle.

Werder Bremen were the next Bundesliga side to join Bayern at the top. A decent, strategic transfer policy made the Wesersiders the flavour of the year in 2004, when they won the domestic double. Bremen joined the European elite, and were a constant in the Champions League for a couple of years. But early this century, all of a sudden, they mismanaged the transfer market.

Blowing several millions on players who are long forgotten, and with a small stadium to their name in a town in the middle of nowhere, Bremen needed to rely on bringing in the right recruits. When Mesut Ozil left town in 2010, the club all but disappeared from the European spots in Germany. And these days, they are reportedly contemplating a cooperation agreement with Juventus, meaning they could the Italian club's fringe players on loan.

VfB Stuttgart won the league in 2007, in one of Bayern's off years after a big international tournament, with the core of the Bavarians' team on duty for their countries. Stuttgart were instantly caught in the Champions League trap. They paid incredible wages for not-so-incredible players, they lost Mario Gomez to Bayern and Sami Khedira to Real Madrid. But the wages and fired coaches ate up most of the transfer fees.

Vfl Wolfsburg came next in 2009. Wolfsburg coach Felix Magath rose to the pinnacle of fame -- his revenge for being fired by Bayern despite winning two domestic doubles in succession -- substituting the goalkeeper in a particularly humiliating defeat for Bayern that all but ended the title race. For one moment in time, his hire-and-fire policy was successful. Magath, one of the most bizarre Bundesliga managers in recent years, left Wolfsburg that year and tried the impossible: to win the Bundesliga title with FC Schalke 04.

The Royal Blues, while not winning a German championship in over 50 years, have come close several times. But other than their infamous four-minute title in 2001, when Bayern's Patrik Andersson ended all hope with a 94th-minute free kick, and an equally infamous last couple of games in 2007 -- when they lost their away matches at local rivals VfL Bochum and arch-rivals Dortmund -- they never got close.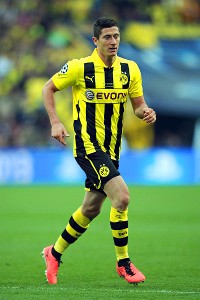 Chris Brunskill/Getty ImagesDortmund are in a better position than ever to handle losing a player like Robert Lewandowski.
Behind Bayern, they have, however, been the most successful German team in Europe over the past decade. But the club have never been able to challenge Bayern's throne. In 2011, they lost their star goalkeeper, the Gelsenkirchen-born Manuel Neuer, to Bayern, and since then have been unable to challenge at the top of the league. Two years later, Schalke are still looking for a possible Neuer successor.

It's all in there. The money, the exhaustion, the megalomania, misfortune, mismanagement -- and Bayern playing in a faraway league. And, when football turned pop in the 90s and ultimately became the global business it is now, Bayern manager Hoeness knew how to satisfy its needs, how to tell a good story and at the same time make the up-and-coming team aware of their helplessness. Once a team got close to Bayern, they burned in the fire.

Dortmund are now back in the race. And one could easily say that last season's Champions League finalist will likely fall behind too, joining the long list of unsuccessful contenders for the spot next to Bayern. Things, however, have changed. The Bundesliga is in much better shape generally than it was when Bremen challenged Bayern a decade ago.

Fresh talents have worked their way through the youth academies, and have snowballed into the Bundesliga, which, because of those gifted youngsters and the concurrent rise of the national team, is finally getting international attention. That attention translates into money, which, in turn, converts into more competition in the transfer market.

Unlike in the 90s, Dortmund are no longer willing to pay silly wages to keep players at the Westfalenstadion. Having witnessed a downfall, they are aware of how to avoid a second demise.

Unlike Nurnberg in the 80s, they have not given up in the first headwind that always follows innovation. Dortmund no longer base their game on possession but on tireless running, and the famous "Gegenpressing," which has been adjusted throughout the past seasons.

Unlike VfB Stuttgart, they have not fired the coach after the first few storms -- but, of course, there have only been a few. And in stark contrast to Magath's Wolfsburg, they do no regard players as human capital.

Dortmund also had just the right amount of luck. The legendary Champions League quarterfinal against Malaga, which brought Dortmund to greater public attention, was won by two late goals, with the final strike of the night by Felipe Santana coming from a clear offside position. That night made Dortmund famous. In a nutshell, it represented everything the club is about.

They cashed in on it through a brilliant PR campaign on their way to Wembley, creating the "fairytale" myth and dubbing everything connected to the club "real love." In 2013, Dortmund posted a record profit of 53.3 million euros. They have also finally paid off all debts from the meltdown in 2005.

Still, the club lost several key players over the past couple of years. Nuri Sahin, the maestro in Dortmund's first title-winning campaign in 2011, left for Real Madrid -- and returned home 18 months later. Shinji Kagawa, hailed as one of the world's greatest midfield talents, left for Manchester United in 2012 -- and is struggling for minutes under David Moyes 18 months later.

In 2013, Mario Goetze made a shock switch to Bayern, who finally appeared to have lost patience and ripped Dortmund's heart out, at the same time trying to lure Robert Lewandowski away from the Westfalenstadion. There is no doubt, it seems, that he will join Bayern on a free next summer.

But in coach Juergen Klopp, sporting director Michael Zorc and CEO Aki Watzke, Dortmund have a team that is willing to fight, that is willing to cope with the inevitable setbacks and that has created a sporting and economical foundation which will keep Dortmund in the Champions League ranks for the next couple of years.

Dortmund's troika has never planned to challenge Bayern; they have never wanted to be the contenders. They have just seen the chance of building a second beacon in the Bundesliga, and have learned their lessons over the years.

In the short term, given the major injury crisis, they might fall off the pace in the Bundesliga, and might even get relegated into the Europa League. But the future still looks bright at the Westfalenstadion. A few miles behind them, and taking another route, are Bayer Leverkusen who, without anyone taking notice, could become the next club in Germany's search for its own Big Four.