From delight to disappointment for Borussia Dortmund
"Status: It's complicated" was the spox.com take on Borussia Dortmund's difficult prospects of qualifying for the last 16 of the Champions League following their 1-0 home defeat by Arsenal last week.

The headline rings true in a wider sense too: It's not easy to work out if the Black and Yellows are having a good or bad season at the moment.

On the one hand, the club's leadership is entitled to feel deeply satisfied with the continued progress. The doomsayers who have been predicting the team's breakup since the first championship in 2010-11 have been rebuffed once again.

- Ribery targets knockout blow
- Hesse: Germany's greatest derby

Dortmund lost only Mario Gotze and bought extremely well (Henrikh Mkhitaryan and Pierre-Emerick Aubameyang), and their pragmatic handling of the Robert Lewandowski situation has been thoroughly vindicated.

They couldn't sell the Bayern Munich-bound Polish striker to any foreign club after he refused to enter negotiations, and they couldn't sell to Bayern either because the Bavarians never made a concrete offer. Most clubs would have taken a dim view of losing one of their main assets for free -- Lewandowski is out of contract in the summer of 2014 -- but the Dortmund board decided there was no point cutting off their nose to spite their face. Unlike Athletic Bilbao, who banished Fernando Llorente to the reserves in similar circumstances last season, Dortmund persisted with the 25-year-old.

They even trebled his wages for the last 12 months, in recognition of his value. That unusual decision has worked out. Lewandowski has scored 13 times in 18 games this season.

More importantly, Jurgen Klopp recently extended his contract until 2018 on the back of a hugely successful PR campaign, which featured a roundtable interview with English journalists. The 46-year-old is the key figure in the revival of the club's fortunes, and Dortmund will be able count on his services for another four and a half years, interest from abroad notwithstanding.

If Klopp sees out his term -- and there's no indication that either side has other plans -- his reign at the Westfalenstadion will have lasted a decade. No wonder his agent mused that he could become "Borussia's Wenger or Ferguson."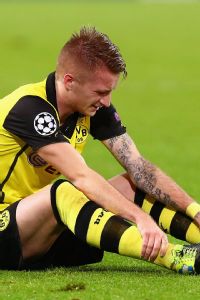 Martin Rose/Bongarts/Getty ImagesBack-to-back defeats have dented Dortmund's Bundesliga and Champions League hopes.
But just when you thought the club was poised for another glorious year, two poor results killed the feel-good factor. The defeat by the Gunners at home has put huge pressure on Dortmund ahead of their last two Champions League fixtures against Napoli and Marseille.

In the league, meanwhile, losing 2-1 at Wolfsburg allowed Bayern to open a four-point gap at the top, and the leaders will be satisfied with a draw when the two sides meet on Nov. 23.

What's worse, Dortmund lost centre-back Neven Subotic for the rest of the season with a serious knee injury and the Wolfsburg result confirmed the fear that the squad was still not strong enough to cope without long-term absentees Lukasz Piszczek and Ilkay Gundogan. The team's high-intensity style makes rotation a must, but Klopp hasn't been able to rest key personnel nearly as much as he would like to.

The way that Bayern have barely blinked in the face of similar problems (injuries to Bastian Schweinsteiger, Thiago, Javi Martinez and Gotze) has put the difference in squad depth into sharp contrast, as has Klopp's decision to invite veteran Manuel Friedrich for a trial.

The 34-year-old former Mainz and Leverkusen defender has been out of contract since the summer. Dortmund might sign him as a stopgap solution since there are only two centre-backs -- Mats Hummels and Sokratis Papastathopoulos -- in the squad, aside from youngsters Koray Gunter and Marian Sarr.

Concerns about an element of right-wing extremists in the stands -- on Thursday, Borussia banned a supporter for four years after he made a Nazi salute during the 6-1 win versus Stuttgart -- and a slightly embarrassing faux pas from the marketing department didn't exactly lift the gloom this week.

The editors of the merchandising catalogue accidentally confused choreography from Bayern Munich fans with that of Dortmund's famous Sudtribune and included it in the publication.

Defeats in upcoming matches against Bayern and Napoli would, in all likelihood, end Dortmund's interest in the two major competitions. The pressure is well and truly on.

It's worth remembering, however, that Klopp and Borussia, unlike Pep Guardiola and Bayern, don't have to win a trophy. For them, success is measured differently. Titles help to maintain a sense of momentum -- good for the brand and making it easier for in-demand players like Hummels, Gundogan and Marco Reus to keep the faith with their side -- but the key battle is being fought elsewhere and Dortmund are winning it.

Without winning a trophy, Dortmund turned over a record 305 million euros (253 million, if player sales are excluded) last season. In the first quarter of 2013-14, they reported revenues of 60.5 million euros (without significant income from player sales). This puts them on course for another bumper year, even if they should lose out on additional income from the Champions League knockout stages.

Wages have also risen to 22.8 million euros in the first three months of the current campaign. While the players' contracts are highly incentivised, it's reasonable to assume that the squad will end up costing more than 100 million euros over 12 months.

That's still nowhere near Bayern's team budget, which has increased by nearly 25 percent to 202.8 million euros. However, it should be enough to continue their policy of directing investments inward, to keep the core of the team together.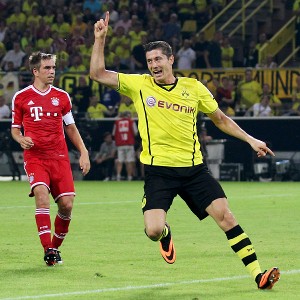 Boris Streubel/Getty ImagesRobert Lewandowski is expected to swap Dortmund for Munich when his contract expires in 2014.
Apart from Lewandowski, there is not a single regular who is out of contract, and Reus is the only player with a release clause, which is valued at 35 million euros but can be triggered only in the summer of 2015. Dortmund, in other words, have plenty of time to consolidate their position.

Regardless of their success, or lack thereof, this season, speculation will be rife about the big stars moving on in the summer. A strong showing for Dortmund players at the World Cup with Germany will add to the rumour-mongering, but the truth is that Borussia no longer need to sell for financial reasons.

They can afford to take a hard line on want-away players and continue to up their wages, the way that Bayern have been able to since the departure of Michael Ballack in 2006.

The only must is regular qualification for the Champions League, and they're too good to have any serious worries in that regard. So even if the blip were to turn into grave disappointment in the next couple of weeks, there is no point to talk about a crisis.

After nearly going out of business 10 years ago, Dortmund know what a real disaster looks like. This isn't and won't be one in the grand scheme of things. At worst, this season will amount to a small, temporary setback in what has been one of the most impressive comeback stories in modern football.