Underwhelming Champions League week for Bundesliga clubs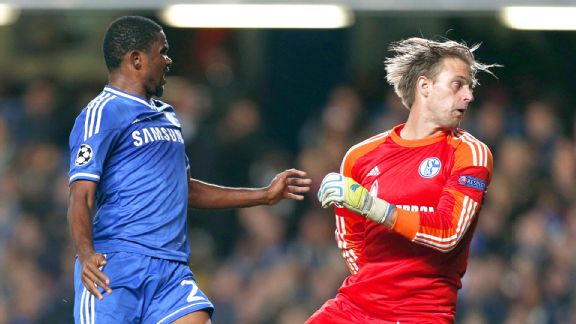 Adrian Dennis/Getty ImagesTimo Hildebrand (r) gifted Samuel Eto'o(l) Chelsea's first goal.
One win in four games and one measly goal scored -- matchday four of the UEFA Champions League showed why last May's rumours about the dominance of the Bundesliga in Europe were somewhat exaggerated. The lack of striking action shifted the attention on goalkeepers -- and on centre-forwards, of course.

Bayer Leverkusen (Group A)

The Sami Hyppia coached team pulled off a rare feat in their game at the Donbass Arena on Tuesday night: they played for a draw and got just that.

- ESPN FC Podcast: Premier League 2-0 Bundesliga

"A 0:0 can make you happy, too," said sporting director Rudi Voller after the goalless draw at Shakhtar Donezk, "it's not a given to have seven points after four games in such a tough group."

Voller admitted that the team had lacked "ease" in their game, but wasn't too perturbed about the scant number of chances created. The performance took second stage to the result on Tuesday night. "Our aim today was not to lose the match," added Bayer CEO Michael Schade.

The point does indeed put Bayer in a strong position to qualify for the round of 16. Even a draw against Manchester United in the next match (at the BayArena) might be enough to progress if the Ukrainians were to lose against Real Sociedad. Leverkusen would win a head-to-head comparison with Donezk, having beaten them 4-0 at home in the previous round.

While the team's big-name players -- striker Stefan Kiessling, midfielders Sidney Sam, Heung-Min Son and Gonzalo Castro -- had quiet games, the man between the goalposts back excelled.

Goalkeeper Bernd Leno, 22, was awarded UEFA's Man of the Match, and showered with praise after the final whistle.

"We had opportunities but Bayer's goalie Leno was fantastic," said Shakhtar coach Mircea Lucescu, "it was his day."

Indeed it was. Leno -- who didn't have the greatest of starts to the current campaign in the 4-2 defeat at Old Trafford -- was so good that German papers wondered whether Joachim Low might include him in the World Cup squad as one of Manuel Neuer's back-ups the day after. Leno parried the speculative questions as cooly as he had parried the shots on the night.

"No one's ever made it into the national team by talking," he said, "I won't make any demands, that's not my thing."

Bayer are always keen to promote the international careers of their players, so their night couldn't have gone much better.

Bayern Munich (Group D)

Things haven't quite gone according to plan in the last few games, and Tuesday's trip to Viktoria Plzen didn't either. Granted, Bayern collected all the three points after an uninspired 1-0 win and qualified for the knockout stage with two games to spare. But the match in the Czech Republic left the visitors wondering why they can't seem to hit the same heights as a month ago, when their 3-1 win at Manchester City and the away games at Leverkusen (1-1) and Schalke (4-0) had set a new benchmark of excellence.

Philipp Lahm, who was once again in central midfield and finished the match in a more advanced role on the right, mused that there was an element of complacency.

"Maybe we take things to easily," he said.

Maybe last month's super-strong performances are to blame: Bayern seem to feel so confident in their own abilities that they struggle to find the required intensity against weaker opposition.

The good news is that there's always a Plan B or at least another decent player to bring on from the bench. In Plzen, Mario Mandzukic, a real No. 9 who came on Thomas Müller, the "false" one, rescued Bayern with a straight-forward header from a Lahm cross. Pep Guardiola wouldn't have been too happy with such hum-drum fare. The Catalan will have to keep his back-up option Mandzukic happy while he continues to work on a more fluid, more unpredictable system. But winning without style is his only problem at the moment. Most coaches would happily settle for that.

Schalke 04 (Group E)

"It's okay, you can kill me over the next few days," said Timo Hildebrand after the final whistle at Stamford Bridge.

The 34-year-old keeper had been the villain of the piece after gifting Samuel Eto'o the first goal for Chelsea. The opener changed the whole complexion of the game -- the visitors had started well and full of purpose -- and the in the end, the result was a familiar one: The Blues beat the Royal Blues 3-0, just as they had done at Gelsenkirchen two weeks ago.

As far as bad defeats go, this was one of the better ones. Schalke hadn't harboured any realistic hopes of winning the group and didn't expect to get too much out of the game in London, either.

Basel's 1-1 draw with Steaua strengthened the Germans' hold on second spot and took the sting out of the result even further. But the night was unhappy one for other reasons.

Julian Draxler, the best man on the pitch in the early stages, had to come off with a bruised shin and talismatic attacking midfielder Kevin-Prince Boateng got kicked where it really hurts: his problematic left knee. Both might not recover in time for the club's league home game vs. Werder Bremen.

Lost in the lament about Hildebrand's clanger and Schalke's inefficiency ("They score, we don't -- that's the difference," said sporting director Horst Heldt) was an uncomfortable sense of perspective.

Less than a year ago, S04 had beaten Arsenal 2-0 at the Emirates in such convincing fashion that they looked set to become the third Bundesliga team with real European pedigree. The regress since then has been quite spectacular.

This Schalke team are miles of the pace against the best sides domestically and in Europe, and there's no sense whatsoever of any possible progress over the next few months. This is not a crisis -- they will, by and large get the results they need -- but something quite worse: Schalke seem to have become comfortably with their own inconsistency.

It's a real shame that a club that could be every bit as good and interesting as neighbours Dortmund have settled for so little under Heldt and manager Jens Keller.

Borussia Dortmund (Group F)

The second meeting of Jürgen Klopp's heavy metal band and Arsène Wenger's symphonic orchestra -- to put it in Klopp's own terms -- produced the same tune, but played backwards.

This time, the Gunners edged a tight, attritional game thanks to (fairly) late sucker punch. Klopp was upset but philosophical. "It was one of those games when you don't take your chances and the other team scores, we have to accept that football is a results sport," he said.

The defeat puts Borussia in a tough spot: even two wins in the last remaining games vs. Napoli and Marseille might not be enough to progress.

That's not the only concern though.

Dortmund looked a little tired after conceding Aaron Ramsey's goal -- all their running had come to nothing. Klopp's "all or nothing" approach to tactics can have this side effect; Dortmund sometimes run out of steam when the breakthrough doesn't come and opens up spaces for them.

Furthermore, transition attacks, their speciality, are not always executed with the prerequisite precision and power. Lastly, when they resorted to long balls in the dying minutes, they lacked a striker to take advantage. Klopp only has Robert Lewandowski, and Pierre-Emerick Aubameyang, who's mostly played wide. Julian Schieber can't cut it at this level.

In any other group, you'd still back Dortmund to get it right. But Group F is unforgiving. Dortmund might get stuck with the Europa League after amassing 12 points.