Loan sharks - the future of football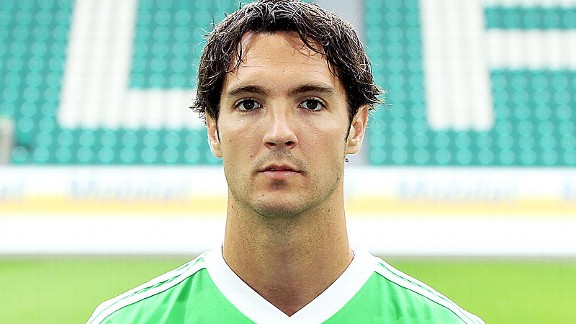 APWolfsburg's Srdjan Lakic is hoping to improve his fortunes during a loan spell at Eintracht Frankfurt.
Saturday's game between Frankfurt and Wolfsburg was tied at 1-1 going into the 82nd minute. Then quite a few Eintracht players made quite a few mistakes. One was Tranquillo Barnetta, on loan from Schalke.

Barnetta was very slow in moving towards a loose ball and so Wolfsburg's Patrick Ochs got to it first. He tried a shot at goal that became a cross which young Maximilian Arnold pushed across the line to bring the visitors ahead.

Frankfurt's coach Armin Veh had to make a move. Two minutes after the goal, he took off Barnetta and brought on striker Srdjan Lakic, another loan player.

With four minutes left on the clock, Lakic intercepted an awful back pass and was suddenly clear through to goal. However, when he finally delivered his shot the angle had become a bit too tight and Wolfsburg's goalkeeper parried his attempt.

On Wolfsburg's bench, coach Dieter Hecking will have sighed a particularly heartfelt sigh of relief. Because technically Lakic is still his player. The Croat is under contract at Wolfsburg until the summer of 2015. He was loaned out to Eintracht back in January.

Then again, maybe Hecking has given up worrying about such things. After all, he's got players all over the place. Vaclav Pilar and Tolga Cigerci, both also under contract until 2015, are currently at Freiburg and Hertha, respectively.

But Wolfsburg also have players in temporary storage in France (Ibrahim Sissoko), Denmark (Rasmus Jonsson), Brazil (Fagner) and a few other countries. It is, of course, a legacy of Felix Magath's reign, whose mode of operation included signing a large number of players, some of whom are now surplus to requirements.

Wolfsburg are an extreme case, but only in Germany. In England, it's become perfectly normal for the bigger clubs to have eight, nine or ten players parked elsewhere.

As early as 2011, the Guardian's chief sports writer Richard Williams said that the "loan system is in dire need of reformation" and wondered how supporters "can be expected to maintain a deep and consoling affinity for a side stuffed with players who are, after all, only waiting for the call to return to their five-star lives in the Premier League?"

But nothing was reformed and now, more than two years later, it almost looks as if loan deals will one day become the norm rather than the exception. And not only in England. Last week, Kicker magazine headlined "Rent a star" and published a list of all players, 20 of them, who are currently playing for a Bundesliga club while technically still under contract elsewhere.

Two particular interesting cases are striker Pierre-Michel Lasogga and midfielder Per Skjelbred. The former didn't do well at Hertha and so they loaned him out to Hamburg, where he is now scoring freely. The latter didn't do well in Hamburg and so they loaned him out to Hertha, where he is now an automatic starter.

Back in late August, when the two teams played each other, both men were still with their original clubs. But there is always the return match, scheduled for early February.

In England, the rules say that a player on loan cannot be fielded against the club that holds his contract. In Germany, there is no such rule, although clubs will sometimes seek to draw up a provision to this effect, which means Lasogga or Skjelbred could seriously hurt the team they will return to next summer.

No matter how you look at it, this is an unfortunate situation. Of course loan deals can have numerous benefits to all parties involved, especially when they are about giving young talents playing time. Just think of how Philipp Lahm came into his own at Stuttgart. But whenever someone serves two masters, the potential for embarrassing situations is always there.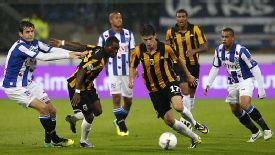 GettyImagesLucas Piazon is one of six Chelsea players on loan at Vitesse.
Ironically, in Germany the practice seems to have become common in the wake of the big bribe scandal of the early 1970s. What happened then was that many players found guilty were either banned for life by the German FA or suspended for a number of years. Yet the contracts they had signed were still valid and the clubs didn't want to dissolve them as long as nobody knew how the whole affair would pan out.

And so many German clubs simply loaned out culprits to foreign countries. Schalke's Rolf Russmann, for instance, became a loanee at Bruges but found himself out of the frying pan and into the fire because the Belgians had financial problems and ultimately couldn't pay his wages.

At about the same time, Ajax came in for Aberdeen's Hungarian striker Zoltan Varga and were told that they had to talk to Hertha about the player, because the Berlin club held the transfer rights and had only loaned out Varga.

These days, money matters are often the main reason behind loan deals. A good example is former Bayern fan favourite Roque Santa Cruz.

In the summer of 2009, newly rich Manchester City parted with a hefty 17.5 million euros to buy the player from Blackburn Rovers, and of course the Citizens also offered him considerably increased wages. But then Santa Cruz failed to settle in and City faced a double whammy, because they couldn't find takers who were willing to pay both the transfer money and the wages the player was now on.

So loan deals were the only option and Santa Cruz began to travel around. First it was back to Blackburn. Then on to Real Betis. Then to Malaga. At last, in the summer of 2013, his City contract ran out and Santa Cruz became football's equivalent of a free agent, which allowed Malaga to make the move permanent.

I guess it means that the bigger the top squads and the larger the gap between the haves and the have-nots will become, the more such loan deals we will see. It also means that some smaller clubs could effectively become farm teams.

That's too strong a word? Well, consider that at the time of writing, Chelsea have loaned out no less than 23 players, Marko Marin among them, to various teams in various countries.

The Dutch club Vitesse alone has six, yes, six, players who are on loan from Chelsea. (From six different countries, no less.) It's a pity that the team didn't survive the Europa League qualifiers. Otherwise there would have been a theoretical chance of Vitesse meeting Chelsea at one point in the season. It would have been almost like a company get-together party.