Another chapter to be written
Wednesday brought bad news for European clubs, great news for Bundesliga and even better news for Borussia Dortmund: Juergen Klopp has put pen to paper on a new deal, committing him to the club until 2018.

Why is that great news for Borussia Dortmund? Let's go back a couple of years to a grey day in the city. It's Feb. 26, 2009, and, a few days ago, Dortmund have played the Revierderby at Schalke. In the game, Mohamed Zidan's late equaliser helped Borussia to avoid defeat and the club sit eighth in the league. In 21 games they have picked up 32 points and are only eight points away from the 40 points won under Thomas Doll the previous year.

Klopp has been in charge of the team for less than a season and arrives to chat to Dortmund supporters about the future of the club, which slowly is getting back on track. Players like Jakub Blaszczykowski, Roman Weidenfeller, Nuri Sahin, Sebastian Kehl and the centre-back duo Neven Subotic and Mats Hummels, dubbed "Kinderriegel," form the core of the team.

One of the other key members of the squad, Florian Kringe, has been out of form recently and Dortmund supporters question his abilities altogether. "He is a good lad," they say, "but kind of frustrating to see him play." Klopp takes his time to explain that, while the fans might have a case, they should stick with Kringe for a bit longer and focus on what they can do to support their team instead. They hear him. Klopp has a lot to say that day and spends more than three hours in a pub with the fans.

When he first arrived at Dortmund in 2008, Klopp was seen as a good Bundesliga coach who had turned former second division constants Mainz 05 into one of the top 25 teams in Germany -- sometimes good enough for Bundesliga, sometimes not.

After putting pen to paper on his Dortmund deal, he made sure to win over the hearts of the fans first and then -- once the stadium was behind the team again -- ensured his "full throttle" take on football was next on the agenda. His version of Gegenpressing and the slow overhaul of the squad, while sticking with some key players, proved the foundation for a rejuvenated Dortmund both on and off the pitch.

Klopp -- and his assistants Zeljko Buvac and Peter Krawietz, who belong to Klopp like the Suedtribuene belongs to the Westfalenstadion -- took Dortmund to back-to-back championships, and the domestic double in 2011-12. Then, against all odds, the side even reached the Champions League final in 2013 (although were beaten by Bayern). And all of that with a squad full of homegrown, local players.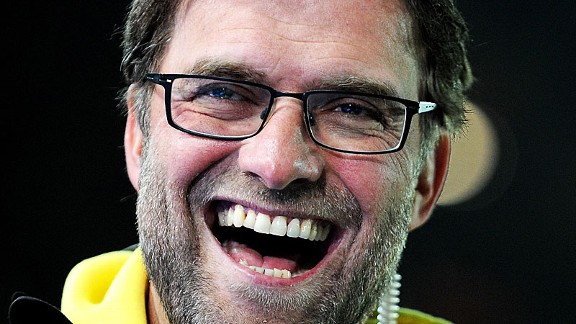 GettyImagesJuergen Klopp continues to impress at Dortmund.
Unfortunately, as often happens when a side finds success, the domestic glory turned Borussia into a feeder club. In 2011, they lost Nuri Sahin to Real Madrid and replaced him with 1.FC Nuremberg midfielder Ilkay Gundogan. In 2012, the club lost Japan midfielder Shinji Kagawa to Manchester United and replaced him with Dortmund-born Marco Reus, who turned down Bayern Munich and returned home from Borussia Moenchengladbach. In 2013, Dortmund lost Mario Goetze to FC Bayern Munich and replaced him with the attacking duo of Armenia international Henrikh Mkhitaryan and the fleet-footed Pierre-Emerick Aubameyang.

Sometime during the years that turned Borussia Dortmund into a German powerhouse and revived the club's name in Europe, it became evident that the real star at Borussia Dortmund was not to be found on the pitch, or recently departed for another team. In fact, he was to be seen on the touchline, sometimes chatting to the fourth official. A charming volcano, recently described by Raphael Honigstein in his Guardian column as "the only Bundesliga manager who doesn't need to wear a mask to frighten the kids on Halloween."

In the same way that Dortmund have grown since that day in February 2009, Klopp has grown too. They have -- in Klopp's words --"written a thrilling story together." It is a story that has closely been followed by several European clubs, who believed that if they just offered enough money, Klopp -- who is admittedly drained from the constant departures of his key players -- could be lured, with his assistants, away from the Westfalenstadion.

Dortmund can rest easy for now, however. Upon signing his new deal, Klopp said: "I don't feel as though the final chapter has been written yet. No other club has to call me until 2018."

One could argue this is rather cynical and, while accepting a hefty pay rise, the new deal only increases his market value. Dortmund won't care, though -- the man who has turned them into one of Europe's best teams again has committed his future, and the future is bright.