Assessing Bayern's Ballon d'Or hopes
Things have been going so well for Bayern Munich lately that even days without a game tend to bring impressive results. Chairman of the Executive Board Karl-Heinz Rummenigge could not have been more pleased when he spoke Tuesday about the six Bayern candidates on the shortlist for the FIFA Ballon d'Or.

"FC Bayern is very happy and proud that six of our players and our ex-coach Jupp Heynckes haven been nominated for the World Footballer of the Year and World Coach of the Year 2013," the 58-year-old said. "This is strong confirmation of us having played a fantastic season. No question, FC Bayern Munich is at the pinnacle of its club history."

To understand the full extent of the German's satisfaction, it's worth remembering that not too long ago, Franck Ribery hinted that he might have to leave the Allianz Arena in search of broader recognition. The Frenchman had lit up the Bundesliga in his first season at Bayern (2007-08), but his brilliance had gone almost unnoticed internationally -- he finished 17th in the 2007 Ballon d'Or vote and only improved by one place the following year. Now, however, Bayern's Champions League triumph and continued progress under Pep Guardiola has forced the wider football world to appreciate the team in a way not seen since the Franz Beckenbauer and Gerd Muller heydays of the mid-1970s.

So will a Bayern player take home the most prestigious individual award for the first time since Rummenigge won the vote in 1980 and 1981? Here's a look at the candidates and their respective chances.

Manuel Neuer
The Bayern keeper conceded only seven Bundesliga goals in total after the winter break, setting a record. His strong performances in the later stages of the Champions League -- he didn't concede a single goal in the four games against Juventus and Barcelona and was only beaten by an Ilkay Gundogan penalty in the Wembley final -- were one of the key factors in Bayern's treble-winning season.

This year, he's helped Bayern maintain an unbeaten run in all competitions, though his performances with the German national team have been less impressive. Neuer was in goal when Joachim Low's team conceded four goals against Sweden last autumn, and again in the 5-3 win versus the Scandinavians in Stockholm. While the 27-year-old is undoubtedly one of the best goalkeepers in the world, he's had more spectacular seasons in the past. Odds of 100 to 1 look generous, but he has no realistic shot at the trophy.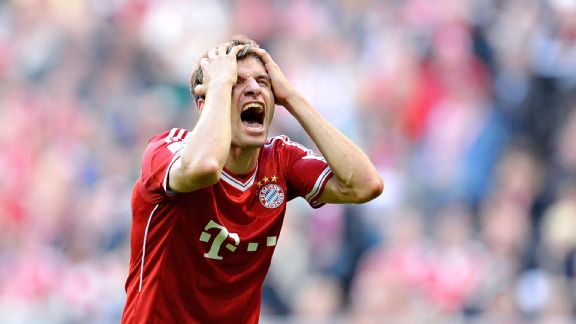 Christof Stache/AFP/Getty ImagesThomas Muller is divisive when it comes to 'top player' discussions: where some see genius, others see good luck.
Thomas Muller
If there was an award for best interviewee, the elusive attacking midfielder/roving forward and self-styled "Raumdeuter" (space interpreter) would come out on top every single time. Yet as a player, he divides international opinion like none of his teammates. For every admirer of his uncanny ability to appear in the right spot at the right time -- he scored eight times in the Champions League on the way to Bayern's win -- there are those who look at his inelegant running style or less than perfect ball control and wonder what all the fuss is about.

Muller is perhaps unique in that sense -- a not-so-great footballer who is great at playing football. His value for the team can't be understated, but it's hard to claim with a straight face that the 24-year-old was the outstanding performer in his own side, let alone in the whole world of football. He will do well to finish in the top 10 once all the votes are totted up.

Philipp Lahm
Even by his own impossibly high standards, the Bayern captain has had a stellar 2013. His quiet professionalism and determination have made him a role model for the current generation of German players, and it's been practically impossible to find flaws in his performances. As a right-back (and occasional left-back), Lahm has been at the top of the world for almost a decade now, but since Pep Guardiola took over in Munich this summer, he's also shone as a deep-lying playmaker in the "number six" position ahead of the back four.

"He's the most intelligent player I have ever coached," Guardiola said. No player on the shortlist can lay claim to Lahm's versatility. The 29-year-old's freakish dependability will unfortunately work against him: He's a man of unrelenting perfection in the basics -- passing, tackling, positioning -- not one for a YouTube reel of outrageous acrobatics and ballistic prowess. One would hope that his peers and the national coaches would recognise his inconspicuous genius, but it's unlikely. His situation is a bit like that of Paolo Maldini and Franco Baresi: They were the backbone of the greatest-ever Milan side, but the plaudits were won by the men ahead of them. A top three finish is the best Lahm can hope for.

Bastian Schweinsteiger
No one looked more distraught than the 29-year-old midfielder after losing the 2012 Champions League final to Chelsea in the Allianz Arena. Schweinsteiger, who had missed the decisive penalty, picked himself up and bounced back from an equally disappointing Euro 2012 to preside over Bayern's best-ever season, one perfectly timed pass at a time. Schweinsteiger's best performances came in the Champions League against Arsenal, Juventus and Barcelona, where both his presence and leadership on the pitch (next to the equally effective Javi Martinez) added steely determination to the mix.

This season, he's not quite been at his best, by his own admission, after undergoing ankle surgery in the summer. Like Lahm, Schweinsteiger's game isn't showy enough for him to take home the award but he will -- at the very least -- be recognised as the best central midfielder in 2013 ahead of Yaya Toure, Xavi and Andrea Pirlo.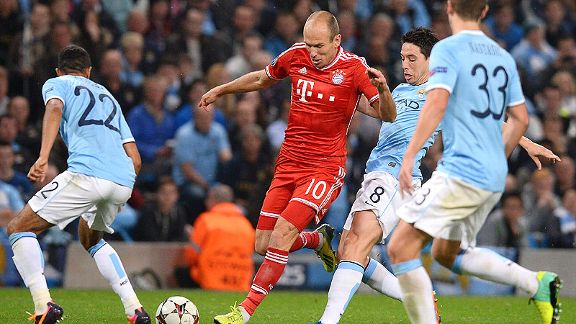 ANDREW YATES/AFP/Getty ImagesArjen Robben would merit a Ballon d'Or based on a lifetime of steady consistency though other players have been better this season.
Arjen Robben
The Dutchman was only fully restored to Bayern's first XI when Toni Kroos picked up an injury against Juventus, yet it's fair to say he made the most of it. Robben scored important goals in the semifinal against Barcelona and became the match winner in Wembley after spurning a couple of good chances. His goal against Dortmund in the 1-0 quarterfinal win in the DFB Cup also broke Bayern's duck against the Jurgen Klopp-coached team and subtly shifted the psychology between the two teams.

No single player has arguably had such a direct impact on Bayern's treble, but awarding Robben the Golden Ball would feel more like a lifetime achievement award. The 29-year-old has had more prolific and consistent seasons before with Bayern, and he deserves to be up there with the best attacking midfielders, but not quite ahead of them.

Franck Ribery
Like Robben, Ribery hasn't been that prolific in 2013, even though his goal-scoring has picked up this season (eight in 14 in all competitions with Bayern and five goals in eight games with France). The Frenchman didn't score in any particularly important matches for the Bavarians at all last season, and yet he's widely seen as the Bayern player best-placed to challenge Lionel Messi to the title. One reason are his pretty phenomenal showings this season -- Ribery has never played with more verve and efficiency. But he's also got a good chance of some symbolic recognition: His unique blend of aggression, hard work and artistry typified Bayern's style on the whole last season.

Of all the talented players in their ranks, none electrifies the masses as much as he does, and the sheer relentlessness of his probing sets him apart from his opposite number on the other flank. In terms of sheer technical capability, Cristiano Ronaldo, Messi and Zlatan Ibrahimovic are ahead of him, but none of them have had a remarkable season, in terms of trophies, and none of them were parts of sides that function as perfectly at Ribery's Bayern. To single out a player from this team is to miss the point, really. But everyone at Sabener Strasse (Bayern's HQ) hopes that the football world could make a symbolic decision and give it to Ribery, almost on behalf of his team. A slight sense of Messi-fatigue might just make it possible.